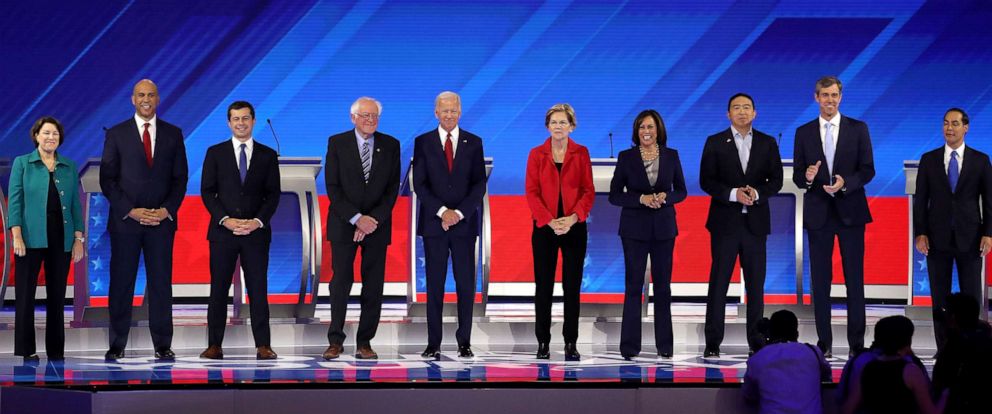 On Thursday, September 12, 2019, ten Democratic candidates for President took the stage at Texas Southern University in Houston to make their case to Democratic voters as to why they should be the nominee to take on President Donald Trump. Former Vice President Joe Biden; Senators Bernie Sanders, Elizabeth Warren, Kamala Harris, Amy Klobuchar, and Cory Booker; former Secretary of Housing and Urban Development Julian Castro; former Representative Beto O'Rourke; South Bend, IN mayor Pete Buttigieg; and businessman Andrew Yang were the ten who fulfilled the donor and polling threshold for the debate. The debate was hosted by ABC reporters Linsey Davis and David Muir, along with Univision anchor Jorge Ramos.
Candidates Spar Over Health Care
The first issue of the night raised by the moderators was health care. Biden, Warren, and Sanders were tasked with defending their healthcare proposals. Biden, who supports establishing a public option for insurance and strengthening the Affordable Care Act, was pitted against Sanders and Warren, who support a more expansive Medicare-for-All single-payer system. Biden began the debate by hugging former President Obama's legacy, which is popular among Democrats. He described himself as being "for Barack" while Warren is "for Bernie." Biden reiterated he did not want to abolish private insurance but instead wanted to give Americans more options. Warren and Sanders then took turns defending their Medicare for All proposals, Warren explaining "I've never met actually met anybody who likes their health-insurance company" while advocating for replacing all health insurance with a government-run plan.
Several candidates had the opportunity to talk about health care in addition to aforementioned three. Harris and Warren were explicit in their praise for Obama and the ACA, or "Obamacare," in a clear attempt to push back on Biden's associations with the former President. Klobuchar and Buttigieg, two lower-polling candidates, were strong in their pushback against single-payer healthcare. Referring to the abolishment of private insurance in Sanders' Medicare for All proposal, Klobuchar said, "I don't think it's a bold idea. I think it's a bad idea." Harris, for her part, referred to her health care plan as a tweaked Medicare for All, but described a policy more similar to that of Biden, Klobuchar, and Buttigieg.
Castro Gets Spicy
Julian Castro, who stood at the far end of the stage due to his low polling numbers, was in desperate need of a standout moment during Thursday's debate. Boy, did he deliver. In an exchange with Biden over health care, Biden noted that some Americans would be automatically enrolled in his proposal's public option, minutes after describing his public option as an opt-in program. Noting this contradiction, Castro repeatedly asked, "Are your forgetting what you said two minutes ago?" This was both a jab at Biden's policy chops and age. The remark may have come across as too mean and too aggressive, and it was actually inaccurate; Biden had in fact articulated that some people would be automatically enrolled in his program and others could opt in.
After facing criticism from Buttigieg and Harris for his attacks, Castro reminded the stage, "That's called an election."
Yang Produces Memorable Moments
Andrew Yang, another candidate with low poll numbers, and a cult following among young people on the internet, offered his own gimmick to grab the attention of the audience: a free $1000/month for 10 random American families, to serve as a pilot program for his signature Universal Basic Income proposal.
Yang remarked on the historic nature and poetic justice of his story, describing his parents' identities as Chinese immigrants. "My father grew up on a peanut farm in Asia with no floor and now his son is running for president," the businessman said, arguing that he represents the beauty of the American dream.
Another notable line came during an exchange over health care, when Yang quipped, "I'm Asian, so I know a lot of doctors," which was one of the more comical moments of the otherwise sterile debate.
O'Rourke, Gun Control Return to Spotlight
Gun control was one of the major issues covered in the debate following the recent massacres of Walmart shoppers in El Paso, Texas and nightclubbers in Dayton, Ohio. O'Rourke, who represented the El Paso area in the US House from 2013 to 2019, received significant praise from the other candidates for his leadership following the shooting in his hometown. Harris and Biden both lauded him for his advocacy. One of the more notable moments of the night came when O'Rourke said, "Hell yes, we're going to take your AK-47," and endorsed a mandatory buyback of certain assault-style weapons.
Candidates Grilled on Past Records
Biden, Harris, and Klobuchar took turns answering sharp questions about their respective records on various issues. Harris, who has faced criticism for her reactionary and punitive record as Attorney General of California, was asked why she never implemented the progressive justice reforms she now supports when she had the power to do so. She admitted she did "absolutely not" get enough reforms implemented in her former role, but maintained she did affect some change while in that position. Klobuchar, another former prosecutor, faced questions about her own history as well.
Biden was interrogated over his role in the Obama administration's immigration policy, which resulted in record numbers of detainments and deportations. In a reversal from his earlier praise of President Obama, Biden distanced himself from the record. When asked about his role in crafting the policy, he simply stated, "I'm the Vice President of the United States."
Education, Trade, Foreign Policy Are Discussed
The debates so far have tended to be lighter on certain issues education, trade, and foreign policy, despite the relevance of these topics. Thursday's debate refreshingly featured a lengthy discussion on foreign affairs and trade, followed by questions on education.
Warren, Sanders, and Buttigieg all argued for a withdrawal of troops from Afghanistan. Sanders referred to Venezuelan President Nicolas Maduro as a "dictator." Several candidates offered vague opposition to Trump's tariffs on China without voicing complete opposition to protectionist trade policies, though Sanders was more vocal in his opposition to free trade. On education, Yang voiced openness to public charter schools, calling himself "pro-good school," while Warren was stronger in her support for traditional public schools and emphasized her background teaching in public schools.
My Take
Overall, I felt like this debate was more substantive than previous debates. Because it was merged into a single night, we were spared from having to watch gadfly candidates with minimal public support distract from the serious debates among the frontrunners. A wider variety of topics were discussed, and the moderators focused on getting clear policy answers from the presidential hopefuls instead of stirring up drama between them.
Castro came away from the debate as one of the more polarizing candidates. While he may have gotten the attention he wanted, he may have come across as too acrimonious, especially considering the premise of his attack was off-base. In contrast, Booker was the most irrelevant candidate of the night. Outside of a joke about the Canadian Prime Minister's hair, he failed to produce any memorable moments or substantive contributions to the debate.
Klobuchar and Buttigieg did not have any bad moments, but they didn't stand out like they needed to in order to improve their polling. Harris struggled with the same issue, as she spent much of the debate on defense or unable to differentiate herself from other candidates. Her one-liners also fell flat with the crowd, delivery being a problem for her throughout the night. Yang, on the other hand, scored some points for good elocution, but remained on the periphery for most of the night.
Biden started out the night strong, but an answer about institutional racism later in the debate turned into a rambling speech about outdated policy prescriptions and completely unrelated topics. He came away from the debate intact, but nonetheless damaged from an embarrassing response to an important question. Sanders had a fine, if unremarkable, performance for the night, similar to Buttigieg and Klobuchar, but didn't need to prove himself to the electorate like they did.
It was Elizabeth Warren and Beto O'Rourke who likely overall had the best nights. Both evaded criticism from the other candidates and carefully but concisely answered the questions fielded by the moderators. In the case of O'Rourke, the praise that the rest of the field lavished upon him left the audience with a very positive impression of him. Warren was able to navigate a position distinct from Sanders while still holding her own against Biden.
I don't expect much to change after this debate. None of the major candidates did anything that would alienate the types of Democrats who might vote for them, and most of the minor candidates did not make enough of a splash to attract new support, with the likely exception of O'Rourke and possibly Castro. Biden will likely retain his frontrunner status, while Warren and Sanders will continue to take turns in second place, with the rest of the field far behind them. Nonetheless, the debate was enlightening for Democratic primary voters who care about policy, even if it only reaffirmed the way they felt going into the debate.
Stay tuned to The Roundup for more political coverage!