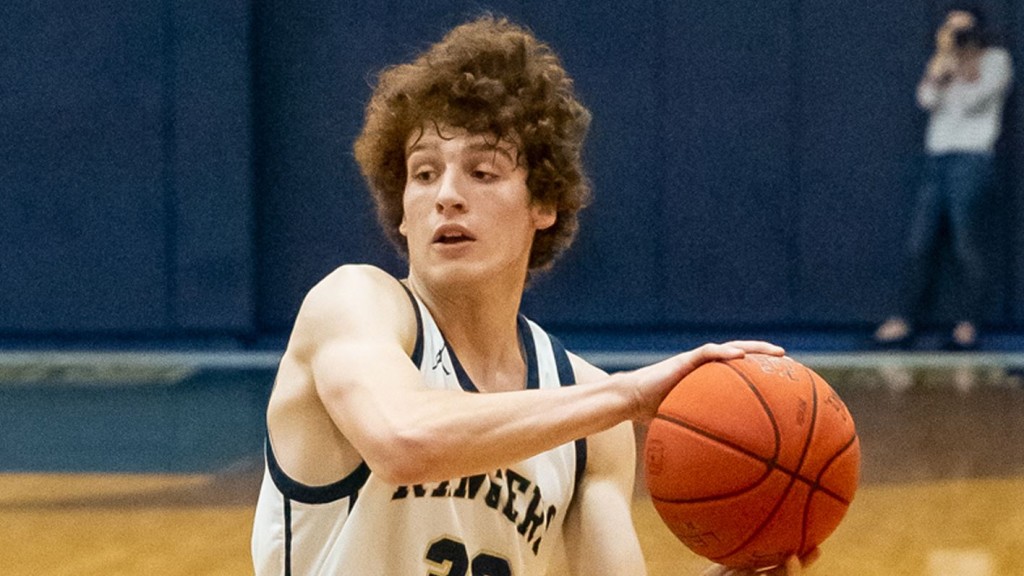 In the last stretch of district play, Jesuit concluded their season going 5-2 in the back half of district play. Overall, their district record was 10-4, with losses to state-ranked Lake Highlands and nationally ranked Richardson High School. The team this year shocked many people and made plenty of noise continuously throughout the season. This Jesuit team at one point was not over .500 percent, but battled back hard. Especially with big district wins to secure a spot in the 6A UIL Playoffs. I suspect Arlington Martin to look for vengeance in this game, after falling 0-2 against Jesuit in the regular and postseason last year.
JJ Pearce:
Following the Rangers after a hard loss to a tough Richardson Team, Jesuit battled and pulled it out in O.T against JJ Pearce 51-48. The offense had difficulty finding looks near the three-point line shooting 26 percent, but managed to find ways to work inside. Senior Ryan McCormick had a stellar 25 points and 8 rebound game, shooting 12-17 from the field and 1-3 from three. Sky Tschurr scored 8, while Dylan Gibbons scored 7, along with 5 rebounds and 4 assists. Ben Johnson had 6 points, 3 boards, and 3 assists.
Owen Berry drained a 3, and Kryger finished with a 2 to end the stat sheet. Dean Balo '23 for the Mustangs had 15 points out of his 36 minutes, and Gavin Green had 14 with 3 boards through the game. This was a hard-fought, but back and forth game, with constant responses. Jesuit dominated the game with paint points and second-chance points by more than half leading them to win a close one.
Lake Highlands
Round 2 at Lake Highlands was a thriller. Notorious 6'6 Tre Johnson '24 for Lake Highlands exploded for 34 points, along with big man 6'9 Samson Aletan with 10 points, and 4 rebounds. Furthermore, the Wild Cats' main looks on offense were to make huge efforts to get it inside and find windows. Mainly, for Tre Johnson to score at will, whether that was a mid-range pull-up or a catch and shoot 3.
Ben Johnson '22 had a huge 22 point game, finishing with 3 rebounds and a steal. He shot 56 from the field and 44 percent from behind the arc. Sky Tschurr '22 scored 12, following Dylan Gibbons' 8 points and 7 assists. Will Mansour '22 finished with 7 points, 2 rebounds. Grant Kostos '22, Owen Berry '23, Michael Mathie '23, and Quinn Mashburn '22 finished the stat sheet off with 2 points. The Rangers, unfortunately, fell 62-75 to the Wild Cats in a back and forth game.
MacArthur:
After a rough loss to Lake Highlands, the Rangers were looking to rebound back, and they did just that. Jesuit held MacArthur to three points in two quarters, they made it quite difficult for MacArthur to get to the rim and ridiculed with their offensive scheme. Dylan Gibbons '23 finished the game with 13, 4 assists + rebounds, and 3 steals, Tschurr had 10, Ben Johnson had 9, Kostos had 7, and Owen Berry had 5. Will Mansour '22 and Sam Dunkerly '22 had 2 apiece. Irving MacArthur's leading scorer had 6, which was Josiah Hill and Derick Williams. MacArthur roughly had 22 turnovers in total and struggled offensively shooting 27.3 percent from the field and the 3 ball. Furthermore, they let the Rangers go on multiple runs, making lazy decisions and passes too.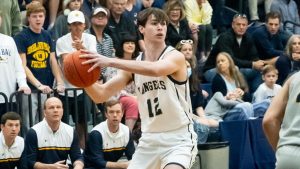 Nimitz:
Jesuit's strength this game was the amount of offensive/defensive rebounds and ability to get to the free-throw line. Nevertheless, their largest lead of the game was 17 points near the end of the 4th quarter. Nimitz had a difficult time containing McCormick as he recorded a 16 point, 13 rebound double-double performance. Also, Tschurr '22 had 11, meanwhile, Owen Berry found his spots scoring 8, shooting 50 percent from three. Ben Johnson scored a solid 6 points, with 5 rebounds. Both Kostos and Kryger had 4 points, and Will Mansour '22 had 2 too. They won 51-38 in the end.
Nimitz's main scorer Jalyn King scored 11 and had 2 steals. Gerald Murage and 6'8 Jaylan Jackson both had 8 points too. Nimitz, in my opinion, could not get opportunities to find the open man and seemed flat offensively when it came to shooting the ball. There were a couple of moments, where they pressed and pressured Jesuit managing to get many easy buckets at times. But I think their weakness at times was the size advantages through the 1-4 position, with a small-ball lineup.
Berkner:
Jesuit traveled to Richardson to play against Berkner and ended up winning 76-34. All players scored and made an effort. The Rangers dominated overall, shooting the ball exceptionally well from deep of 54 percent from three compared to Berkner's 15 percent. Main scorer Sky Tschurr '22, scored 12 points, Will Mansour had 11 points, Charlie Needham '23 had 8 points in 6 minutes. Johnson had 6, along with 4 assists. Everyone made a difference in this game, whether scoring, or playing defense. The Rangers led the stat sheet by a mile, with double the amount of rebounds Berkner had, bench points by 35, and 20 more points in the paint etc.
Berkner could not connect from three or the line, their leading scorer Braylon Greer had 14 points, and 7 steals. But, however Berkner gave lots of many second choice points up and seemed to not be able to contest Jesuits' paint points either.
Irving:
The annual 6th man game was loud and rowdy at Walsh Gym on the 11th. The student section heckled and made a huge difference in this game. Jesuit's defensive effort contributed  to their almost shut-out second quarter. And made it difficult for Irving to make decisions and drive to the basket, resulting in Jesuit winning each quarter of the game. Fellow Jesuit Roundup writer and big man Grant Kostos '22 had 14 points, 7 rebounds, and a block.
Ben Johnson '22 scored 10 points shooting 50 percent from the field, along with three steals. While, Owen Berry '23 shot the lights out with 11, along with Ryan McCormick finishing with around 11 points and 8 boards. The Rangers throughout the game shared the ball well, made the right reads, and scored at will. Jesuit executed by outrebounding them, shot the ball from 3 well and from the field efficiently. Irving struggled on offense, finding open looks to shoot was their Achilles heel all game, and the amount of transition points they gave up on fast break possessions.
Richardson
In my opinion, this was one of the best defensive games all season, that I have witnessed. But back to the recap, it was neck and neck game through the three quarters. The kryptonite was the amount of turnovers, that let Richardson on a big run in the 4th to win 82-61. Ryan McCormick scored at will contributing a huge double-double 21 points with 11 rebounds. Ben Johnson scored 10, Kostos and Tschurr scored 6. Owen Berry scored 5 points. And, Will Mansour '22 scored 2. Kryger '23 shot 66 percent from the three, shot 75 percent from the field, putting up a respectable 11 in clutch moments. Jesuit made Richardson uncomfortable in moments making them shoot bad shots and forcing bad passes. It allowed Jesuit to get to the line and score on fast break put backs or layups.
Cason Wallace put up a solid 29 points, 7 boards, and 6 assists, and Rylan Griffen scored a 20 ball. Along with 6'7 Timmie Jordan, in the post, with 13 points, 6 rebounds, and a block too. The Rangers contained the Eagles, and was an electric game to watch online or in the stands.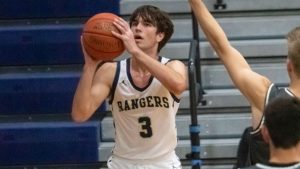 Conclusion and Analysis of season
What a season! Jesuit finished the regular season with another winning season going 16-13. It was their second consecutive winning season, and third in district rank. Jesuit through the last 7 games proved to teams through the metroplex, that they can win games. I was impressed with the offense, mostly with the way they can move the ball with ease. And the teamwork/chemistry increased gradually game by game, as I noticed. The defensive effort in the last game was outstanding and impressed me by containing a talented Richardson team. Their effort was phenomenal by the amount of jumped passes for steals and the number of defensive rebounds/blocks. Coach Hill's squad competes in the Bi-District playoff game against Arlington Martin at Coppell next Tuesday @ 7. Make sure to be there and support Varsity!
Stay tuned to the Roundup for more content on Jesuit basketball!