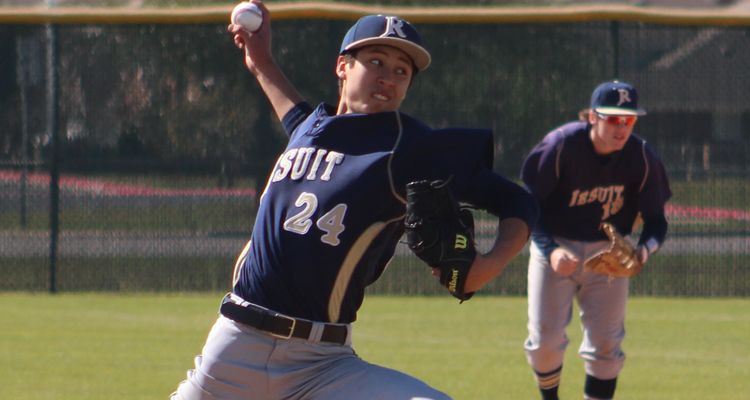 The Jesuit Rangers Varsity Baseball team started their season off by playing in the Austin Baseball Tournament on February 23rd-25th, playing 6 games in total during a beautiful weekend.  They lost both of Thursday's games, split their Friday games, and then went 2-0 in a Saturday sweep.  Jesuit featured Peter Delkus '18, Tyler Murrah '18, and Miles Okamoto '17 on the mound making their first varsity starts while returning pitchers J.J. Montenegro '17, Heath VanKirk '17, and Wyatt Hasson '17 started the remaining three games.
On Thursday, the Rangers struggled in both of their games, losing to Hyde Park (box score) and Cedar Park (box score) by scores of 1-2 and 0-2 respectively.  Right fielder Paul Gramling '18 thought that "we definitely did not play as well as we should have, we weren't executing in very important situations and didn't have the right approach on offense."  He praised Delkus' pitching performance, allowing one earned run in a complete game effort, and Montenegro, who struck out 8 and allowed one earned run to Hyde Park but lost as the Rangers were held to one hit: "For the first varsity start for Peter, [he] pitched great; he had a complete 7 inning game with around 75 pitches in the first game."  Gramling further stated that the pitching overall was what kept them in those games, it was "the offense [that] didn't produce as well as we should have or wanted to. [Senior second baseman] J.T. Mix got hurt in the first inning of the first game and that was tough because you know he wants to be out there but hopefully he can be back soon. I think we just weren't relaxed, didn't have the right mindset when we took the field, and were not as aggressive as we wanted to be."
On Friday, the Rangers won their first game against Houston Christian (box score), the score 4-3.  The winning pitcher was LHP Tyler Murrah, who had an impressive 5 strikeouts for his first varsity start.  Seven different Rangers were able to get hits, including 3 hits from senior C/3B Michael Schoettmer.  Sadly, in Jesuit's second game on Friday, they were not able to pull out a victory against Westwood (box score), losing by just one run despite RHP Wyatt Hasson's 7 strikeouts.
After coming back from a tough 1-3 stretch in their first four games of the tournament, the Rangers wanted to bounce back in a big way, and they did so behind the strong pitching of senior RHP Miles Okamoto.  Okamoto faced 16 batters through just 5 innings, no-hitting Irving MacArthur's offense (box score).  Not only was the pitching dominant for the Rangers in their first game, but also the base running and batting which helped tally 10 runs and end the game by run-rule.  OF John Guzman '17, SS Mark Ready '17, and 3B/OF Jaden Woodson '19 all had great games, totaling 5 hits, 5 runs, and 5 RBI's between the trio.  Okamoto shared with The Roundup on his outstanding performance, saying "our coaches always emphasize the importance of throwing strikes and pitching to contact, and that mentality was very effective on Saturday. My slider was moving well, and I had a lot of run support, which meant I could keep being aggressive and letting MacArthur hitters get themselves out by putting the ball in play to my defense."
Coming off a fantastic shutout win, the Rangers looked to continue their momentum into their final game of the Tournament, and that's exactly what they did.  The Rangers trounced Westlake (box score), by a score of 11-4.  Nearly every player in the starting lineup scored or helped score in some form or fashion as VanKirk earned the win. "The biggest thing we need to take away from Saturday's wins is confidence swinging the bats," said Okamoto, "because while it obviously always helps to put up double digit runs, as a pitching staff, if we know the offense is going to hit behind us, it gives us more confidence to challenge the other team's hitters. If we can carry that momentum through to next weekend's games, we can put ourselves in a good position to win."
The Rangers hosted the Jesuit Dallas Baseball Classic this past week on March 2nd, 3rd, and 4th, going 4-2 during that stretch.  
Be sure to keep up with the Roundup as the baseball team continues their season!