The Jesuit Ranger basketball team entered the KOC Classic with high expectations. A vaunted field in this year's classic consisted of our own Jesuit Rangers, Highland Park, Amarillo Tascosa, Frisco Lone Star, Hillcrest, Mesquite, and South Hills. The Rangers battled throughout the tournament before finally falling short in the championship.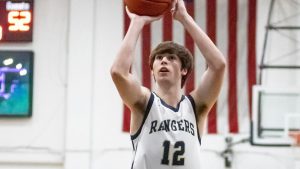 Game One
In their first matchup, the Rangers took on Fort Worth South Hills. Jesuit dominated throughout the game only allowing 17 total points. The Rangers would even shut out South Hills in the 3rd quarter. Not only was this a dominant defensive showing, but the Rangers also put up an impressive 79 points. Senior Ryan McCormick put up a team-leading 11 points. This win would send the Rangers to the semifinal to face Amarillo Tascosa.
Game Two
In their second game of the tournament, Jesuit faced an unfamiliar foe in Tascosa. The semifinal tipped off on a Friday night with a packed student section. The Rangers would not fail to disappoint their fans as their explosive offense put up 68 points. Seniors Ryan McCormick and Ben Johnson led the team scoring 15 and 13 points. Johnson was on fire as he shot 50% from deep, going 4-8. Junior Tai Kryger also had an electric performance putting up 12 points and led the team with 9 rebounds. The Rangers beat down Tascosa 68-46. The Rangers would now face their rivals the Highland Park Scots in the championship.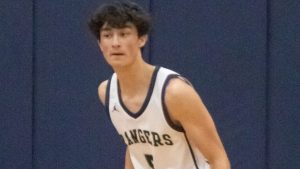 Championship
The fierce rivalry between Jesuit and Highland Park spreads between each sport and is as volatile as they come. Stands were packed for this 1:30 tipoff Saturday afternoon. Energy filled Walsh Gym during the final anxious moments before the game. Jesuit would win the tipoff and start off the game with an electric Ryan McCormick 3-pointer. This would be Jesuit's only lead of the game as the Rangers struggled offensively. However, the Jesuit defense would continue their hot streak as they only allowed HP to shoot 23.8% from range. This stingy defense would also force 13 total turnovers. The Scots continued to maintain their lead until the 3rd quarter when they ran away with it. The final score of the game would be 45-29. Other bright spots for the Rangers would be Ben Johnson's 9 points and 4 assist performance while recording 2 steals on defense.
Conclusion
Overall the Rangers had a solid tournament, with their players showing a lot of promise. There were some struggles, but our players' determination and willpower earned them the 2nd place spot at the tournament.