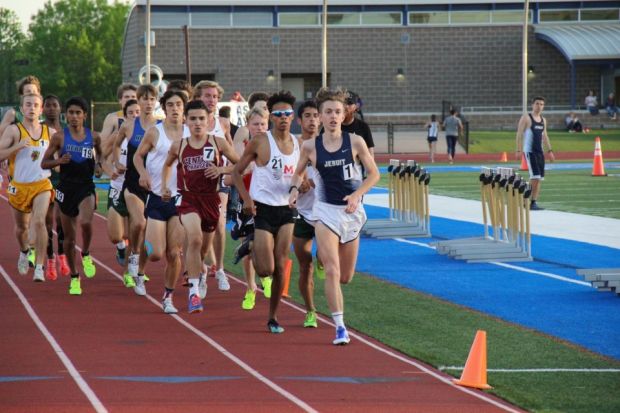 The runners line up side by side, anxiously anticipating the gunshot. As the starter calls them into their starting blocks, the runners take deep breaths and slowly move into position to begin the race. The starter fires the gun, and the runners take off, each hoping to gain crucial points to help their respective teams capture the district championship.
The Jesuit Ranger track and field team closed out the regular season by hosting the District 9-6A championships on April 10-11 at Postell Stadium. The team finished third in the varsity standings and placed second overall in the JV competition. It was a bittersweet meet for the team, as they posted many fine individual performances but fell short of continuing their streak of five straight team district championships.
On his performances, Andrew Isbell '18 said, "I'm happy with how the meet went, but it was unfortunate that we were unable to capture our sixth district championship in a row." He continued by looking ahead to next season: "Hopefully next year we can rebound and start a new streak by winning the meet."
The varsity squad was led by senior distance runner Connor O'Neill who cruised to first place finishes in both the 1600 meter and 3200 meter events, qualifying for the area meet in both events. Senior Vance Holub also had a stellar outing, placing first in shot put and second in discus, while his teammate, sophomore Wyatt Hummel, placed second in shot put and first in discus. The outstanding performances by these two athletes were also enough to qualify both of them for the area meet in each event.
Junior Luke Wyand, who led the JV team by placing first in the 110 meter hurdles and second in the 300 meter hurdles, was very pleased by his performances, mentioning how "it felt very rewarding to be successful in my races after having to work hard in practice all year."
Overall, the Rangers felt pretty good about their finish in the meet, falling only to powerhouses Coppell and Skyline. A few members will continue their season by competing in the area meet at Williams Stadium in Garland before moving on to offseason workouts in preparation for next season. The following athletes will compete at the area meet:
Connor O'Neill (1600m, 3200m)
Parker Towns (300m Hurdles)
Will Naquin (300m Hurdles)
4x100m Relay (Andrew Isbell, Connor Jackson, Will Naquin, Jack Lynch)
Joey Preboy (High Jump)
Collin Lark (Pole Vault)
T Buell (Triple Jump)
Vance Holub (Shot Put, Discus)
Wyatt Hummel (Shot Put, Discus)
Good luck to all of the Rangers who will be representing Jesuit in the area meet!