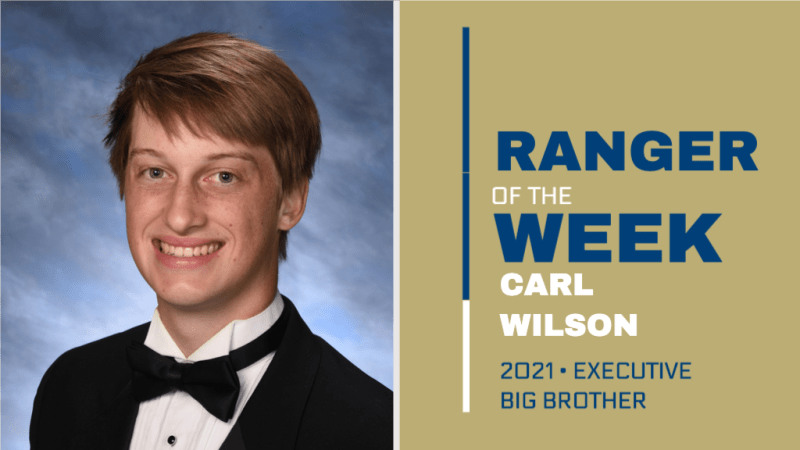 A classmate identified Carl as the "embodiment of a Ranger of the Week." Jesuit named senior Carl Wilson with their weekly honor for his exceptional work in the classroom, dedication to his teammates, and commitment to service.
Carl currently serves as an Executive Big Brother and will be leading Senior Retreat. An honor roll student who "does a great job of balancing his academic work along with his extracurricular involvement at the School," he has been working with Catholic Charities Dallas Foodbank as part of his community service and is a dedicated member of the tennis team. Added another classmate, "Carl is committed. He makes time to communicate and is one of the most kind-hearted people I have ever met."
Carl was our Ranger of the Week from Oct. 20-27, 2020.
I was able to conduct an interview with Carl Wilson to highlight his exceptional work here at Jesuit. To learn more about Carl and his remarkable accomplishments, read the Q & A below. 
Q & A:
Can you tell us a little about yourself? Who are you and how you got to Jesuit?
"I attended a public school in middle school and loved it. But, I took a leap of faith in attending Jesuit, even though I barely knew anyone. My parents were instrumental in getting me to Jesuit. At first, they dragged me to the Open House, and I originally had no interest in attending. But, after seeing all the opportunities Jesuit could give me compared to other schools, I genuinely wanted to attend Jesuit. Although adjusting to the academic rigor was hard for me, once I found a groove and a solid friend group, this experience has been amazing. Since then, it has been one of the best decisions I have made."
What activities are you involved in here at Jesuit?
"I have been on the Jesuit Tennis Team all four years, and I am currently an Executive Big Brother and a Senior Kairos Retreat Leader. I previously was in organizations like PALS, 24//7, and the Jesuit Engineering Society which sadly shut down."
How does it feel to win the Ranger of the Week by classmates' recommendations?
"It is a nice feeling knowing that peers value and appreciate your character."
What has been the most impactful experience you've had during your senior year so far?
"Community Days for sure. Hearing my classmates dig deep and speak about their experience at Jesuit was really unifying for all of us. It was cool to hear that so many others came from the same situation that I was in: knowing no one, being nervous, and glad that they attended this school."
What advice would you give to underclassmen about stepping into leadership roles this year as a senior?
"Don't be afraid to sign up, because its worth it. The leadership opportunities senior year are great and more expansive than underclassmen years; so take advantage of it."
And as always, check back to The Roundup for more coverage of Jesuit student life!