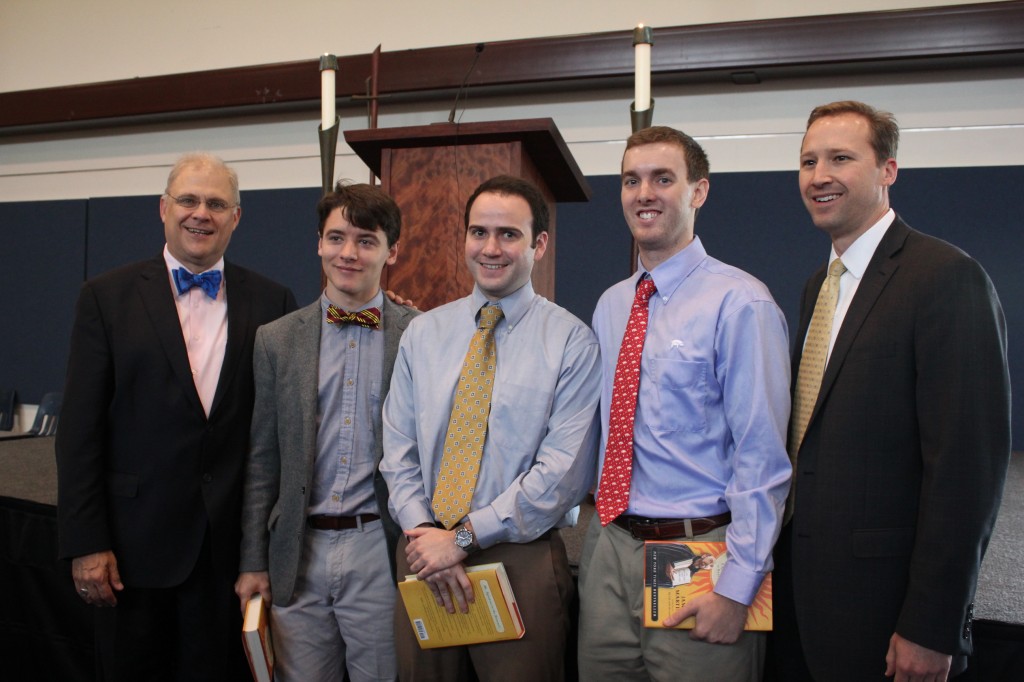 The Alumni Service Corps, a volunteer opportunity that allows a Jesuit graduate the chance to devote a year of his life to service and education of fellow Jesuit brothers, began in 2009 with four former Jesuit students from the Class of 2005.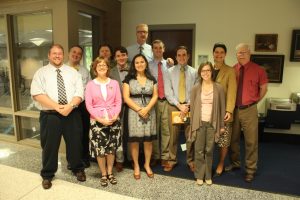 The ASC members have the chances to teach, tutor, and participate in extracurricular activities with current students at Jesuit.  Some former ASC members permanently walk the Jesuit hallways today, including social studies teachers Mr. Tim Murphy and Mr. Matt DuRoss and theology teacher Mr. Jonathan Segal, showing that the ASC can influence an alumnus to stay at Jesuit.
This year, members of the Jesuit Class of 2007, David Pace, Neil DuRoss, and Ian Berry, graced Jesuit with their participation and dedication to the school and the ASC.
David Pace, a graduate of the University of Arkansas, worked as a Social Justice and Public Policy teacher for seniors this year.  Reflecting on his tenure with the ASC, Mr. Pace said, "It's been quite an experience. [He] got to see the students grow throughout the year and see fellow faculty members who taught [him] and work aside them now."  As a member of the ASC, Pace was required to teach a class at Jesuit.
On working as a teacher for the first time, Pace remarked, "It's cool to see things from the other side." The effect of the ASC on Mr. Pace will have a lasting impact on his life, helping him to be "committed to service and [his] faith in God."  Students love Mr. Pace for his wonderful attitude inside and outside of the classroom and his ability to relate to just about every aspect of a student's life.
Pace plans to move to North Carolina and pursue a career as a lawyer.
Neil DuRoss, a former Roundup member and recent St. Louis University graduate, is the second member of the ASC.  While Mr. DuRoss anticipated many things from his year back at Jesuit, "it hasn't been completely what [he] expected."  DuRoss was able to recognize the challenges of life after high school and college, recounting: "I have constantly been challenged. The whole program focuses on simplicity, and therefore has made me re-evaluate my whole life by getting me back to the Jesuit ideals."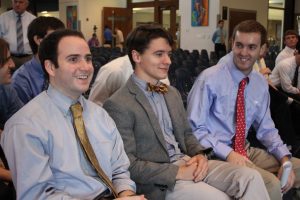 While DuRoss recognizes that "a lot of changes have happened to the school in the five years since [he] was a student," he added that Jesuit life is still the way he remembers it – "That kind-of goofy Jesuit student, with good intentioned, smart [attitudes]."
Regarding coming back as a teacher, DuRoss revealed, "The hardest thing [for me] was when students would do something hilarious, and the student in [him] wanted to play along, but [he] couldn't because [he] was the teacher."  Mr. DuRoss wanted to leave one lasting word of advice for Jesuit students: "Embrace that you are different."
The highlights of Mr. DuRoss' year were the senior retreats and living with his roommates.  DuRoss was known for his great sense of humor and profound influence on students in all areas of their daily lives.
DuRoss plans to find a job somewhere in Chicago, Dallas, or St. Louis.
Ian Berry, a graduate of the University of Texas at Austin, rounds up the ASC crew, teaching English and reciting quite a few of the daily examens over the course of this year.  Mr. Berry commented that "The most enjoyable aspect of this year's experience has been the relationships – with students, faculty, and [his] fellow ASC brothers – that have grown organically out of the work that [he does] each day."
Reflecting on the close connections he has made over the past ten months, Berry also stated how "every interaction [he] has with a student meant something."  Mr. Berry, regarded as one of the smartest brains on campus, was loved for his wonderful character and the changing collection of bowties he sported each and every day of the week.
Mr. Berry will travel overseas and teach in France next year.
Make sure to say your goodbyes and good-luck wishes to the departing Pace, DuRoss, and Berry, but stay excited about the upcoming wave of new ASC members.
Despite losing another great group of Jesuit graduates, the school will gain four more outstanding individuals next year in the Alumni Service Corps.  From the Class of 2008, Andrew Flemming (Michigan State), T. J. Howard (TCU), Jake O'Brien (Boston College), and Chis Patterson (Ole Miss) will all bless the campus of Jesuit with their participation in the ASC in the 2012-13 school year.
To learn more about the ASC, visit http://www.jesuitcp.org/page.aspx?pid=717.