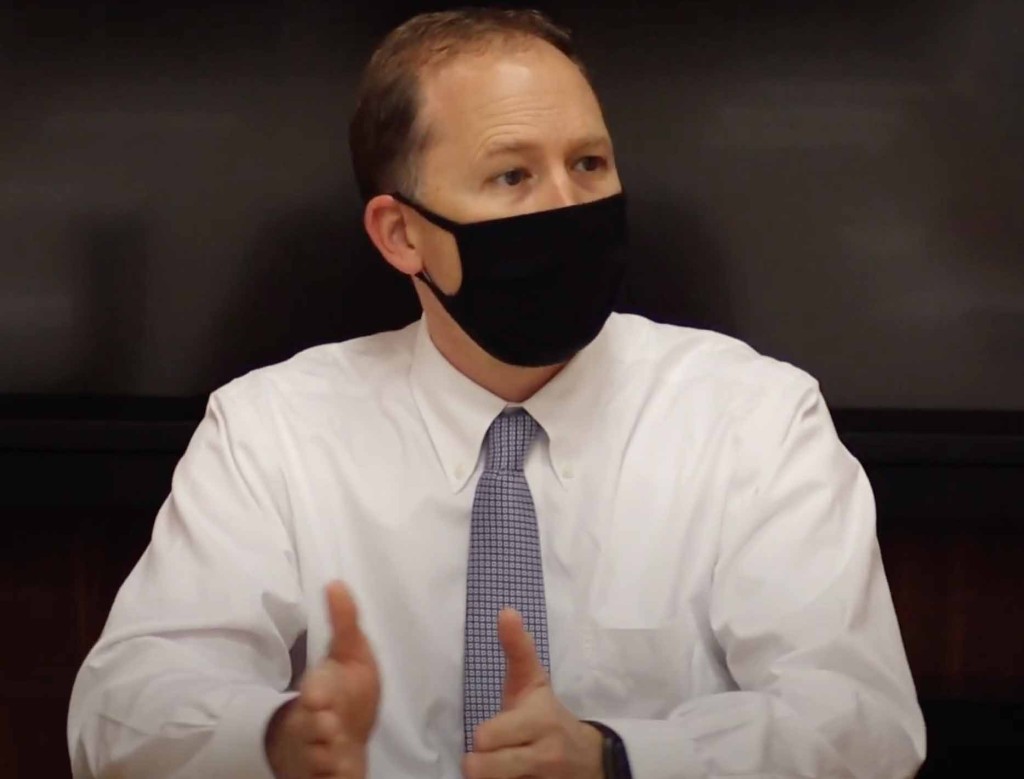 As our school's biggest events begin to unfold, the Jesuit Roundup decided to conduct a press conference with Principal Thomas Garrison to discuss the exciting news circulating campus. The video conference is above with a transcript below.
*Note: Garrison's comments on masks were done a week prior to Jesuit's decision to go mask optional. 
How close are we to being able to gather as a full community?
That's a very good question, but remember things we can control (like) how tightly packed together we are, whether or not we're masking, other things like vaccines, washing our hands, stuff like that.
The prayer services and liturgies have about 550 people in those. And if we put everybody in together, it'll be over 1100 people. So we haven't determined yet when we will do that. We're doing things in stages.
What about Ranger Day?
We'll still have one; I don't think we call it a pep rally, but an opportunity to get together and make some noise. And my understanding is that stuff will be outside though. I believe Ursuline will be here for their powder puff game at some point. That'll happen on the main football field.
There'll be games all over the place: the baseball field, back field, Xavier mall out there. I think breakfast is served that morning, so you guys can come in early and get breakfast. Chariot races (too), things like that. So it's going to look more like Ranger Day than last year's Ranger Day.
What is in the future for the school year?
So this year there will be homecoming dances. They'll be outside. We'll have those, whereas we didn't last year. Last year, the juniors and seniors did not really get a prom. They had an activity, but it wasn't like a traditional prom. I think we'll start seeing those things come back. More traditional looking activities. In the immediate future, we still (have) a football season to play out, and the homecoming dances are about to happen.
What's in store for us? The quickest thing that comes to mind is we're going to start seeing some COVID criteria being relaxed.
What will the upcoming basketball season look like game capacity?
We'll use a couple of markers for that. One is we look at a UIL guidance and the UIL guidance last year. You have to fact check me with Coach Koch, but I think it was, we had to provide the same number of tickets for the visiting site as we provided for our games.
And then some of the determinations were met or were made on percentage of capacity. So just like I said with the Terry Center last year, we were at one to eighth capacity for a prayer service and we went to one quarter capacity and now we're at half capacity. The gym was similar last year.
This year, I imagine it will be similar, but the percentages will be much higher. If there's a cap at all, we might just stay open (at the limit.)
What led to the plexiglass decision?
We felt like y'all were ready for it. What's going on behind the scenes that maybe the students don't see is we're having lots and lots of meetings to talk about COVID and infection rates and how many people are getting sick. And when we talk about that, we're talking about how many are sick or have gotten said on campus and then how many across other Catholic schools in town.
Students get sick at schools that aren't Catholic schools, but I do know the Catholic school numbers and we compare data with them. I've been meeting with the city health department every couple of weeks. We meet with the diocese every week. Our administration has been meeting weekly and what we saw is since the start of the school year. You guys have done a good job of keeping COVID from spreading here on campus.
Our main concern was we did not want to close. We wanted to be here together in the building. We chose closer on the side of caution to keep you guys here. And so we said, we're going to stay in masks, even though some schools didn't state optional masks, we chose to keep the plexiglass up.
And because the numbers stayed so low. I mean there were weeks where we had no cases at all. Our vaccination rate is pretty high here, so we said, we're going to take down the plexi, and it seems to be working.
What will Homecoming look like?
We've been watching the numbers. So if you guys have been to the football games this year, you've noticed we've had wonderful crowds at football games…The belief and the understanding has been that if this has passed, if this is airborne, when we're outside it disperses very quickly, and that has proven to be the case we've experienced after football games.
So we were very comfortable saying we can do this outside and I'm not worried about you guys getting sick. So the decision we made let's do it outside because we weren't ready to commit to an indoor traditional dance.
But we had the freshmen mixer (outside.) And I thought the guys seemed to like it, it looked like it was fun. We knew we could do that for homecoming and even bigger. There'll be more activities. Ursuline is going to do something similar for the freshmen and sophomores on their campus. It'd be good for the people who want to dance can do that. There'll be things for people who don't want to dance. The big difference is it'll be spread out more.
And this is the first homecoming dance we've had outside or is there anything like?
In 1997 or 1998, Dr. Degen was in charge of student council and student council was in charge of homecoming and they still are.
But my memory of it is that a large portion of the dance actually happened in Xavier Mall. . And I think part of that was at the time, we did not split up freshmen through seniors.
So there were a lot more people just on our campus and it was too crowded to have all of that. So part of it was outdoors. This is really not the first time we've done some of it outside, but it's been, it's been a while though.
(The homecoming comments go together with the dad joke)
We did homecoming off campus at like a hotel ballroom, but we realized it's homecoming, let's be home. Right. And one of the things that when we elevated it to a hotel ballroom, it was people thought it had to be more elaborate and they had to outdo each other. And so we started to see guys get limousines and stuff like that. We don't think you need to do that, but that started happening for homecoming.
We discovered how much people were spending on this. And then we had this sad experience where there was a group of juniors who paid a ton of money for a limo. Some of the guys just had the money and some of the guys had to work for their money.
And for some of the guys that was a real stretch, and they shouldn't have been spending that money. The reason we found out about it was because the day of homecoming, the driver got sick, so they got their limo and they had nothing to show for it.
How do you think masks have affected the classes of '24 and '25?
Well, I'll tell you one of the, just personally, I've gotten to know some of you guys in the building and when I see you out in public, like at a football game or something, I don't always make the connection very quickly.
I wonder if y'all have the same problem. My guess is if you know somebody really well, you know without the mask or with the mask. But a lot of this beginning of your experience here is meeting lots of people.
So my guess is it makes it a little slower to make some of those connections. It's gotta be hard to navigate some of these new friendships and relationships if you can't see each other's faces. I do believe that's at play.
I also think you guys are pretty good at it. The behaviors I see in the freshmen looks similar to behaviors we used to see in freshmen. You guys hang out on the steps together, you do things together. That's what it looked like before COVID. I think y'all are pretty resilient and I think you're still behaving the way I hope freshmen behave as far as interacting with each other.
What has lead to our success at full capacity (in classrooms) for the past 18 months?
Okay. My opinion is that I think you guys have done a good job of doing the things we asked you to do. We see a lot of noses and stuff, but by and large, I think y'all are pretty good at the masking.
Part of it also, I think you guys want to be here. And so I think you guys were active in working with us and you didn't work against us.  If you guys have been fighting us, I don't think it would work. You guys have been cooperative.
Special thanks to Managing Editor Ajay Bhavan '22, News Editor Grant Kostos '22, Austin Keith '24, Tejas Murugesn '23, Ben Woodard '25, Max DeGroote '25, and Key Kolb '25 for interviewing Mr. Garrison.
Special thanks to Media Editor Saad Zulqarnain '22 for filming the interview. 
Special thanks to Mr. Garrison for taking the time to talk with us.
Tune into The Roundup for more press conferences!