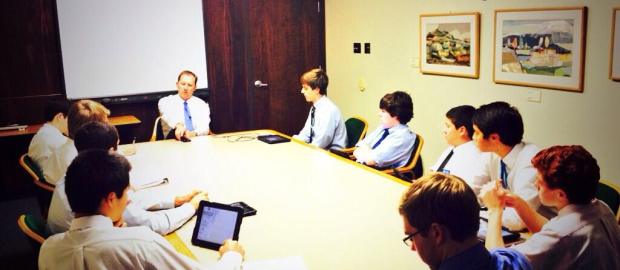 Last week, The Roundup staff conducted its most recent press conference with Principal Tom Garrison. Questions varied from the school's four snow days to Jesuit Stage & Film's new video lab. Below are a select few of the questions from the interview:
Justin Rubenstein '14, Managing Editor: What's going on with the stray cat in the building? (For those who weren't aware, a stray cat had gotten into the building last week. Thankfully, it was captured and let free outside of the building on Mon., Feb. 24)
Garrison: *laughs That's a great question. I originally thought it was a joke. Mr. Dondis told me that he thought a smell was coming from some insulation that had been pulled into an AC unit, and I thought that was weird, but then Dr. Gruninger told me that there was a real cat upstairs that had gotten in somehow. I'm assuming it's male because it's definitely marking it's territory, but we will find it. We will find it and let it free outside.
Aaron Stonecipher '14, Editor-in-Chief: Mr. Myers in the theater department just purchased the new video production lab. He's now planning to implement this new equipment into the upcoming spring one acts in May, so do you have any expectations for the program or any idea just how big it'll get in the future?
Garrison: My guess is that it's going to grow. It's going to be like a lot of things around here; it's going to start small and then get really big. I'd be very happy for it to grow. Whether by design or by accident, it's going to become one more thing that's out there that allows for publicity and press. The videos that they're going to make are going to be worth more than some admissions pamphlet. It's going to be huge; I'm thrilled by it and I really do think it's going to be huge. I'm excited that in the near future when you google Jesuit Dallas, these professional-looking videos will come up. That's just going to be really cool.
Pierce Durham '14, News Editor: Now that basketball season is over, how do you think the first year in the new gym went? Was compressing the stands a little more than last year a problem at all? Were things any different?
Garrison: I don't think it's as loud anymore. I think that might be due to the new mezzanine section, so the sound isn't all staying in the gym, but the PA is new and sounds great now. The windows and the lighting are great, and the space really just feels newer and cleaner. The space is starting to align with how the rest of campus looks.
Durham: Are there any renovations that need to be made now that we've finish our first season?
Garrison: We are going to put some type of artistic cross in there. It'll be something that makes sense in a gym, but I want a good cross in there. It'll probably on the south wall by Ranger Pete.
Dylan Dotter '14, Sports Editor: Isn't there also supposed to be a video board installed?
Garrison: Well, I personally think that video boards are things we'll have five years from now. You can get video boards for gyms our size, but they're still very expensive. However, I think the video board will become attainable, like how the SmartBoards did.
Jeff Melsheimer '14, Junior Editors Manager: We're now 10 years out from the UIL v. Jesuit case which allowed us to enter the UIL. How do you feel our progress has been in the UIL, especially with football advancing to the 3rd round of the playoffs this year?
Garrison: I think we can compete, and we do compete. When we first entered the UIL, people didn't think we could. They also thought they we were going to recruit kids, too, but I know from admissions that we simply don't. When we read admissions files, we're looking at the whole student, so we just happen to piece together classes that end up being really athletic. Our teams have been doing extremely well, and they're getting even better.
Blake DeLong '16: What are your thoughts on the new (athletic) districts?
Garrison: We're actually with the same schools we were with our first or second district in UIL back in the early 2000s. I remember playing all of the Irving schools, so it'll be cool to see how they are now. Ten years ago, MacArthur was a beast, but I'm not sure how they are now. If they think we're going to be how we were 10 years ago, they're going to be shocked. We will be serious competitors in this district.
Durham: Who would you attribute our athletic progress to? Athletic kids wanting to apply to Jesuit, the coaches, or like a cultural shift?
Garrison: I was here in the late '80s and '90s, and athletics were big even back then, so we probably have the same number of students playing. However, we have much better facilities now; our weight room has a program that every team is pretty much involved in. I think the coaches are all a lot more aligned with what our philosophy is here, and I think that attracts athletes. And, like you said, we've had some really good seasons. Football did well, basketball is doing well, and every sport is progressing. Everything is just more polished and more organized, and a lot of that is due to the coaching staffs.
Stonecipher: Regarding iPads, the incoming freshman class will be receiving brand-new iPads, and so will our current sophomores since this is their second year with their iPads. Mrs. Williams and some students are testing iPad Minis to see if they would work, so what's the status on that decision?
Garrison: The big questions are how long will the iPad 2s that we're using be in production, is it still the right device, and when is iOS 8 coming out and will it work on the iPad 2? We're testing iPad Minis now to see how they would work since they're a newer generation. I actually have one now, and I like it. It's very possible we might change, but it'll depend on the availability of the (iPad) 2s and if we can get any assurance that the newest iOS will work on them. We're going to put off the purchase of new iPads as long as we possibly can, just to make sure Apple doesn't change anything up on us.
Stonecipher: Where will the old iPads that we currently have go?
Garrison: Some of them will be donated, but the truth is that the sale of the old ones will go towards buying new ones, especially since the iPad 2s have great resell values. The bulk of them will be sold [to students and faculty].
Stonecipher: Now that 1st semester has come and gone, what were some of the highlights?
Garrison: I really enjoyed Ranger Day this year. I thought being in the new gym with everyone was really fun, so I liked that. I thought we had good spirit at homecoming, too. I enjoyed the Statistics trip to Utah, so for me personally, that was a highlight. We've started a curriculum committee with faculty and staff to help review the curriculum as a part of Mr. Earsing's strategic plan, so that's been really fun for me.
Durham: With Mr. Blackwell (College Counselor) leaving last semester, have there been any plans to bring anyone in?
Garrison: We are actually interviewing people over the next week or two for the position. However, we're going to send out things to department chairs to see which teachers are returning, because sometime people move around. Someone in a different department could take a different job within the school, and then I'd need to hire someone for that old position, so it just depends on who all we need to hire first.
DeLong: What were some of the decisions behind the course changes next year, like splitting AP Physics and getting rid of Computer Graphics?
Garrison: AP Physics was decided by the College Board. That was just something we were told to do, so it's happening everywhere. With computer science classes, they're evolving from typing to videoing to programming, so now we're aiming towards learning the programming languages and specifics for technology. With the new film class, Mr. Myers was simply answering a desire. Students seem to be interested in video production, so we wanted to give that opportunity to you.
Michael Lanham '15, Junior Editor: Has the school considered some kind of online integration with classes? In summer school, some lessons were actually online, so do you see that being more common?
Garrison: One component of the curriculum committee was the idea online learning. Is it here to stay? Should I add one online credit to your graduation requirements? There are hundreds of ways to go about this. We are looking into it, but nothing is official right now.
Stonecipher: Snow days. I think everyone but Mr. Knize really likes them, but with the four snow days that we've had, that's four class days gone (Icepocalypse). Does that hurt scheduling at all? Are any teachers concerned about not being able to finish their coursework in time?
Garrison: Oh, I think he likes them. He sure does like tweeting about them, that's for sure! But to answer your question, I think most teachers were able to keep up. The first two days we had off, it was difficult to keep things running. People were losing power left and right, and the school did, too, so Moodle was down, and we lost more ground on those two days then the last two days. I haven't told the faculty that they need to have some type of backup lesson to activate when school is closed, but they are good about communicating with students about reading assignments or things to do at home to prevent falling behind. I think the iPads help with school closings, as long as we have connectivity.
Thank you to Mr. Garrison for another great press conference!