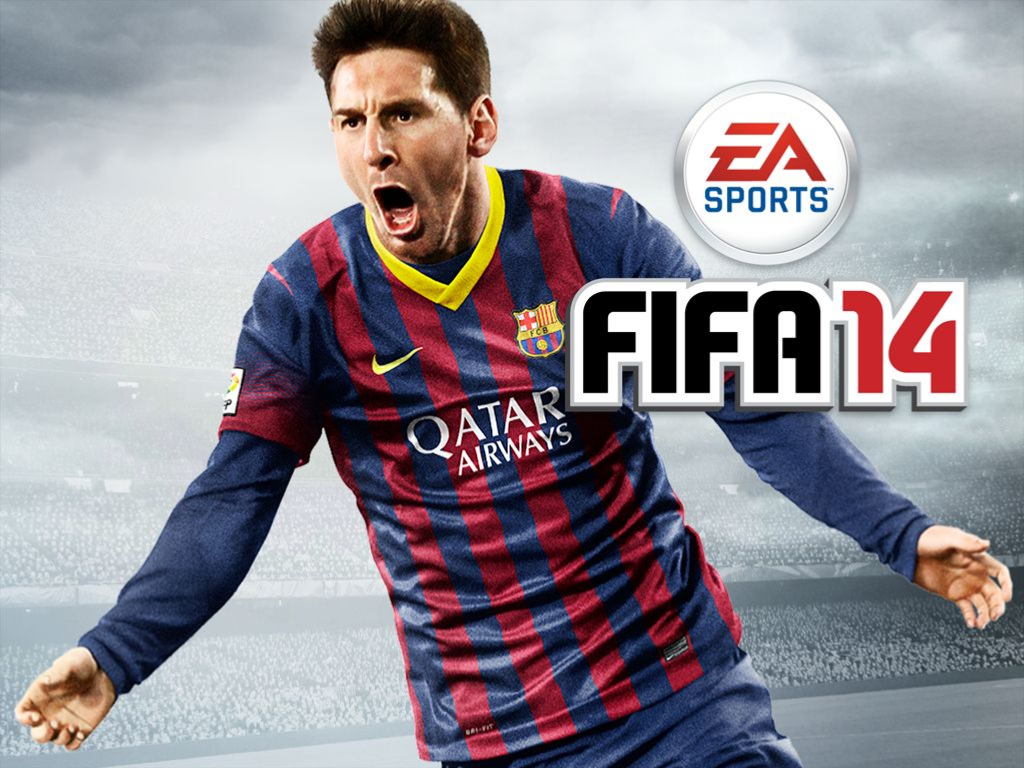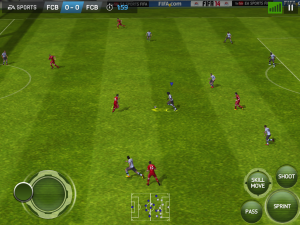 Walking through Jesuit the hallways, you might come across two quiet students staring intently at their own iPads in their hands, seemingly not interacting with each other until they simultaneously throw their hands up either in defeat or in victory. There is a great chance that they are playing FIFA '14, one of the most intense, entertaining games you can download on the iPad, a game of soccer.
EA Sports' FIFA 14 allows one to play the most popular sport in the world vicariously through some of their favorite players, such as Messi, Ronaldo, Robben, and the list goes on.
With relatively easy-to-learn controls on your iPad or console, a person can control their players down the field, sprinting, passing, tackling, and shooting, until they finish the proportionate 90 minutes to a win, or overtime.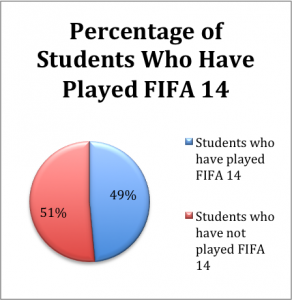 We surveyed about 100 random students around Jesuit and determined that about half of the students at Jesuit have played FIFA '14.
Junior Daniel Hoffend '15 says he plays it because "it is a fun way to pass the time."
We also talked to FIFA fanatic Trevor Trosclair  '15 and he told us why he plays FIFA '14 on his iPad: "It requires skill and breeds rivalry. It's a way to pit yourself against an opponent and see how your skills match up against the other. It requires strategy, anticipation, determination and celebration."
Indeed, this game requires each player to bring their own style to the field against their opponent, one that can vary greatly from player to player.
Several different methods of play can bring a player to success. For instance, one could decide to sprint all the way down the field performing skill moves with Cristiano Ronaldo, or this person could ground pass, lead, and cross, using all of their players on Chelsea, until they ultimately scores a goal with Samuel Eto'o.
Both of these methods, along with many more, can yield a victory for either of the players of this game.
The game also requires a "basic knowledge of soccer," says Dylan Roberts '15 who also plays real soccer. He says, "You need to know the right passing lanes, when to make certain plays, where to place your players, what skill moves to use, etc."
After all, you certainly cannot expect to charge down the field without passing or doing any skill moves and break through the inevitable wall of defenders.
Although it is quite similar, Dylan Roberts '15 also says that in some ways FIFA is  "very unlike real soccer. For instance, it's a lot more physical because you can't actually hurt someone and because there's little to no serious or dramatic consequences in the game in relation to penalties."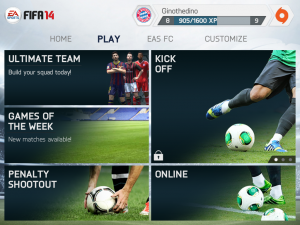 FIFA '14 provides many ways to play the game, whether the player wants to practice against a computer generated team, challenge random players online, or challenge a friend.
Playing against computer generated teams in Season or Manager Mode (different years call it different names), players pick their favorite team and make moves on and off the field, trading, signing players, extending contracts, over a number of seasons and tournaments, bringing their team to glory with multiple championships. d right beside him.
If a person gets bored with a team, he can simply start a new Season, or he can actually quit his team and have a new team sign him.
Another way a person can play also includes Ultimate Team.
A favorite in other EA games such as Madden NFL, Ultimate Team lets a person become a manager and create a brand new team that they can compete in different tournaments and games, against the computer or live people.
Creating a team, though, has a twist. Each soccer player in Ultimate Team is denoted by a card, almost like a baseball card. Only this bronze, silver, or gold card tells a manager the games left on a contract, the stamina a player has, and all of his stats, essential items of which a good manager needs to know and control.
Spending coins earned through various achievements and matches, managers can decide to buy the card of whatever player they choose through an auction, or they can take a risk with the uncertainty of a pack, hoping, out of the random cards they bought, a favorite will pop up. A good manager won't randomly buy and play players. He buys players of the same nationality, league, or team in order to have a team of great chemistry.
Although being a manager can seem difficult, with the responsibility to buy contract cards, change formations, and make other complex moves, Ultimate Team is a highly recommended feature every person with the game needs to play.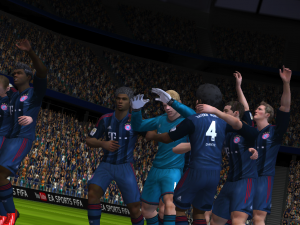 Lastly, there is the ability to play online. Choosing to either play against someone sitting all the way across the globe, or someone sitting at your lunch table, people battle head-to-head in heated, vigorous displays of skill, hoping to be able to rub victory in their friends' faces by the end of the game.
FIFA lets someone use teams from all over the globe. A Texas resident can decide to go with their hometown FC Dallas, or travel all the way to Spain to use Messi and FC Barcelona. Liga BBVA, MLS, Barclays Premier League, and Bundesliga are just a few of the leagues a player can choose from. One could even choose an international team, deciding to use Wayne Rooney not on Manchester United, but the English national team.
A game of FIFA also lets players customize the kind of game they want to play. They can choose various lengths of time, like 2, 3, or 4 minute halves, to play, since guys don't exactly have time to play a realistic soccer match of 30 or 45 minute halves. "This makes it easy for students to play in their free time," says Brendan Legas '15.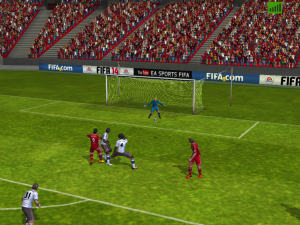 Players also have the option choose different formations, stadiums, jerseys, and even the weather before they start up a match.
All the more fun, FIFA on the Xbox or PS3 or 4 is the same as on the iPad, only everything is more intense. The features, the graphics, even the celebrations have greater attention to detail. If you're reading this and you have some extra money to spend, you should definitely buy this game for your console.
This amazing app on the iPad can be currently found in the app store for three payments of $0.00. Yes this app is free. Even though the app takes 1.16 GB of storage, it is still worth downloading, based on the many Jesuit students who have downloaded it already. Plus, a game this extraordinary deserves that amount of space.
A competitive sports video game that is free and that can be played with friends, what more could a Jesuit student want?