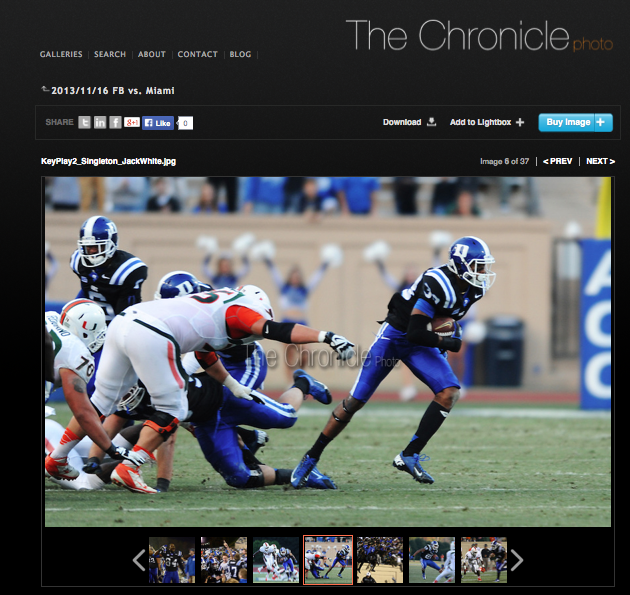 Photographs are all around us. We see them everywhere, on magazine covers, on billboards, in frames. Yet, we hardly ever think about the people who take these photos. Most of us never consider the time, patience, and skill that go into this hobby. Fortunately, there are Jesuit students who appreciate the art of photography. They know from first hand experience what it takes to capture a moment in time. Jesuit alum Jack White ' 13 is one of these people.
White was first exposed to photography in middle school when he took a photography class. Initially, he did not really care for it because "it was more of a chore, as in something I had to do to get a grade." However, this attitude changed once he got to Jesuit. During his freshman year, White noticed that there were not enough students to cover events for the Roundup and the Last Roundup. When the club moderators learned of his experience in photography, "They encouraged me to get involved." For the rest of his time at Jesuit, White took pictures for both clubs. He shared his skills with others so that they could fill his place after graduation.
White has moved on to Duke University, but his love of photography remains with him. He has been given access to some of the biggest events at Duke, ranging from "men's basketball games to national semifinal field hockey games and most recently the Chick-Fil-A bowl, which pitted Duke against A&M." His photographs are then placed in the Duke Chronicle,  the student-run newspaper. White says that working on the field has been "a whole different experience," especially because "you can often hear the coaches screaming at the referees or their players."
Despite White's deep interest in photography, he does not see himself pursuing it as a career. Instead, he calls photography his "extreme hobby," and plans to major in chemistry. For White, "the hardest part about photography is definitely getting lucky." It's all about being in the right place at the right time because "if a touchdown is scored on the other side of the field your photos are not going to be good." He advises others who have an interest in photography to "get involved with the school newspaper and yearbook." Looking ahead, White is excited to photograph Duke basketball games this season. So, next time you see a photo of Duke sports, there is a good chance you know where it came from.