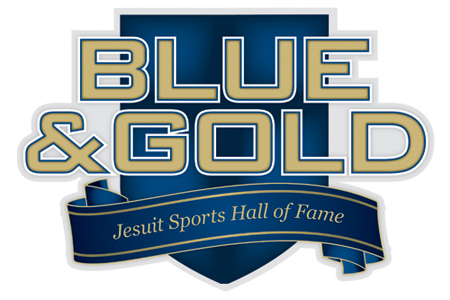 Each year, the Jesuit Athletics Booster Club selects one person to be recognized as the John F. Campbell Fan of the Year, an award of legendary status. The prestigious award was created by the Booster Club in celebration of the life of John Campbell and in recognition of the amazing amount of time he spent supporting Jesuit Athletics.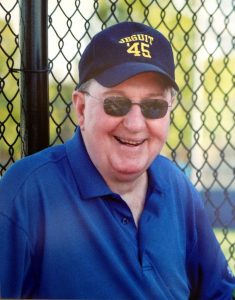 Beginning in the 1970s, when his oldest son, Johnny, attended Jesuit, through the 2010s, when several of his grandchildren enrolled, Mr. Campbell was connected with all aspects of Jesuit, especially the sports programs. His presence made a significant impact on a countless number of people over the years.
Jesuit athletic director Steve Koch said that in order to be considered for the Campbell Fan of the Year, "a person must have supported Jesuit Athletics far beyond the regular fan. Some years it is someone who comes to multiple sports, supports the teams regardless of how successful the season is going, and other years it goes to a person who goes beyond the call of duty to support and promote a sport."
Nobody embodies this profile more than Mr. Pat Schnitzius, Jesuit class of 1945. Over his decades of affiliation with the school, Pat Schnitzius has been an ardent supporter of all Jesuit sports, especially his two favorites, basketball and baseball. His unwavering dedication and consistent attendance at Jesuit sporting events—one can always spot him in the stands of the basketball gym or along the fence at baseball games—elicit tremendous respect from Jesuit coaches and athletes.
One athlete, basketball and baseball player Grant Hatzmann'13, said, "Mr. Schnitzius's commitment to Jesuit Athletics means so much to us because we know that no matter what happens, he will be there supporting us, cheering for us, and caring for us." But even more than a supporter, players consider Schnitzius an essential part of the team. "Here at Jesuit, our basketball team is a close-knit family," said hoops standout Don James Udofia'12, "and Mr. Schnitzius is definitely a member of our family."
At the annual Blue and Gold Banquet, Pat Schnitzius will take his rightful place among the other distinguished members of the Hall of Fame. Jesuit Athletics, The Roundup's staff, and the rest of the Jesuit community would like to say congratulations to Mr. Schnitzius. This award is well deserved, as any fan of Jesuit sports can attest. Thank you for your dedication and loyalty to Jesuit Athletics.
Jesuit Sports Hall of Fame Inductee Jerry Taliaferro '63
Jesuit Sports Hall of Fame Inductee: John Murphy '70
Jesuit Sports Hall of Fame Inductee: Adrian Winnubst '81
Jesuit Sports Hall of Fame Inductee: T. J. Hansen '01
Pat Schnitzius '45 Grabs John F. Campbell Fan of the Year Honor
Gold R anger Award Winner – Mike Boeding '60
Rev. Philip Postell Distinguished Service Award: John Schmeltz '74