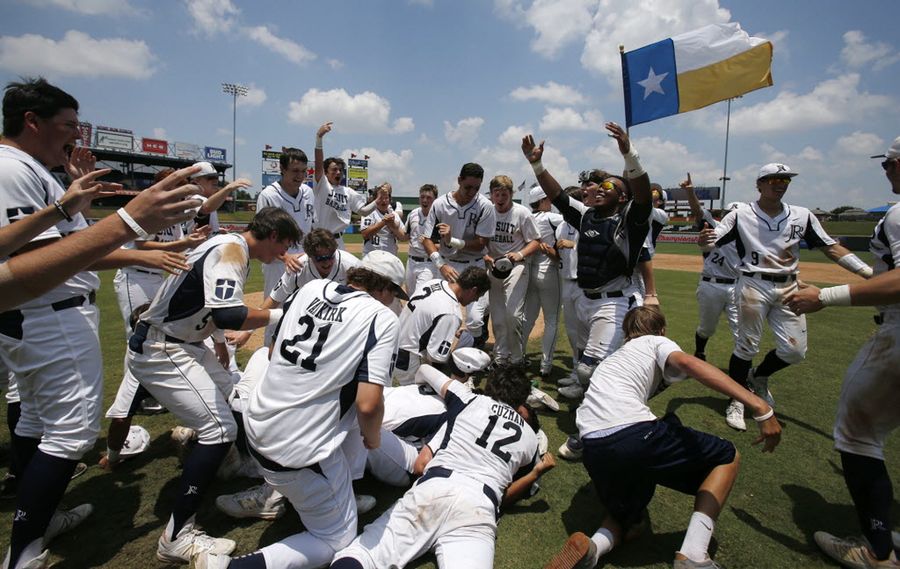 Ah, Jesuit Dallas. What more can I say to bolster this school's elite status? It's got everything you need and everything you could ever want in a school.
As I was looking for schools to move from my previous middle school, one of the main things that attracted me to the school was the ability to compete at a high level. We may have rigorous academic standards, but we can compete with bigger public schools, winning state championships despite the private school status. While Jesuit has a lot to offer, the main experience that is seen at Jesuit is the student-athlete.
Today, in my first piece in my article series, Uncovering Jesuit's History, I will be unraveling the history of why Jesuit competes with the big dogs in the UIL.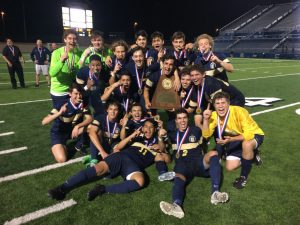 The Beginnings of High School Sports Organizations
The Texas University Interscholastic League (UIL) was created in 1910, and in its early years, all the teams, public or private would play together in one conglomerate division to compete for one championship. This was proclaimed in John D. Gaspard's dissertation discussing the rise and fall of TCIL written at Baylor University.
(Note: All quoted material are references to his dissertation, so this information is a reflection of his work. I am using his material to further explain the history.)
"In the early years of Texas's University Interscholastic League (UIL), the governing body of high school athletic and academic competition, private high schools, most of which were Catholic parochial schools, competed with one another in an academy division. In fact, Saint Edwards of Austin, a future TCIL member, won the academy division at the 1913 state track meet; however, the division was discontinued at the end of the 1917 season because of a lack of participation by member schools."
With other schools looking to play sports, the Texas Catholic Interscholastic League (TCIL) was then created in 1935 with "a basketball tournament, ten charter members, and support from Saint Mary's University in San Antonio" before taking a break during World War II. The basketball state tournament was then reinstituted in 1946 by Brother Joseph Siemer, and the league began gaining traction from there. By 1962, the TCIL had roughly 18 members and other private schools began to join. Jesuit began its athletic career in TCIL in 1964, and began dominating the league, winning three all-sports championships within its first six years of membership.
"The 1970s saw the addition of girls' sports to the TCIL along with the entrance of non-Catholic private schools, repeated attempts to join the University Interscholastic League (UIL), and a name change." While Jesuit's all-boys status would obviously preclude them from participating in girls' sports, Jesuit still dominated the TCIL, but the competition in was inadequate for Jesuit's tastes. Jesuit would win hundreds of state championships within from 1964 to1999, including 20 in football, 12 in basketball, 17 in soccer, and 10 in tennis. Jesuit began the heavy legislative fight in 1993 to try and get into the UIL, but the UIL rejected their appeal multiple times. TCIL began to dissolve in the 1990s, attempting to merge with TAPPS.
"From 1985, after a failed merger with the Texas Association of Private [and Parochical] Schools (TAP[P]S), to 2000 the TCIL lost member schools until only two remained." Those two schools got accepted into TAPPS, and there were only two schools that remained.  Those two schools were Jesuit Dallas and our brother school in Houston, Strake Jesuit, as both schools dominated the TCIL for a long time. Because TAPPS wanted to change that history, Jesuit could not play in TAPPS, and the SPC rejected Jesuit based on its size. We had nowhere to go.
The private schools in Texas now currently play in one of three leagues: TAPPS, SPC, and T-CAL. While other attempts to make leagues have occurred, they have not been able to sustain a high level of competition and enough members.
"The oldest of these associations is the Southwest Preparatory Conference (SPC), which began in 1952. The SPC consists of nineteen schools, seventeen of which are in Texas. The Texas schools are found in Dallas, Fort Worth, Houston, Irving, and San Antonio. The SPC is made up of several non-sectarian college preparatory schools, Episcopal college preparatory schools, and one Catholic school.
The Texas Association of Private and Parochial Schools (TAPPS) is the largest of
the private school associations. It began with twenty schools in 1978. The association
became incorporated on 8 June 1992. TAPPS had 236 members during the 2003-2004
school year. Twenty-three member schools with enrollments between 426 and 1450 students comprising three districts make up TAPPS Class 6A.
The third private school league is the Texas Christian Athletic League (T-CAL).
This league began with six teams in 1991. T-CAL sponsors academic contests, art
contests, baseball, basketball, cheerleading, cross country, flag football, six-man football,
music contests, tennis, track, and volleyball.
There were other leagues such as the Houston Prep Conference (HPC), the Texas Independent Conference (TIC), the Texas Prep League (TPL), the Texas Private School Associations (TPSA), the North Texas Conference (NTC), and the Private School Conference (PSC).13 These leagues were loosely put together to provide member schools a chance to compete for a championship of some type. Some teams were members of more than one league. Leagues would be created and then dissolved the following year. The only three private school associations able to maintain a stable existence were TAPPS, SPC, and the TCIL."
The Legislative Fight
The legislative fight began in 1997, proposing to the UIL to join without. The State Legisature and the governor endorsed our proposal. Our president at the time, President Phillip Postell S.J., gave the plea, but it was denied. We then drafted two congressional bills, House Bill 1026 and Senate Bill 266, which went to the Texas Senate Education Committee. The UIL Legislative Council encouraged and ultimately got the council to vote against our membership. We then looked to the rest of the country to learn more about the organization of private and public schools in sports. The majority of states allowed private and public schools to play together.
"The United States has fifty-one state-level athletic associations. Forty-four of
these associations place public and private schools into a single organization, and
students in the member schools compete against each other for district and state
championships. Seven state-level organizations organize their public and private schools
in different ways. Maryland, Virginia, the District of Columbia, and Texas have separate
associations for public and private schools, and schools in each association play for their
own district and state championships. Hawaii's public and private schools do not play
against each other during the regular season, but they do compete for the same state championships. In New York, the decision of whether to mix public and private schools
is made at the local level. In New Jersey, public and private schools compete against
each other for district championships and county championships, but the schools play for
a different state championship in the majority of high school sports."
Current president Mr. Garrison reflected on our struggle at this point of history:
"The goal was to give you guys the best opportunity for competition and TCIL did a good job for a long time when we were a smaller school. There were a large number of other schools that we could play, but as we started to go through the 70s and into the 80s, it would be between Jesuit and Strake Jesuit.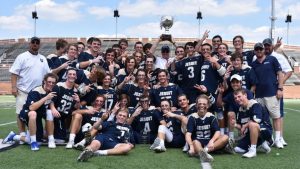 "We had to find a place to play. In most states, like in Buffalo, you can play there for the state championship. Most Jesuit schools in the United States allow them to compete in Texas. There's this big separation between church and state, and they said that we couldn't play in UIL. We said that was unfair. We didn't have any place else to play. It was hurting you guys because you guys have a right to play. There are certain things you get based on the fact that you're a citizen and you pay taxes."
At a Jesuit school in Buffalo, they get transportation and school buses provided by the state, books, and supplies provided by the state, and can play in athletics. So, we went to court saying, "Hey, it's not fair to you guys. You're a taxpayer. You should be able to get this right for it."
This is where the story still continues. In June 2000, Jesuit called in a meeting to allow Jesuit to participate in all UIL activites, as the UIL was already accepting charter school. The request was denied. In November 2000, Jesuit Dallas filed a lawsuit in U.S. Federal District Court to get a verdict. The school long argued for the right of parents to have their kids obtain an privately-operated education without giving up the competition and intensity of UIL's athletic programs.
However, this sacrifice began heavily manifested through the scheduling of athletic competitions. During this transitional period, Jesuit would put together schedules against schools where the score wasn't counted on their record. We would have to travel farther, even out of state, just to play a game, and we didn't play the same teams in a regular schedule. There were no rivalries and very few big games, especially when the result meant nothing. There was no incentive for players to put their blood, sweat, and tears on the line, and the morale of the school was at an all-time low. No school spirit. No team spirit. No community spirit. 20 years ago, the school's athletic program was nowhere like it was now.
Typically, the argument against us was that we were better able to recruit student-athletes due to the benefits of being a private school. This isn't completely accurate. Jesuit does not recruit on the pretense of athletic ability, as there is more that is considered for admission. Our admissions process is more holistic, including grades, student essays, parent essays, recommendations, and interviews, more similar to a college admissions process. If anything, these criteria can make it more difficult for student-athletes to get into the school, because simply being an incredible athlete will not guarantee admission to the school.
In 2001, Jesuit filed a discrimination lawsuit with the UIL motioning to dismiss the lawsuit. Despite the school's quick response, the state Senate bill that would grant UIL admission for Jesuit, failed again. The disappointment was immeasurable, as the bill wasn't even given a chance to be reviewed on the House. It got even more difficult, as Judge Sam Lindsay granted permission to dismiss the lawsuit. We took the next step to gain justice. The U.S. Fifth Court of Appeals.
The moment finally came. Jesuit's application to enter UIL in 2003 was accepted, and ecstasy flooded the campus. The state commissioner of education swiftly approved, and UIL legislation changed to allow Jesuit Dallas as a member.
In January 2003, the UIL's Legislative Council decided to allow "non-public" schools into the UIL if they could not participate in another league. These schools would have to compete in Class 5A, Texas's largest athletic division. The UIL placed Dallas Jesuit in District 7-
5A, where the school proceeded to win the district championship in basketball. Strake
Jesuit participated in District 19-5A…Neither school competed for a state
championship in football during the 2003 season because football schedules are made
every two years, and the Jesuits entered in the middle of a contract period. Making
private and parochial school admission into the UIL contingent upon competing in Class
5A was one of the UIL's ways of deterring other private schools from asking for
membership."
It seems like it was a good choice for Jesuit students. Playing in the UIL leads us to become even better student-athletes by offering new and more difficult challenges than before. It was only fair for a school like us that has a large enough student body, the capacity to compete at that level, and the rights as paying taxpayers. The threatened lawsuit convinced UIL to let both Jesuit schools, the only private schools currently in UIL, join the UIL in 2003. Sports mean everything to us, and as a player, this decision was incredibly monumental, as we pursue the goal of state championships in the future. The intensity and joy of finding triumph despite our status makes the victory even more bittersweet.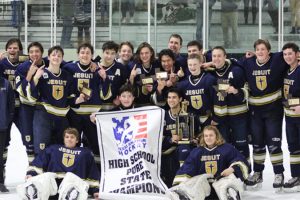 Other sports such as lacrosse, hockey, crew, and rugby play in different leagues, but the majority play in UIL. Considering that Jesuit is smaller than most 6A public schools and is a private school which admits based on academic performance rather than location, our state championships can show that we are a successful athletic school, even though we may not always win everything. Even then, the crew program has been very successful in competing in national tournaments, with many crew athletes being accepted into prestigious schools.
State Champions in Major Sports in Recent Years: 
Soccer – 2010, 2017
Lacrosse – 2016, 2017
Hockey- 2013, 2015, 2019, 2020
Baseball – 2016
Rugby – 2010
"Playing in the UIL for wrestling meant that I had to compete against a wide pool of people. When I went to tournaments, the sheer number of people competing at some of them was honestly intimidating. Jesuit's comparatively small team meant that each person had to represent the school as an individual in each weight class. In duals, where it is just one team against another, often we had to forfeit weight classes. I feel that pressure pushed me to perform at a higher level, much like in other individual sports." -Alex Paul '21, former wrestler
Works Cited:
The rise and fall of the Texas Catholic Interscholastic League. Gaspard, John D.Baylor University, ProQuest Dissertations Publishing, 2005. 
Check back to The Roundup for more on Jesuit's history!