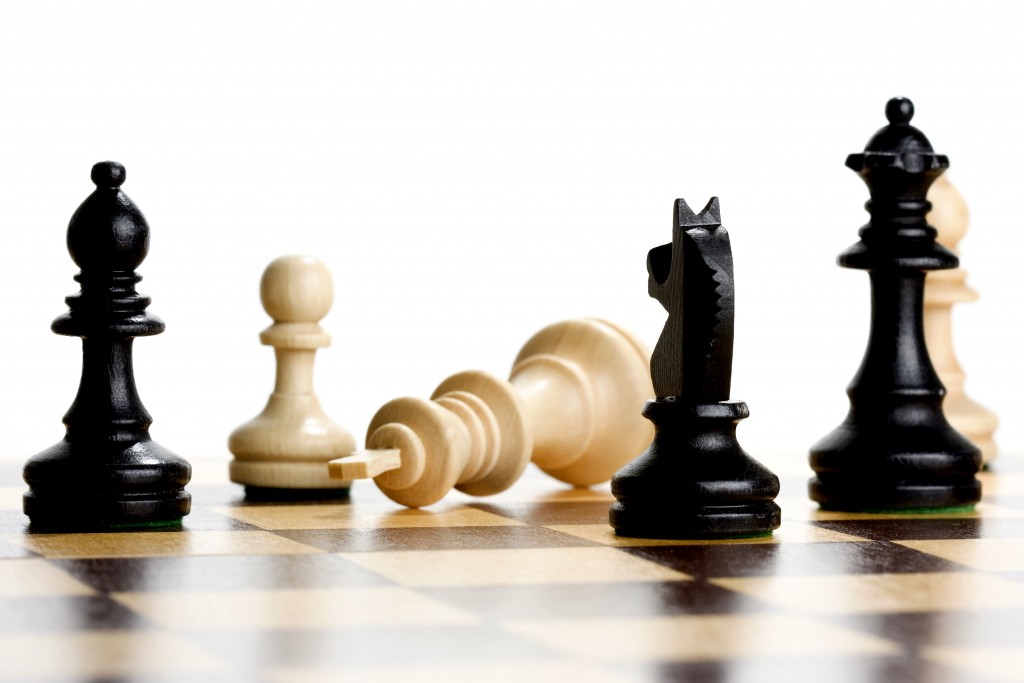 The young man stared intently at the checker printed board scattered with pieces. A single bead of sweat rolled down his right cheek as his eyes squinted in contemplation of his next move. He slowly raised his right elbow from the hard, wooden table and pinched his Knight using his right index finger and his right thumb. Picking the piece up off the playing board, the student made a move and a slight grin appeared on his face as he exclaimed, "Checkmate!"
Such an excited smile was worn by four members of Jesuit's chess club, one of Jesuit's eighty extracurricular activities, during a recent tournament. The club is run by co-Presidents Reed Zimmerman ('19) and Kota Ueshima ('19). The chess club provides kids with the ability to grow in their expertise of the game or learn for the first time and compete at all levels. Due to the advances in technology, online chess has gained popularity because of the ability to play anywhere without having to worry about the chess pieces or a board.
Ueshima describes the Chess club as "a fun environment, while also challenging our minds." When asked what he likes most about the game, he said, "I enjoy chess because it is using logic to win the game."
The Chess club recently participated in a tournament that was hosted by the National Scholastic Chess Association. The Association is made up of players from Cistercian, The Covenant School, Founders Classical Academy, Great Hearts, Founders, Jesuit Dallas, St. Marks Catholic School, and Providence.
Although Ueshima was unable to attend the tournament, he commented, "it was a success as many Jesuit kids did well and it looks promising for future tournaments."
As Ueshima described, Jesuit's representatives did very well, as Sam Dayton ('20), Eduardo de Leon ('19), and Reed Zimmermann ('19) all won two out of two games and Ryan Chiang ('19) won one out of one game. All of them qualified for the finals in March.
The co-President Zimmermann said, "That's something to look forward to. It was an amazing feeling to know that all of our hard work had paid off and that we have the opportunity to put our skills to the test in March against more competition."
In the coming months of the club, the presidents are looking for more ways to compete with other schools and thinking of hosting a school wide tournament for all people to participate in. The club is even talking about helping kids out with chess at local elementary schools for the future.
Good luck to the Chess team as they continue to succeed throughout the year!