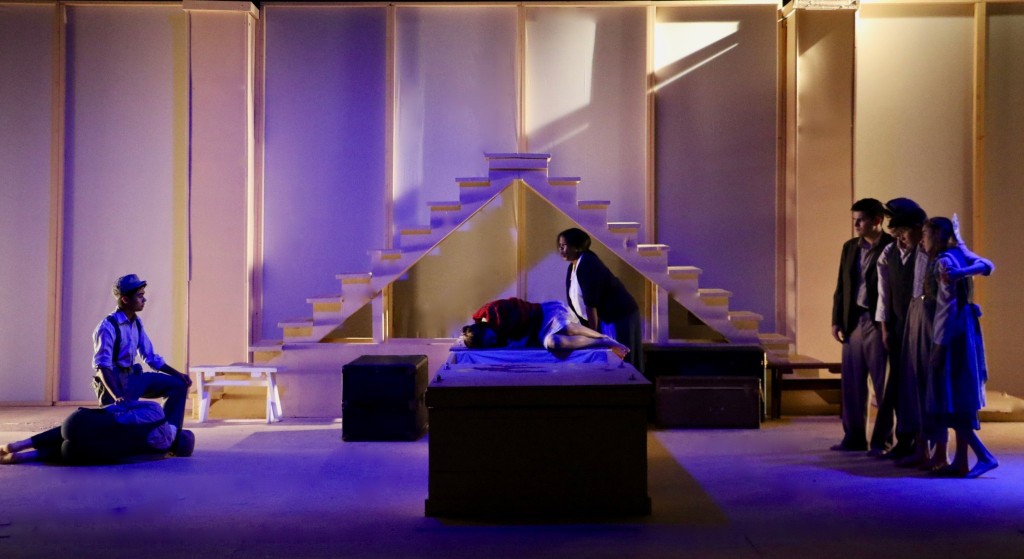 "'Maybe,' I figgered, 'maybe it's all men an' all women we love; maybe that's the Holy Sperit-the human sperit-the whole shebang. Maybe all men got one big soul ever'body's a part of.' Now I sat there thinkin' it, an' all of a suddent-I knew it. I knew it so deep down that it was true, and I still know it.'"
Touching on the elements of camaraderie, this quote from The Grapes of Wrath by John Steinbeck exemplifies the ke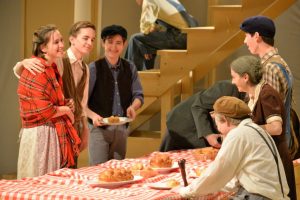 y themes of solidarity and fellowship held throughout the novel. Such themes parallel the social justice teachings at Jesuit, making it easy to see why The Grapes of Wrath was chosen to be performed as this year's Jesuit Stage and Film's 2016 fall production.
Jesuit's Stage and Film put on their first performance of the 2016-2017 school year with their fall drama. Auditions for the fall play began in the second week of school, and since then there have been rehearsals 4 days a week, some taking up to 3 hours, all in preparation for the final performances. They would perform a revered American classic: John Steinbeck's The Grapes of Wrath.
Taking place in America during the Great Depression, the story focuses on a group of tenant farmers that were driven off their land in Oklahoma by economic hardships and bank foreclosures, which force them to migrate West with several other migrants to California in search of jobs, land, dignity and a future. Jesuit's rendition of the play focuses on the narrative of the characters portrayed in the film, while still keeping the key elements of the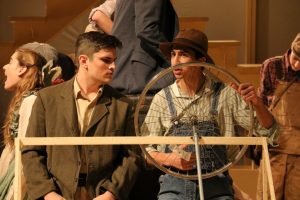 novel such as the struggle of the poor in a world dominated by the rich.
"To be a part of [the play] is just outstanding," exclaimed actor Jack Schwab '17. "It's such a brilliant work that is especially relevant in today's kind of times, about this conflict between rich and poor, people taking advantage of other people, and it really fits into the social justice themes of Jesuit."
The great mind behind the production of the play, Jesuit's Stage and Film director David Myers, voiced the reasoning behind choosing The Grapes of Wrath as this year's fall drama: "This year, Jesuit has been focusing on Catholic social teaching. We've had a focus on it in faculty inservices, I-Days, and prayer services. This play was Stage & Film's contribution to that wider discussion."
Myers went on to contextualize the play's portrayal of internally displaced farmworkers, drawing connections to "Catholic [teachings] from people like Dorothy Day and Bishop Oscar Romero." Personally, Myers admitted that Steinbeck is one of his favorite authors. In fact, he grew up near the author's hometown in California and has "always had a love for his language."
Because such a great story met with such amazing cast and crew, the final product was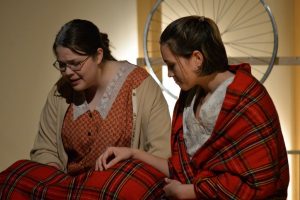 nothing short of an outstanding success. Jesuit Stage and Film put on 4 productions of The Grapes of Wrath spanning 2 weeks, and each one of them was met with positive reactions from the guests.
Jesuit Stage and Film enthusiast Bass Stewart '17 expressed that the play did "an excellent job in portraying the attitudes of depression era America." Similarly, playgoer Spencer Villicic '17 thought the "actors did an amazing job with their performances."
Such enthusiasm was not only held with audience members, as cast members praised the performances. Schwab recounted the performances as being "excellent," and went on to describe that "Jesuit does theater differently than most schools… The focus is really on acting, and that's something that helps make the product that we put on the table at the end of the day exceptional in it's own way, even if it's limited by other factors… It's the people of Jesuit theater that makes the plays, and that's not something you can say about other programs."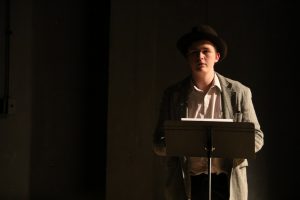 The notion of characters dominating the performance of a play was also echoed by fellow actor Kieran Taylor '17, who said "our entire set was one color. We had very minimal props, mainly bringing things on scene and taking them off. The set was very barebones… It's very much an actor showcase above anything else, because the actors are what carry the performance."
Myers also had left the performances with high spirits, saying that "I was really proud of both casts for their final performances, and I was even more proud of them for the process that they created in the process of rehearsing. This was a warm, loving, organized cast that treated each other with real grace during the rehearsal process. Theater is all about building community, and this cast did a great job at that."
After expressing another astounding story, Jesuit Stage and Film reminds us about the role theater plays in the lives of those who enjoy it. To some, theater remains just another club or organization of students who are passionate in what they do. But to those involved, it is an artistic expression of one's self, an outlet for those to connect with others who share the passion of acting and the joy they get when audience members leave their performances in awe. As Taylor describes it, "The reason I do theater is…to be able to say you made something amazing and powerful… And the community. I feel like I have a home here."
Stay tuned with Jesuit Stage and Film for other amazing performances, such as their upcoming Senior One Acts in January, Spring Comedy in April, and Film Festival in May!
Photography by Joe Howard '04, Jacob Leitnick '17, and David Horton '18