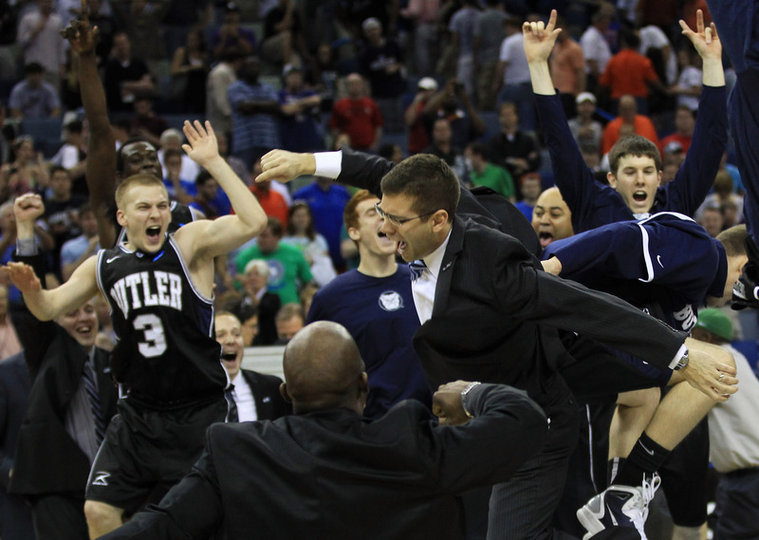 For all of the upsets and buzzer-beaters in this year's tournament, the controversial calls and controversial non-calls, the grown man tears in post-game press conferences, and the maniacal fans quick to label it the best ever, the 2011 NCAA Basketball Tournament, as it settled in to a final eight last Friday, still featured some of basketball's brand name teams: North Carolina, Kentucky, Kansas, UConn, Arizona, and Florida.
However, for the second straight year, the field included a less storied name in the history of the game: the Bulldogs of Butler University, 8th seeded champions of the Horizon League.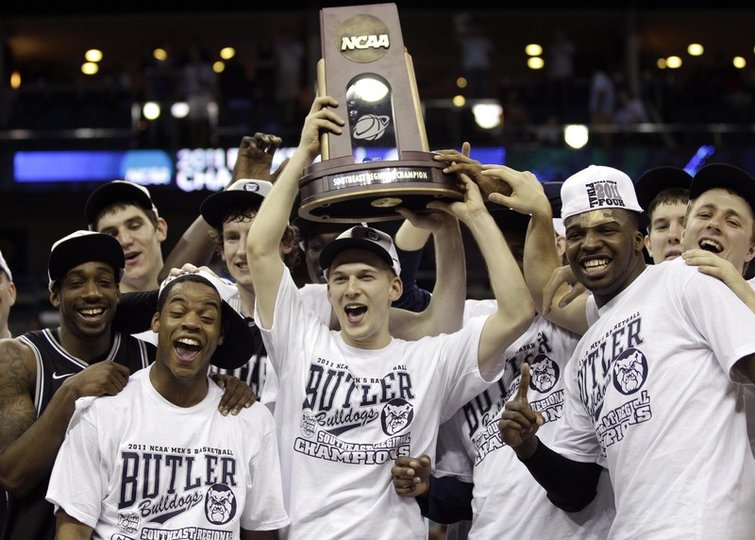 In many ways, the team, as well as their style of play, stands as an anomaly to the recent evolution of the game. Indeed, in an age when great teams are often defined by great players, many of whom carry more star power than those of the NBA, and many of whom graduate to the NBA after a year or two anyways, Butler's success is simply strange.
The college basketball purist – the one who likes to sit back and reminisce about the game's golden era when teams like UCLA's Bruins of the 60's and 70's that featured three and four-year players who gave and took as a team – that purist who is so nearly inclined to move to Paris and label ours the "lost generation" of college basketball – even he would find solace in a team like Duke, which still seems to appeal to those nostalgia- producing ideals.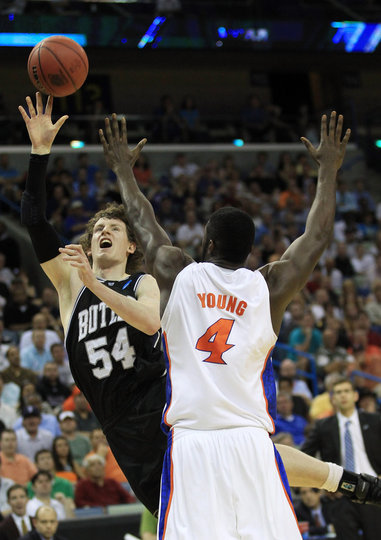 But the Butler Bulldogs are not that either. They do not have 4 NCAA titles to their name. Neither Christian Laettner nor Grant Hill, nor Shane Battier, nor Jay Williams, nor Bobby Hurley, nor J.J. Reddick played for them. Their coach has not been coaching for 30 years, nor is he three wins away from becoming the most winning in college basketball history. They are not in competition year after year for the country's top recruits; in fact, they don't like to pursue outside of their home state of Indiana. Most evident, there are very few teenage boys around the country wearing shirts with their name on them.
No, instead the Butler Bulldogs are who they are: a mid-major team from Indianapolis that plays in the Horizon League under the tutelage of Brad Stevens, a 34-year old Indianapolis native who quit his job at a pharmaceutical company in 2001 to volunteer as a coaching assistant to the program, taking a job at Applebee's to pay his bills along the way.
Since his appointment to head coach in 2007, the Bulldogs have developed a game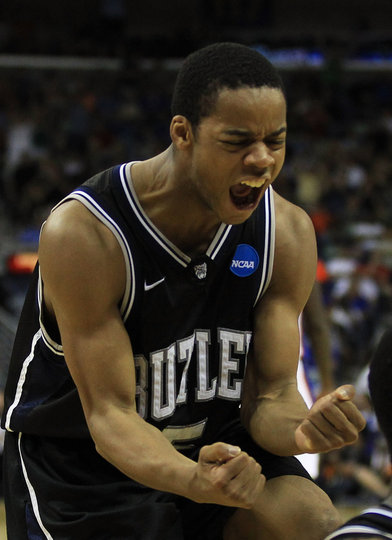 rooted not in highlight-reel basketball, but instead in unrefined and unattractive grit. Indeed, theirs is a slow-paced half-court game defined by a balance between perimeter and frontcourt, a relentlessly stingy defense, and a knack for rebounding the ball. They have trouble keeping up with fast-paced transition basketball,l and full court press overwhelms them easily. Yet, for the last two years they have met the nation's best, fastest, and most talented teams in the NCAA tournament, and for the last two years they have made it to the final four, and last year to the final seconds of the Championship game.
Among the leaders of both years' campaigns is forward Matt Howard, a remarkably unremarkable anti-hero of college basketball. At 6'8'' he is not tall. At 235 lbs. he is not particularly elusive. But Howard has a different skill set working in his favor, a set absent in many of the nation's star players. For one, he is smart. Along with Tim Abromaitis of Notre Dame, he was selected by the College Sports Information Directors of America to the NCAA Academic All-America Team for the third consecutive year.
While the distinction is often met with a rolling of the eyes of the college basketball fan and a claim that talent will always outweigh intelligence, it may be the contributor to the next facet of Howard's game: he shows progress. In the entirety of last season, he sunk three shots from behind the arc. This season he has hit 51 at 44%, evolving from a one-dimensional inside force to a versatile inside/outside threat, an evolution that has both helped preserve the aforementioned balance of the team and led them to their second consecutive final four.
In addition, anybody who watched the Bulldogs in their run last year could speak to Howard's invariable tendency to commit utterly bone-headed, inexplicable fouls. Despite averaging five more minutes of playing time, however, he reduced his fouls on the season from 133 in 2009-2010 to 99 in 2010-2011, fouling out of only four games in the process. As Calvin & Hobbes cartoonist Bill Watterson ironically notes, "While a zebra can't change its stripes, it can adapt to its environment enough to survive and thrive."
With the help of fellow senior and point guard Shelvin Mack, as a reliable a guard as there is in college basketball, who played alongside the likes of Nolan Smith and Kyle Singler, Kemba Walker, Jimmer Fredette, Marcus Morris, JaJuan Johnson, and many others as part of the USA Basketball Junior National Team last year – with the help of Mack and a host of other Butler players, Howard has propelled the Bulldogs to their second, and this time even more unlikely, Final Four.
And while making accurate predictions in March has become about as doubtful a venture as correctly guessing the nuclear code, not an analyst, fan, coach, or player in the country will be surprised if this unorthodox, unheroic Butler team upsets two more top-seeds and wins the National Championship.
Photography by the Indianapolis Star