Last Thursday was The Roundup's annual banquet. The event celebrated the hardworking writing staff and the diligent faculty members that make this paper possible.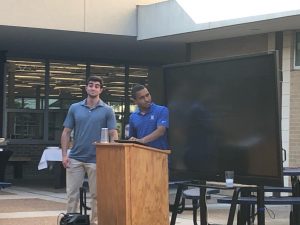 The event acted as a reunion for some old staff members. Former Editor-in-Chief Trey Ashmore '20 gave a speech on how The Roundup improved his work ethic and writing. Robert Uhl '11, the first Editor-in-Chief, made an appearance with his fiancee at the banquet. Clark Durham '12, also a former Editor-in-Chief, made an appearance too to present the Durham Award.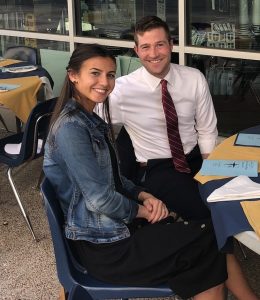 The banquet began with some opening remarks from Managing Editor Jason Davis '21 and an opening prayer from Editor-in-Chief Patricio Boy '21. What followed was an excellent meal of beef and chicken fajitas from Sage.
After dinner, Jason presented the senior staff. For more information on The Roundup's senior staff click here.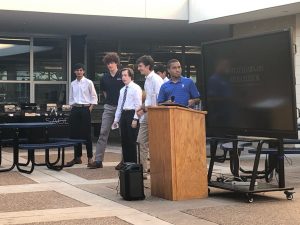 Jason and Clark presented the Durham Award, a two thousand dollar scholarship given to up to two juniors for their dedication to The Roundup. The award went to Managing Editor Ajay Bhavan '22 and myself.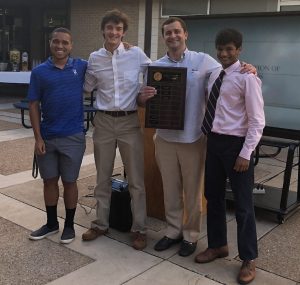 Other awards were handed out too. Ajay won the award for Best Associate Editor. Emilio Rodriguez '21 won the award for Best Senior Staff Writer. David Plocica '22 and Sam Steffler '22 both won awards for the Best Junior Staff Writers. Finally, Joel Elms '22 won a brand new award, The Person Most Likely to be on WFAA, our riff on the most likely to be a journalist award.
David Plocica '22 said "The banquet was good fun."
Sam Steffler '22 said "The Roundup banquet was amazing, the food was great, and the people and experience were even better."
Ajay Bhavan '22 said "The banquet was overall a great experience. It was nice to be recognized for my work this year, and it was interesting to hear from guest speakers such as Trey Ashmore '20. I'm glad covid didn't get in the way of the event, and I look forward to next year's banquet!"