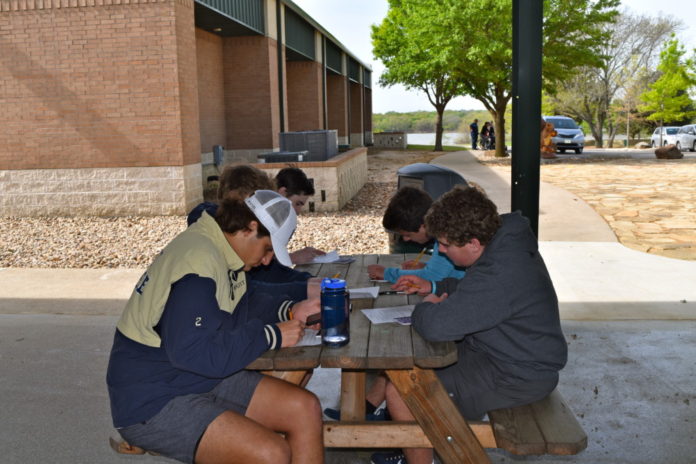 For many students, the highlight of the school day is lunch. It offers time for talking with friends, eating, and of course a little gaming. On April 11th at this year's sophomore retreat, however, that wasn't the case. Of course, the students enjoyed playing basketball against their peers, mini golf, and the delicious crispy chicken fried steak. For this day, however, the highlight of the day was the bonds that formed between the class as a whole and the religious growth of many students through Ignatian Spirituality.
Mr. Daniel Dion, a sophomore and junior theology teacher, said "I appreciated getting to know some members of the sophomore class that I did not know."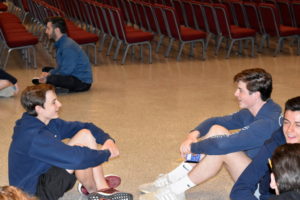 Dion continued, "Our conversations in a small group were honest, at times funny, and deep." Activities within these groups ranged from drawing important emblems on paper plates to deep questions for reflection. Often times during the small group discussions, the students opened up and were more candid about what they were thinking, as they grew to trust their fellow group members as the day progressed.
Mr. Dion said, "I learned that this year's sophomore class has matured into thoughtful young men who desire to figure out who they are as a class so they can contribute positively to Jesuit," when reflecting over his personal growth during the retreat.
J.J. Tellez '20 commented, "[I] took away new friendships made in the small groups and got to know those people better by hearing their thoughts and opinions." Often times when students were put in groups with people they didn't know very well, they were able to benefit more from the retreat experience because they wouldn't be distracted by their friend and would end up being more introspective than they would if they knew everyone very well in their group.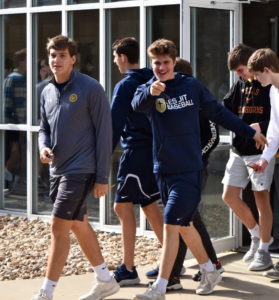 "I learned from the Stand Up activity that for some of the things someone would stand up for would partially explain why they act the way they act," mentioned Tellez.
The Stand Up activity was led by Mrs. Gerber. She read a statement or question, and if people agreed with it they stood stand up, then sat back down after a few seconds. For the majority of the topics, a large amount of students would stand up, generally because the statements were fairly basic questions about one's family or background. However, for few lone statements, only a few people stood up among the rest of their sitting classmates.
Nash Crawford '20, a group leader at the Midpoint Retreat, stated how "I took away many things from the retreat and learned lots of new things about people I knew as well as people I didn't know as well."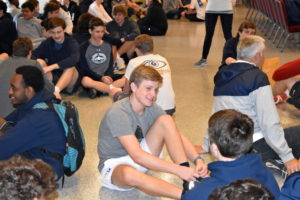 "One thing I took away was how comfortable people can be in a safe environment, as my group started of slower like normal but soon was able to share deep thoughts, especially during the Stand Up activity and the summary," continued Crawford.
Nash agreed with Tellez in that his favorite part was the Stand Up activity, "Because I learned that I was not the only one who dealt with some issues, and I felt comfortable standing."
Crawford closed his remarks by mentioning how "I learned and will continue to apply listening to someone without judgement while also knowing that being available for people and having their trust creates unbreakable bonds."
The sophomore retreat is called the Midpoint Retreat, because at that point in time for the sophomores, their time at Jesuit is nearly halfway finished. For many sophomores, their earlier time at Jesuit from their freshman year to now has flown by so quickly that they've barely even noticed the time passing by. After this retreat, there is little doubt that many sophomores will take what they learned to heart and perhaps slow down and enjoy their experience at Jesuit rather than rushing through their experience, like they did in their earlier years.