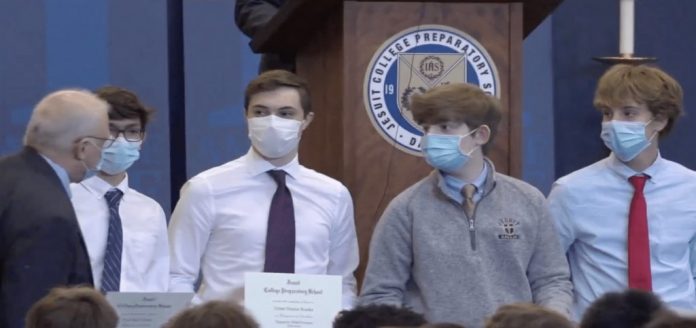 On Tuesday, May 18, Jesuit College Preparatory School of Dallas held its annual Sophomore Convocation.
These are the 2021 Sophomore Convocation Awards. The sophomores came together to celebrate the wonderful achievements they made throughout the year.
Academic/Extracurricular Awards
Andrew Abraham
Men's Chorus
AJ Adams
Chemistry
Spanish 3
Nick Archer
Community Service Leadership
Kevin Babu
AP World History
Nick Barber
Spanish 3
Ceramics Throwing
Bennett Barron
Stage and Film Writing
Drama Club
Griffen Bass
Mandarin 2
Ryan Beaudoin
Music Appreciation 2
Honors English 2
Sy Black
Junior Classical League
Dominic Chacko
Honors Chemistry
Ceramics Hand-Building
Matthew Chu
AMC 10 – Top Scoring Sophomore
Drake Clark
Music Appreciation 1
Jude Cobler
Filmmaking
Clark Connelly
Latin 2
Leo Cruz
Campus Ministry Award
Cade Devening
Honors Latin 2
Matt Dietsch
2D Design:  Digital Media
Burkley Duncan
Latin 1
Nicolas Ferraez
English 2
Cole Frutos
Jesuit Chess Club
Grayson Gaither
Community Service Leadership
John Garza
Mission and Church
Band
Dylan Gibbons
Ceramics Throwing
Benjie Gonzalez
Geometry
Tres Gordon
Honors Latin 3
Eduardo Guerrero
AP Spanish Language and Culture
Sai Gujjarlapudi
Honors French 3
AP Computer Science
Robotics
Raul Hernandez
Honors French 2
Cruz Hoitsma
World History
Elliott Huang
Honors Spanish 3
Chamber Orchestra
TXML – Top Scoring Sophomore
Charlie Humbert
Drawing
Oliver Ikard
Community Service Leadership
Christian Jackson
Chemistry
Geometry
World History
Lawrence Jin
Music Composition & Film Scoring
David Kostell
Geometry
Spanish 2
Joshua Lim
Mission and Church
Honors Chemistry
Honors Mandarin 3
Honors English 2
Band
Sebas Llanos-Rodrigues
Photography
Anthony Lucido
Stagecraft
Community Service Leadership
Mason Lumpkin
Community Service Leadership
Anthony Manzanero
Honors Spanish 4, Heritage Learner
Cameron Martin
Music Appreciation 1 – Fall
English 2
Jordan Mason
Geometry
Ben McKinney
Jesuit's MAGIS Program
James McKinney
Honors English 2
Pierson Miller
Intro to Jazz History & Improvisation
Bo Miltenberger
Spanish 2
Nick Morris
Ambassadors
Oneal Murray
Stagecraft
Tejas Murugesh
Debate Team
Jon Noquil
Chamber Orchestra
Ryan Nguyen
Honors Geometry
Jacob Ovenshire
Spanish 3
Honors Prog. 2:  Advanced Java
Coleton Power
Community Service Leadership
Julian Protacio
Chemistry
Honors Mandarin 2
Reggie Sandoval
Theater Arts
Charlie Schmidt
Latin 3
Quinn Shorey
Prog. 2:  Game Development
Ian Smith
Honors Algebra 2
World History
Music Appreciation 2 – Fall
English 2
Intro to Computer Programming
Reagan Spickard
Spanish 2
Prog. 2:  Game Development
Brendan Thoele
Community Service Leadership
Jonah Timmons
Mission and Church
World History
Alex Tinker
Honors Geometry
Community Service Leadership
Ryan Virkar
Honors Chemistry
Honors Spanish 2
Johnny Yaeger
Intro to Jazz History & Improvisation
Drew Zang
French 2
Photography
Willis Zemanek
English 2
Scholarships/Plaques
The Haggerty Math / Science Scholarships
Each year, one-year $2,600 tuition scholarships are awarded to selected students entering the sophomore class level the following fall.  Funding for the scholarships has been provided by the Jesuit College Preparatory School of Dallas Foundation.
To be considered for the Haggerty Math/Science scholarships, a freshman must have either a 95 average in current math and science courses or an 85 average in current honors math and science courses.  Each candidate is then reviewed by the faculty of both academic departments and the administration of Jesuit to determine his achievements in mathematics and science.  Also considered are his activities, leadership roles and community-service involvement.
Kevin Babu
John Dryden
Tres Gordon
Joshua Lim
James McKinney
Colten Phillips
Grant Reeder
Ryan Virkar 
Principal's Magis Awards
The Magis, Latin for the more, implies that an individual or pursuit is driven for quality rather than quantity. This award recognizes the freshmen who have impressed their teachers with an outward desire to grow and learn. Whether through their engagement in class or through their submitted work, these students express the Magis in their class.
In Theology:                                     Nick Archer
In English and Science:                     Jude O'Shea
In Language:                                   Grayson Gaither
In Fine Arts:                                      Joshua Chacko
In Social Studies:                              David Kostell
In Math:                                            Ryan Virkar
In Computer Science:                         Joseph Amador
The Brother Gerald Landry, S.J. Award
Brother Gerald Landry, S.J. joined the Jesuits in 1960 and served as a member of Jesuit's staff for over 18 years until his passing in December 2014.  One of the many gifts he shared with our school was his love for photography.  This award, in his name, honors a yearbook staff member who has served actively and passionately and whose creativity, initiative, and enthusiasm through photojournalism resulted in significant contributions to the organization and served as a model for future staff members.
For his significant contribution to Jesuit's yearbook, The Last Roundup, the Brother Gerald Landry, S.J. Award is presented to:
Aldo Avila
The Guy Delaney Class of 2020 Memorial Scholarship
In 2018, the Class of 2020, family and friends established a scholarship at Jesuit Dallas in memory of Guy Delaney, Jesuit class of 2020, to be awarded to a rising junior who most exemplifies a desire to put forth his best effort both academically and athletically, and who reflects the personality, character, and spirit of Guy.  The Guy Delaney award carries a scholarship amount of $4,300 to be applied to junior year tuition.  The 2021 recipient of the Guy Delaney Memorial Scholarship award is:
Nick Archer
Bachendorf Scholarship
The Bachendorf Scholarship was established by Mr. Bock to recognize a sophomore student who has shown the most improvement academically.  This year's recipient of the Bachendorf $7,000 scholarship is:
                        Emmanuel Daniel
Counselors' Scholarship
The Counselors' Scholarship is funded by an anonymous benefactor.  It is presented to a student who has been active in the Jesuit community, is involved in scouting, church, or other activities, is cooperative, and is open to the Jesuit experience.  The Counselors' scholarship, consisting of a $500 tuition grant, is awarded to:
Patrick Villella
Man for Others Award
Jesuit's 'Man for Others' Award is given each year to students who exemplify, in their words and actions, what it means to be a Jesuit student.  They have demonstrated in their dealings with others the ability to give of themselves selflessly.  This award carries with it a $1,000 scholarship furnished by the Jesuit Women's Auxiliary.
Raul Hernandez
The convocation allowed all sophomores to be recognized for their fantastic achievements throughout the year.
Stay tuned to The Roundup for updates on the convocations!