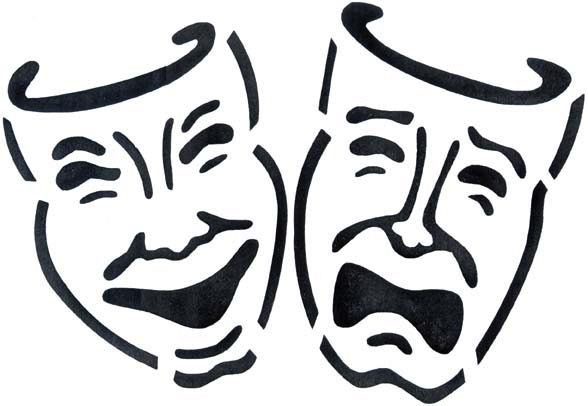 What do you do when your friend won't let you ride his pet dragon? According to Jesuit's Senior Drama Troupe, learning how to correctly express your emotions could get you a turn.
Every Wednesday the Senior Drama Troupe, including seniors Scott Boudreux, Connor Capitillo, Tom Andrews, Mark Ross, Ian Stack, Joe Kaplan, Jacob Watts, Chase Scott, Luc Johnson, Patrick Jones, Cameron Brown, and Jack Johnsen, travel to various schools across the Metroplex performing skits to kids from kindergarten to eighth grade, teaching them important life lessons in a fun and exciting way. The program is done in accordance with Jesuit's senior community service days every Wednesday. As Jack Johnsen says, "The whole show focuses on how to correctly express your emotions and feelings, and what to do when you feel an emotion that you are uncomfortable with."
 The performance consists of five mini-skits, each designed to explore aspects of expressing emotions. For example, the show begins with an intro by Luc Johnson, who is followed by the rest of the Drama Troupe acting as robots that cannot express their emotions. The group then breaks into a song in which each robot expresses an emotion and then explains that he feels better after doing so.
 In another skit, Ray Wilcox and Tom Andrews act as sports announcers on the Emotional Sports Olympics. Luc Johnson sits on the ground playing with imaginary blocks until Ian Stack comes in riding a dragon, played by Patrick Jones. Luc, who wants to ride the dragon, asks Ian for a turn, but Ian says no, and the two fight, which startles the dragon and causes him to wreak havoc. As the story ends, Jack Johnsen comes in and asks the audience what could have been done to make the situation better, teaching the students that "the moral of the story is that if they all talk about the situation to find a more civil way for Luc to ride the dragon, both succeed in the long run because physical violence is never the answer."
 Participants in the Senior Drama Troupe learn much more than how to captivate an audience. According to Scott Boudreux, because the troupe "goes to a different place every week, [they have] fun traveling around Dallas and meeting new people." Despite the challenges of mixed reactions to the play – "one school could really enjoy the play, laugh a lot, and participate, while another group of kids thinks they are too cool to laugh and participate in the play when we ask them questions," says Johnsen – the Senior Drama Troupe still enjoys the experience to its fullest.
 Senior Drama Troupe Faculty Leader David Myers agrees: "The students write, direct, and perform their own plays — and the excellent reviews that they receive from the kids and faculty keep the program going strong."