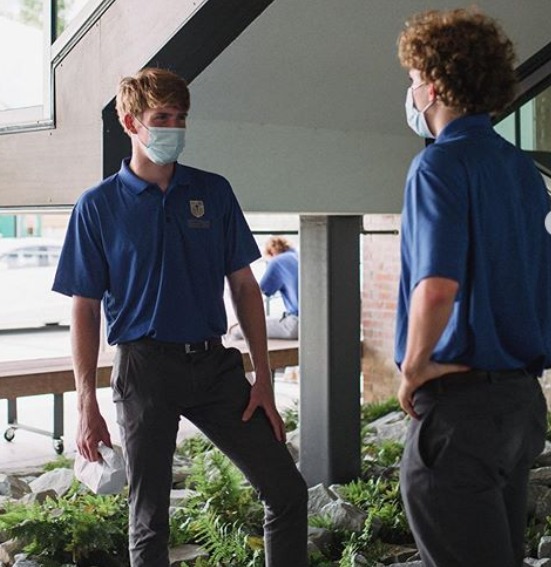 The eager senior, giddy with excitement for what his day of service may bring, puts on his blue polo. Like most Wednesdays, he realizes that his day will be brimming with connections, interactions, and discussions with our city's most underprivileged and vulnerable. He anticipates the opportunity to become one bit closer to the people he will interact with.
This is what a typical Wednesday in a senior's life might have looked like most years. However, 2020 is certainly not like most years. Unfortunately, due to the adverse effects of COVID-19, days that were once filled with close, personal conversations, are now filled with masks and 6 feet of separation; days that were once filled with handshakes and the occasional hug have been replaced with hand sanitizer and latex gloves.
Although everything seems to be getting canceled, if there is one thing for sure, it's that senior service will always be a part of Jesuit.
However, that raises a couple of questions: How will the seniors be able to serve during these challenging times? Where are Seniors going to be able to serve? Most importantly, how is this year going to be different than service in years past?
In order to answer these questions, I had the opportunity to talk to Mr. Riemer and Mr. Perry, Jesuit's Community service and Social Justice coordinators; as well as five Seniors, providing their overall views on the year of service ahead of them.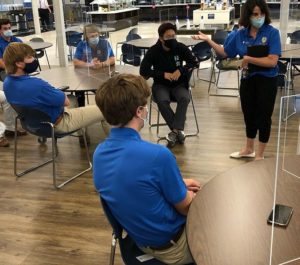 Adjustments to Senior Service: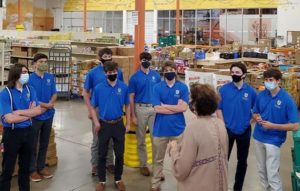 After my talks with Mr. Riemer and Mr. Perry, I gained some insight into the questions looming over this year's service.
Question: In what ways is senior service similar/different from last year?
"Same mission of MEN FOR AND WITH OTHERS, but we have made adjustments so that all service experiences involve fully observing the CDC, state, and local COVID-19 prevention protocols involving social distancing and wearing masks."
Question: What changes had to be made due to COVID?
"We have limited the size of groups at sites, implemented all safety protocols, and introduced exciting new online service as well: local and international pen pals, video tutoring, and no-contact food delivery."
Question: What will a day of service look like for a senior this year?
"Seniors are now in a cohort model of weekly and monthly site rotations. Each rotation is named for a Jesuit saint or famous Jesuit example of servant leadership"
Question: How are you feeling about this year in terms of service?
"We are so excited to have the immense support of parents, faculty, and school leaders. Also, the spirit of the student body has given us the inspiration to be creative and continue to provide avenues to make a measurable impact in our city!"
Senior Viewpoints: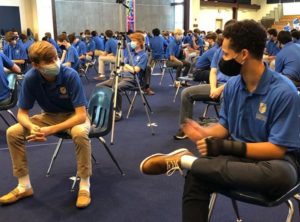 Senior, Alex Chen:
In my interview with Mr. Chen, he said he's "at the Notre Dame School of Dallas" where he "work[s] with kids who have special needs and provide them with tutoring and mentorship for leadership." He expressed that he "feel[s] weird about this year of service as [they] aren't in person with the kids and are online with them." However, he noted, "hopefully we'll be able to go in person and be able to meet them." Alex also expressed lots of enthusiasm for the year ahead of him as he is "super excited about the experience to serve [his] community and live out the tenets of a Jesuit graduate."
Senior, Tristan Hassell:
Tristan mentioned he is serving at "Bonton Farms" where he is "doing land management stuff like digging up soil and moving it to different plots to improve irrigation and drainage." He appears ecstatic for the year ahead of him as he is "really excited to have gotten [Bonton Farms] because [he] want[s] to learn how to work the land as well as perform some manual labor involving animals and produce."
Senior, Hudson Johnston: 
For Hudson's service site, he is doing the "Crossroads Project" where "[they] provide food to the less fortunate." When I asked Hudson about how he feels about this year, he said "I don't know what to expect, but I'm looking forward to experiencing new things."
Senior, Rob Williamson:
This upcoming year, Rob will be serving at "Catholic Charities food pantry" where he is "stocking shelves and sorting through donations." Rob is "excited to get out and help the community especially through a food pantry when people could have been struggling with food during the pandemic."
Senior, Joshua Reinboldt:
In my interview with Joshua, he mentioned he's "at the St.Vincent DePaul thrift store helping out on the floor and in the warehouse taking donations from around the DFW area." He recognizes "it is going to be different because of the pandemic, but pretty excited for the upcoming year"
Classroom Commitments: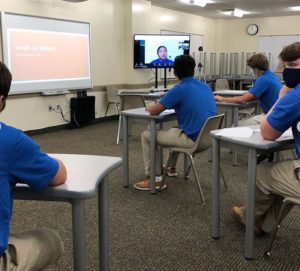 Along with their service sites, as part of their required curriculum, every Wednesday, the seniors will report to Social Justice & Public Policy class or "SJPP" for short. This class  intends to "supplement" their work "with personal reflections that relate to the senior's specific community service site." Through this class, the seniors will able to see the "relationship their work and these agencies have in building a better world." In my interview with Mr.Perry, he also mentioned that the SJPP class's "core themes are Catholic Social Teaching, Pedro Arrupe's vision of Men for Others, and the Kingdom of God. The focus areas will include racism, poverty, and Inequalities." In their SJPP class, seniors will have the "opportunity to attend guest speaker presentations" and their hard work "culminates with a Capstone Project" at the end of the year.
Conclusion:
Although this new year has been riddled with hiccups and unfortunate circumstances, there is no doubt in anyone's mind that this group of seniors will persevere and come out even stronger as a class and as men because of it. Just like the classes of seniors before them, this group of amazing guys will have influential experiences that will ignite a drive for charity and social justice that will stay with them through their future academic and professional lives….. even if it requires gloves and a mask.
To read more about Jesuit service, make sure to check out "jesuitserves" on Instagram: https://www.instagram.com/jesuitserves/ 
Check back to The Roundup for more coverage of Jesuit community service!