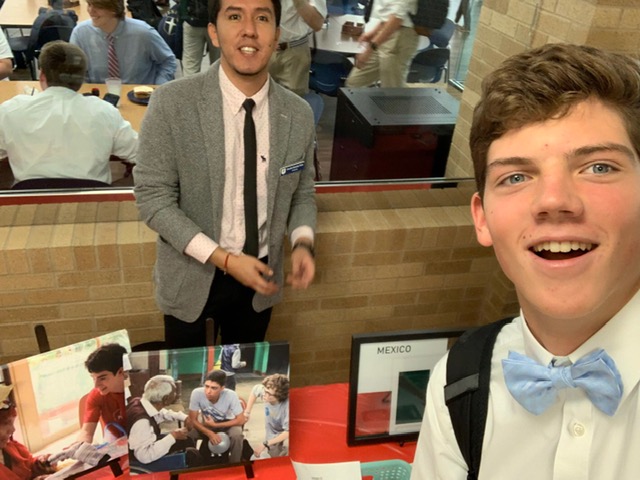 In his Prayer for Generosity, St. Ignatius of Loyola calls us "to give and not to count the cost." While this could be interpreted literally to mean giving money, Ignatius is calling us to give of ourselves in service to others, especially those in need. With this same spirit, the Jesuit Community Service department has announced service opportunities for Jesuit juniors and seniors over the 2019-2020 school year.
Junior/Senior Service Opportunities
In an email addressed to Jesuit juniors and seniors, Dr. Michael Riemer explains the options for students seeking to answer their call to service:
"A link for junior and senior service sign ups has been posted to the Jesuit Moodle home page. I have also included a link below. You are able to view the currently available projects and on Monday at 8 AM sign ups will open.
NOTE: This is not a complete listing of everything that will be offered, only what has currently been scheduled. Projects will be added throughout the coming weeks and over the course of the semester.
Additionally, we have several opportunities not listed on the sign ups but that are approved for student participation. I've included details below.
IMPORTANT NOTE:
 Any student participating in the programs listed below, or those posted online for sign up, does NOT have to document their service with our office. Your attendance will be recorded and automatically included in our database. 
Service Mini-Practicum. We work with several agencies who benefit from a smaller and more consistent volunteer base. Students wishing to focus their efforts and take a "deeper" dive into a particular issue or community are encouraged to consider this option. Volunteer opportunities are regularly scheduled and offered throughout the year. The following agencies/programs work with our office to provide such experiences:
David G. Burnet (spring semester only, Saturdays, 8:00 am – 11:00 am)
Description: This program provides students with the opportunity to work one on one tutoring students experiencing deficiency in learning, specifically in math and reading.
Incarnation House (weekdays, 4:30 pm – 6:30 pm, year round)
Description: Incarnation House is an after school program in the uptown neighborhood of Dallas 

for

homeless and housing insecure teens.
Lee McShan Elementary, Refugee Reading Circle (late fall – spring, Saturdays, 8:00 am – 11:00 am)
Description: Lee McShan is a DISD elementary school in the Vickory Meadows neighborhood, one of Dallas' largest refugee communities. The school offers weekend tutoring, mentoring, and recreation opportunities 

for

 children living in the neighborhood.
Rays of Light (Fridays, 5:00 pm – 10:00 pm)
Description: Rays of Light is a program offering once a week Friday evening child care to parents of special needs children. Volunteers host a variety of activities and games 

for

 children participating in the program.
Saint Patrick's Refugee Outreach (Sundays 11:00 am – 1:00 pm)
Description: Saint Patrick's Refugee Outreach program provides a variety of service to the refugee and immigrant community living in the Richardson area. Volunteers are encouraged to attend Mass with program participants and then assist with the various programs and services provided at Saint Pats.

Senior Service Opportunities
Mr. Riemer also notified the senior class that more information about some of Jesuit's travel programs throughout the year would be available during all lunches outside of the cafeteria. Each of the service opportunities fulfills the senior's 30 hour self-guided service requirement, and the trips are open to all seniors. The service trips include:
Mexico "Encuentro" Program; November 14 – 25
Los Angeles Skid Row Immersion; January 15 – 20
El Paso Border Immersion; February 1 – 5
Waco Poverty Immersion and Simulation, February 20 – 23
Stay tuned to The Roundup for more news from Jesuit community service!