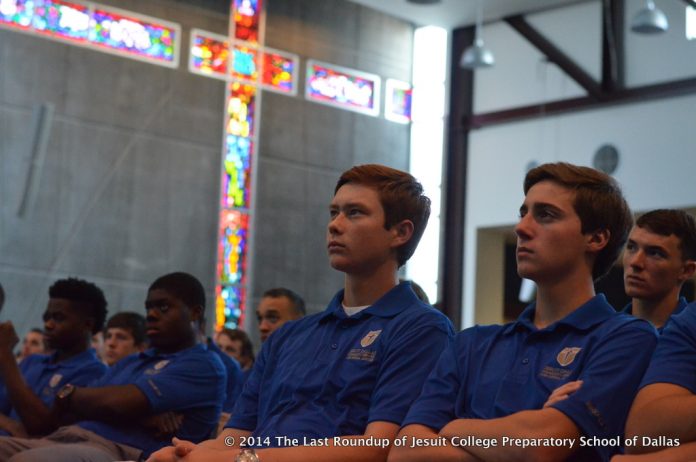 Students prepare for the second half of the fall semester, constantly reminding themselves to achieve academic success, but also to live as Men for Others, something every Jesuit student strives to be.
Community service proves to be an excellent way for a Jesuit student to work towards his status as a Man for Others, and various kinds of community service work were offered to students this October. Recently, a list of community service opportunities was posted outside of the Community Service Offices for all students to see. These opportunities included help with the State Fair Dog Adoption, AIDS Services Supper Club and the Notre Dame School Carnival, giving everyone a chance to get involved and serve the community.
As the semester commenced, Mr. Perry and Mr. Reimer '96, both in charge of the Community Service Department, posted a list of the community service opportunities available to the students. While the list does not include every single service opportunity available, it does present the students with a large variety of opportunities ranging from assistance at Operation Kindness to helping set up the Light the Night Walk. Most of these opportunities are available during October, giving new students a chance to adapt to their new environment before they commit to any time consuming service projects.
When asked why he decided to post the list outside of the Community Service Offices, Mr. Riemer said he wanted students to be able to "walk into the office and sign up for it." If students see an opportunity that interests them, they can sign up, which allows for e more accessibilty to the students.
Riemer also said the listed service opportunities "are things anyone can participate in, regardless of what club you're in or what sport you're in," providing service opportunities to those who don't "have other avenues for service," such as clubs or sports.
Both Riemer and Perry said the response from the senior class has been positive while they work towards reaching their hefty goal of community service hours and work towards potentially making up for requirements not reached in their past years as a Jesuit student. The response from the sophomore class, during the duration of a single lunch period this semester, seems to have exceeded the past responses, as 40 sophomores committed to the Light the Night Walk .
Mr. Perry voiced his thoughts on the importance of students forming relationships with those they are helping and the importance of philanthropies getting "the consistent support they need from the students." Perry also made clear his respect for the Medical Society and PALS saying they "have really taken on a lot this year" from the annual blood drive to the work with the St. Patricks refugee outreach program.
Jesuit offers diverse options of community service opportunities, some being on campus, while some are off-campus. The opportunities almost seem endless, and it is made clear by those in the Community Service Department that they encourage participation in service and encourage asking for assistance if confused.