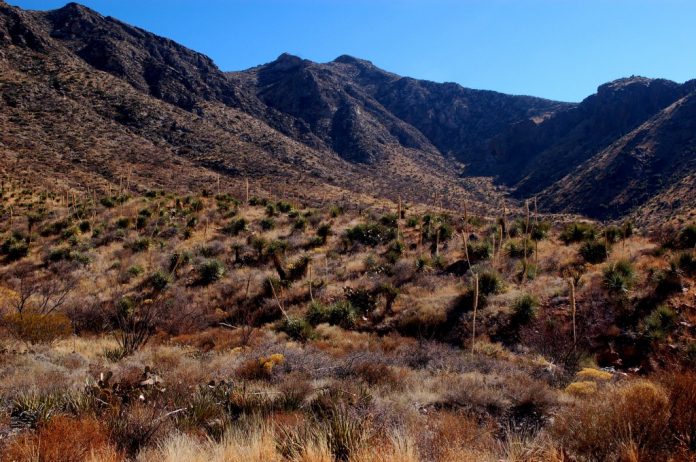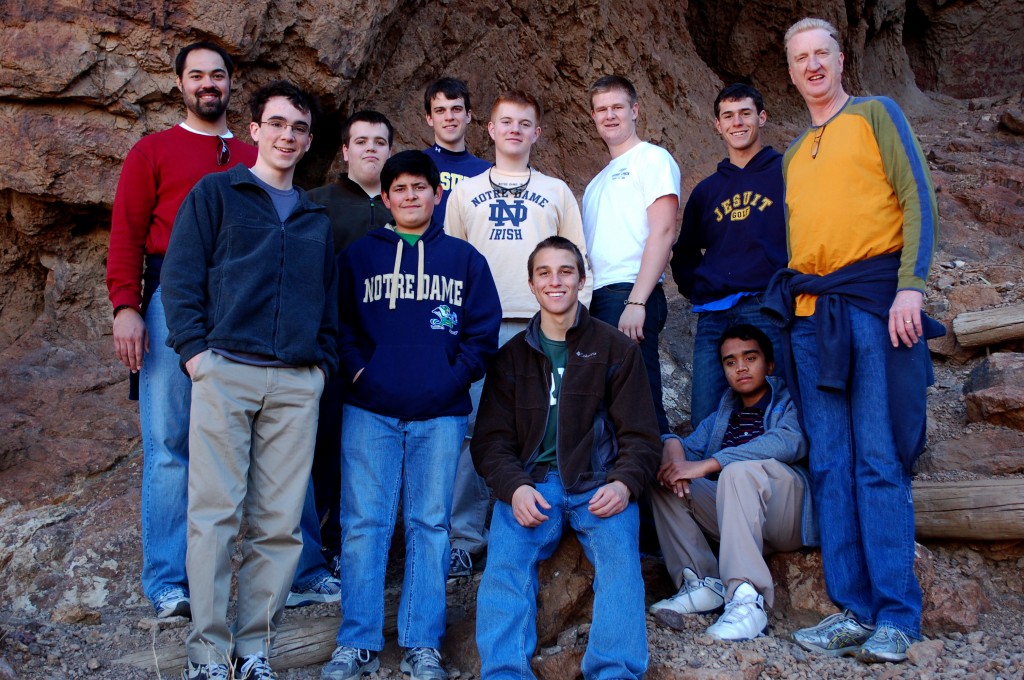 Last Sunday night, January 16, eleven members of the Jesuit community arrived back in Dallas after spending five days in El Paso, TX as a part of Jesuit's second annual Border Immersion Program. Created five years ago by senior counselor Mr. Jack Fitzsimmons, the trip focuses on educating Jesuit students on what is one of today's most pressing issues, the U.S. immigration policy, by bringing them to one of the hottest and most prevalent border communities in the country, El Paso, TX.
There's a lot about El Paso that merits interest. Most notably, it lies separated by nothing more than a fence and a river from what many label the most dangerous city in the world, Ciudad Juarez of Chihuahua, Mexico. On the other hand, and bizarrely so, it has been rated America's safest city of 2010 with an astonishing four recorded homicides, a striking contrast to the 3,075 recorded by its neighbors across the river. The city holds its place in the hearts of college basketball fans for being home to Don Haskins' 1966 Texas Western College (now UTEP) basketball team, famous for being the first to win a National Championship starting five black players, and most recently, the basis for Disney's Glory Road (2005). In 1961, the aforementioned college was the first in the nation to graduate students from a then-fledgling Peace Corps training program driven to creation by the late Sargent Shriver and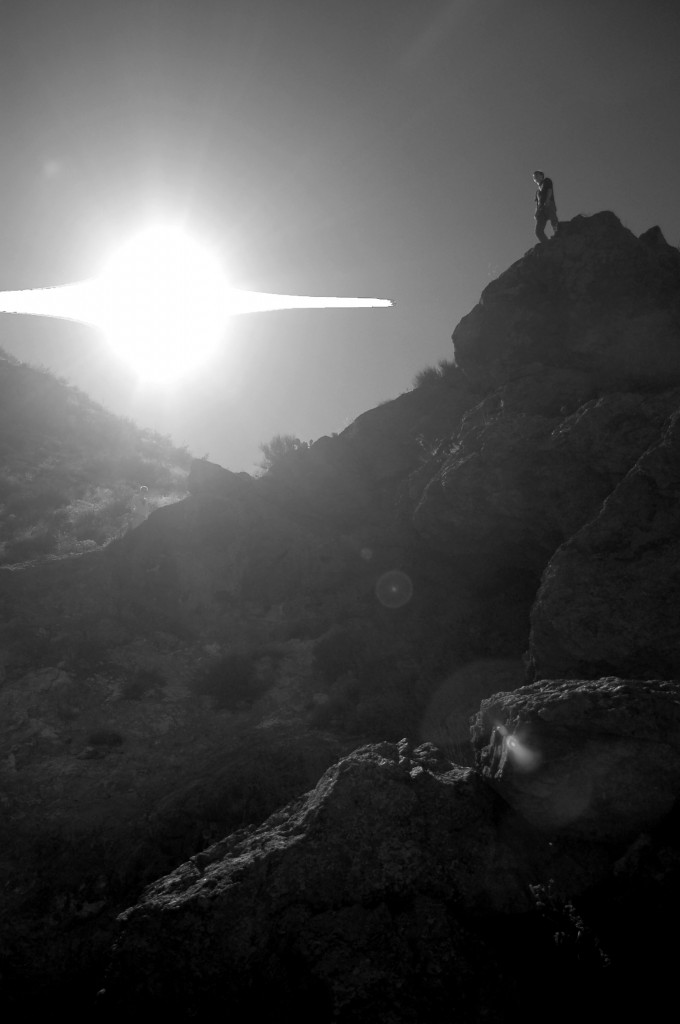 initiated by President John F. Kennedy. Following his separation from second wife Anne Deslisle in 1976, an unknown Cormac McCarthy settled down in the city and liked it so much that he decided to stay for more than twenty years, publishing some of his most well known works in the process. The city's Franklin Mountain State Park is the largest urban park-that is, a park lying wholly in its city's limits-in the country. El Paso is the site of what many scholars believe to be the actual first Thanksgiving when Spanish explorer Don Juan de Oñate arrived at the Rio Grande and ordered his expedition party to rest and conduct a mass of thanksgiving on April 30, 1598, 23 years prior to the Pilgrims. 377 years later, Fleetwood Mac held their first concert featuring Stevie Nicks and Lindsey Buckingham in the city in 1975. Okay, barring the last fact, it is fair to declare El Paso, TX a pretty interesting city.
In the week preceding Martin Luther King Day, however, Mr. Fitzsimmons and Campus Minister Mr. Robert Murphy, S.J. led nine Jesuit students to see and know the city in a more intimate way, one not accessible by a "fun facts about El Paso, TX" Google search, but instead, one rooted in the experiences and stories of those who not only participate on both side s of the immigration debate, but live it and feel its consequences every day.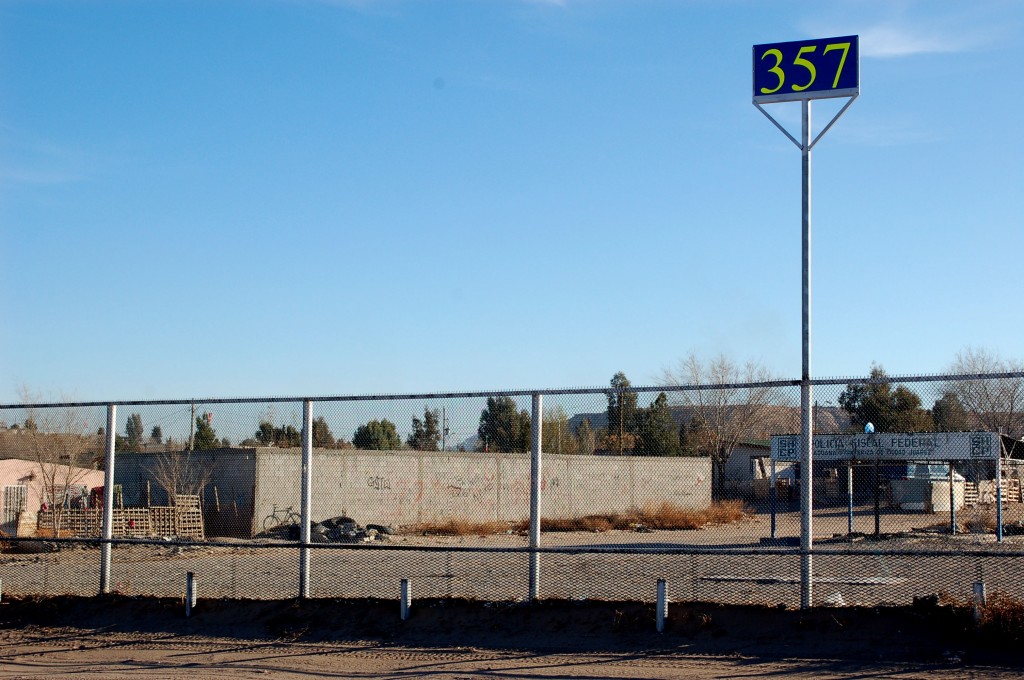 Invited to consider our time in El Paso as "an experiment in simple living," we were graciously housed and fed at Sacred Heart Church, a Jesuit parish led by its pastor, Fr. Eddie Gros, S.J., former teacher at Jesuit College Prep and longtime friend of Mr. Fitzsimmons. The church, founded in 1893 by Italian Jesuit missionary Fr. Carlos Pinto, S.J., is located three blocks from the Mexican border in a neighborhood known as the "Segundo Barrio" or "Second Ward," one of the poorest neighborhoods in the U.S. Since its founding, the church has been a haven for first generation Mexican immigrants and still today plays a crucial role in their ability to integrate into American society.
Upon arrival, we were invited to meet and share dinner with two of the three volunteers stationed in El Paso as a part the Jesuit Volunteer Corps, an organization of lay volunteers who dedicate one year or more to voluntary service to communities and people in need around the country. There we met Father Gros, who joined us for dinner, as well as Luis, a lifelong El Pasoan involved in Sacred Heart Church through their Just Faith program, a community of 20-30 year old Catholics who meet weekly and take classes together to learn more about their faith. Luis, equipped with about every urban legend and folk tale in El Paso's history, served as a guide and friend of ours for the next four days as he accompanied us on our escapades around the city.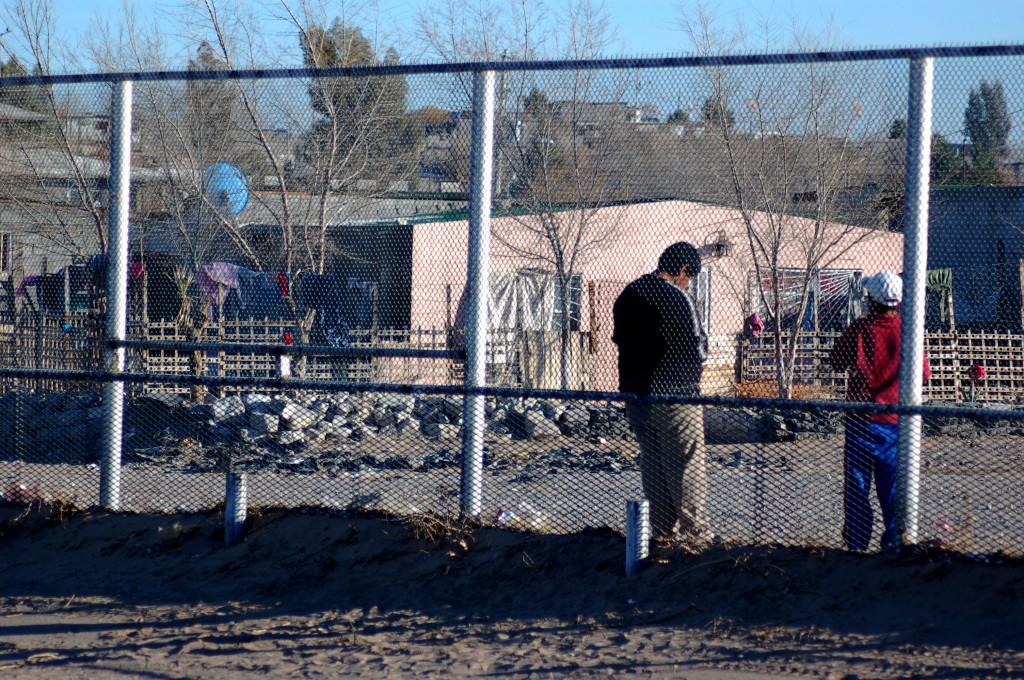 Our first full day started quickly. We woke to a full Mexican and American breakfast prepared by James, the head chef of the church's kitchen, also a functioning restaurant for the parish community on the weekends, with the help of a few of the earlier risers among us Jesuit boys. First on the day's agenda was a visit to the U.S. Border Patrol Museum, located in El Paso and the only one of its kind in the country. A privately funded non-profit, the museum chronicles the history of the U.S. Border Patrol from its beginning in the Old West, through Prohibition and World War II, and into the high-tech Patrol of today. After being informed that the agents whom we were going to meet had an emergency that would prevent them coming to the museum, we were presented a film about the institution and the role it plays along the nation's borders today. Additionally, Mrs. Brenda Tisdale, curator, museum administrator, and widow of former Assistant Chief Patrol Agent Gerald Tisdale, sat down to take questions and give her own inside perspective on the Patrol's role in the everyday life along the border.
After an afternoon hike at El Paso's aforementioned Franklin Mountains followed by a packed lunch courtesy of James, we met and picked up Brother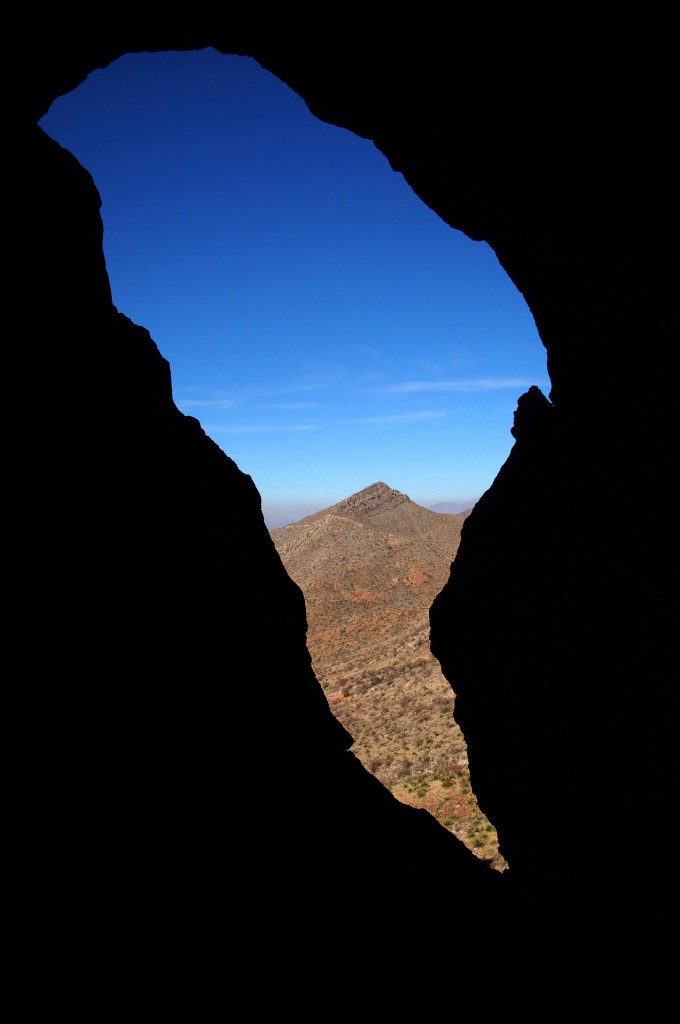 Pete Zagone, S.J., Director of Pastoral Social y Juvenil at Sacred Heart and friend of Mr. Murphy. Acquainted with the area, Brother Pete brought us to two points along the border in New Mexico, a stone's throw from downtown El Paso, where one could walk right up and see the other side. At the first area, a chain link fence separating El Paso from the notably more destitute looking Mexican state of Chihuahua secured the border. In fact, as we pulled up and got out of the car to see the fence, we saw two boys on the other side carrying on with what was normal life for them. This, more so than any experience on the trip thus far, added a sense of reality to what we had previously read about in the news or heard about on TV. Indeed, to stand in front of the border and look over into the other side with our own eyes was more powerful than any of us had expected.
That night we were invited to tour and share dinner with the people of Casa Anunciacion, or the Annunciation House, a safe housing facility for immigrants in El Paso with a particular desire to help those without documents. Dreamed up more than thirty years ago and rooted in a Christian mission, the Annunciation House serves immigrants for however long they need, be it one night or a year. With families, abused women, single teens, fathers, mothers and babies, the house is consistently full of immigrants seeking shelter and a change. We were fortunate enough to eat dinner and spend the evening with more than thirty members of the community on Thursday night, tasks that tested both our openness to another culture and our ability to make good use of those priceless conjugations we'd been memorizing for years in our Spanish classes. Indeed, there is no doubt that we had long passed our comfort zone. However, as we began to branch out and talk to the house members of our ages, a strangely natural integration occurred, albeit with varying success that was predominantly proportional to each of our own abilities to speak Spanish. By the end of the night, though, we had managed to overlook the cultural barriers that separated us at dinner and, ultimately, we were able to look back on the night and notice how familiar it was to all of us. How familiar they were to all of us. In describing people by their circumstances, e.g. that they're undocumented immigrants living with no money in one of the most impoverished neighborhoods in the country, we often times forget that they're living, breathing human beings, and in this case, living, breathing teenagers who watch the same sports and read the same Harry Potter stories that we do.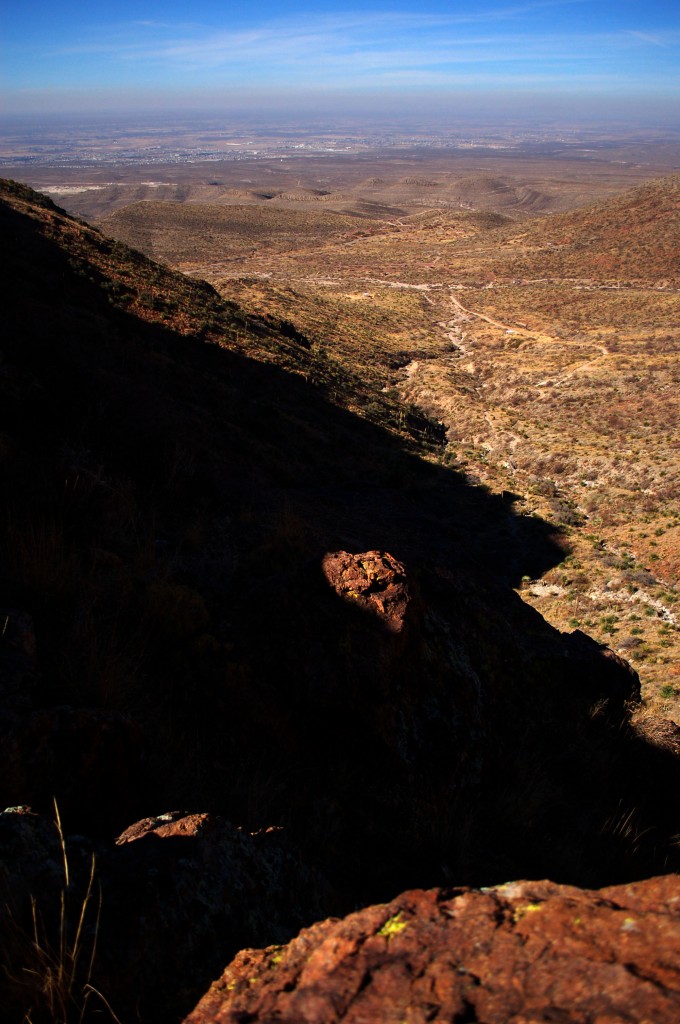 The next morning, Friday, January, 14, we woke up in a similar fashion with breakfast and made our way toward the border to El Centro de los Trabajadores Agricolas Fronterizos, or The Center for Agricultural Workers on the Border, a building established by recognized human rights activist and friend of Father Eddie's, Carlos Marentes, nearly thirty years ago to provide shelter and a community grounds for the immigrant farm workers of El Paso. Mr. Marentes led us through the building on an informal tour during which he spoke to us about the place of the immigrant worker in our nation's history and the poor conditions in which they live and work today. The center's relationship with the government, Mr. Marentes would explain to us later, is confusing to say the least. While it is aware that many of the immigrants who board there are without documents, the Department of Homeland Security respects the center's grounds and even provides a third of its yearly budget.
The day continued with a presentation from Sister Janet Gildea, also a friend of Sacred Heart and Father Eddie, regarding Santo Niño, a project that she started in Juarez only a few years ago to assist mothers of the surrounding areas in caring for their children with special needs, ordinarily a difficult thing to do with such little time and access to resources. After Sister Janet's presentation, we celebrated mass with the Just Faith group mentioned above and when the mass ended, everybody converged on the church gymnasium for dinner and music. Needless to say, it was a welcome relaxation after a densely packed two days.
Saturday's first stop was to Casa Puente, or Bridge House, located in Downtown El Paso's Historic Rio Grande District. Directed by West Cosgrove, the house is a living space for immersion groups like ours, as well as intentional community, guests, and short-term volunteers.  There, we also met Father Peter, a Carmelite priest with a rich history of social involvement throughout Latin America. Father Peter spoke at length about the Catholic Church's views on the migration of peoples-whether to support them or not, legally or illegally-and the church's role in the process.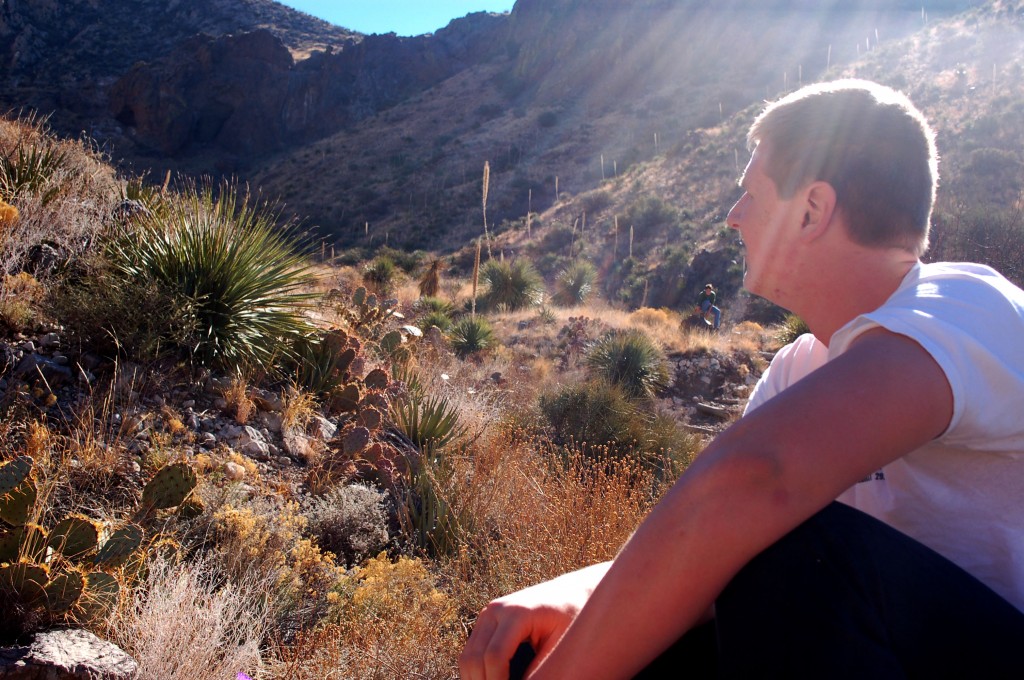 On the other hand, having spent nine years in Washington, D.C. only to come to El Paso to be part of the "grass roots," Father did not hesitate to bring out the inner legislators in us by engaging us in a discussion regarding the proper role that the U.S. Government should play in order to achieve justice along the border.
Our final heavy experience of the trip occurred later that day as we accompanied Luis to a children's detainment center in the city where he volunteers leading a Bible study every Saturday. The center serves as a housing complex for 11-17 year old undocumented minors, most of whom have family somewhere in the states. As Luis informed us, it was the job of the detainment center to send the child back across the border the day he or she turns eighteen because each day that he or she stays in the U.S. without documents, he/she is living illegally and must report it if he/she plans to apply for legal citizenship later on.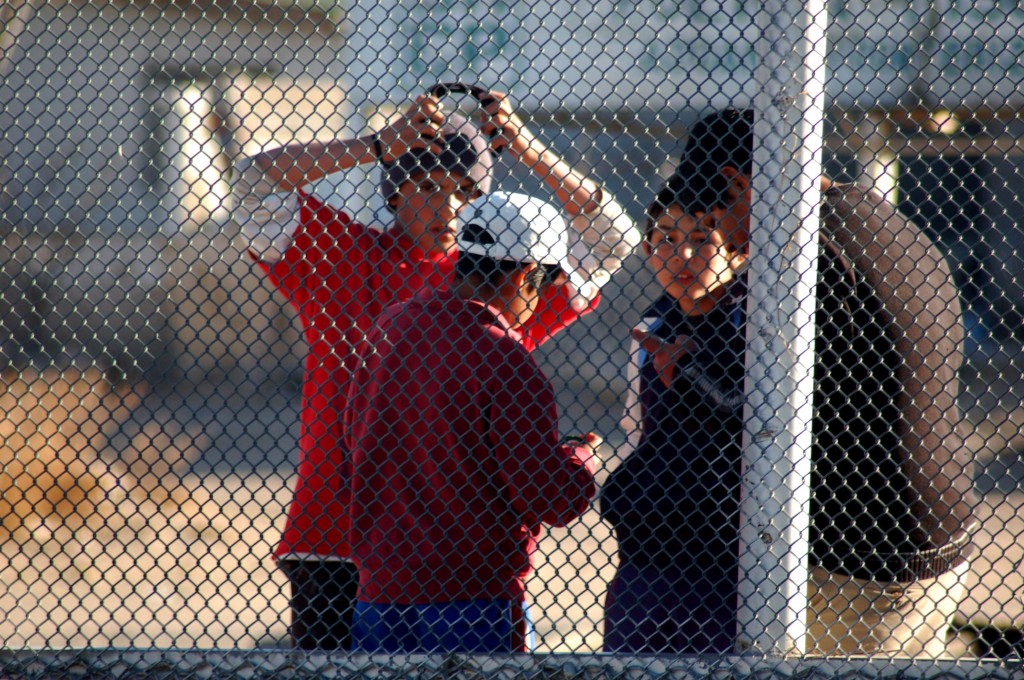 Finally, our trip came to a steady close with a UTEP basketball game against Rice at the campus' Don Haskins Center and an easygoing Sunday morning complete with a mass given almost wholly in Spanish.
If you're anything like me, rising to action is not always your natural inclination. Preaching the importance of loving thy neighbor and righting society's wrongs is crucial, sure. Studying Catholic ethics in a classroom and nodding your head during a prayer service are vital steps in the forming of your own virtuous character, yes. However, when the time comes to reach outside of one's comfort zone for the ultimate good, one is hit at a deeper level than what one intellectually supports or agrees with, but instead conflicts with what one feels personally comfortable with. While I agree that the North Texas Food Bank could use more volunteers, I really don't want to spend my day around people I don't know and won't feel comfortable around. While I understand the poverty and violence by which the people of Juarez are struck, I'd be crazy to pass up a well paying American job with a secure future to instead dedicate my life for two years to helping bring justice to an underprivileged society. Ordinarily, this natural inclination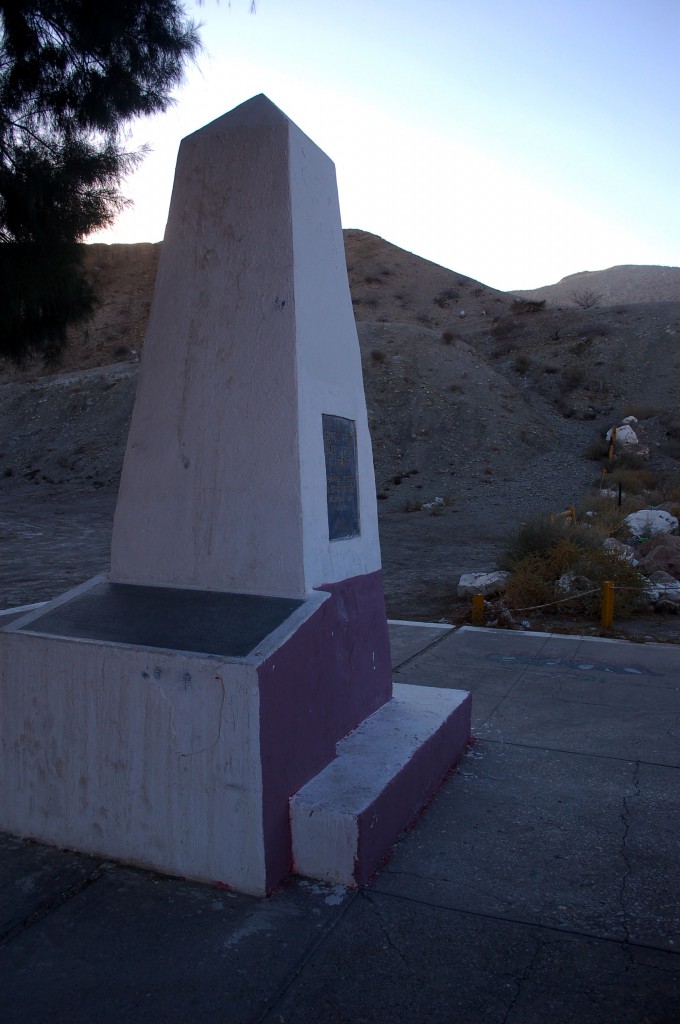 completely overshadows my ideological beliefs. However, it is in encountering real life images, people, and events such as those in the Border Immersion Program, that we can put a tangible face on a broad intellectual idea, a manifestation that makes idleness, not action, the more difficult option.
The following students participated in the program: Juniors Will Fonseca, Forrest Smith, Michael Scanlin, John Michael Rischard, and Vinay Srinivasan; Sophomores Jack White, J.J. Gustafson, Robert Giltner, and Chet Heldman.
Sacred Heart Church – http://www.sacredheartelpaso.org/
National Border Patrol Museum – http://www.borderpatrolmuseum.com/
Annunciation House – http://annunciationhouse.org/
The Center for Agricultural Workers on the Border  – http://www.farmworkers.org/centreng.html
Photography by Jack White'13