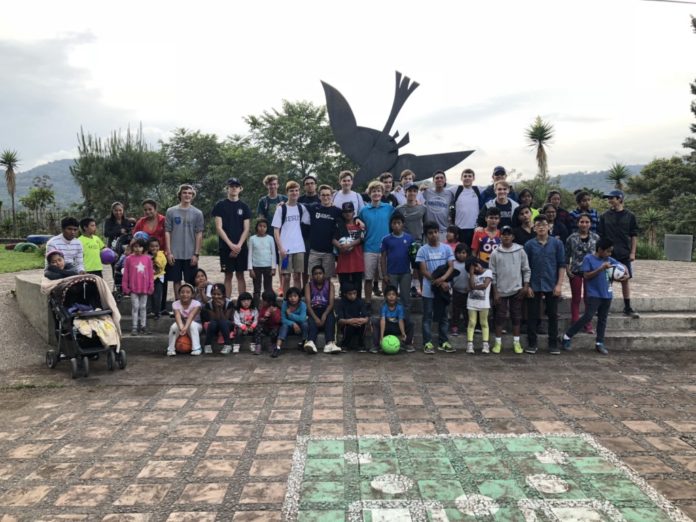 "Saving our planet, lifting people out of poverty, advancing economic growth…these are one and the same fight. We must connect the dots between climate change, water scarcity, energy shortages, global health, food security and women's empowerment. Solutions to one problem must be solutions for all." (Ban Ki-moon)
The Trip
From June 2nd until June 9th, a group of sixteen Jesuit students and five Jesuit teachers and staff went on a Service Immersion Trip, where they traveled to Guatemala.
The group served others by meeting and helping the native people of the area with activities such as cleaning their homes, planting gardens, and observing and playing with children of the local schools. During the trip, the students and staff helped in the cities and areas of Antigua and Sololá within Guatemala.
Reflections
One of the students who traveled to Guatemala, Will Florer '20, described his experience during the week-long trip.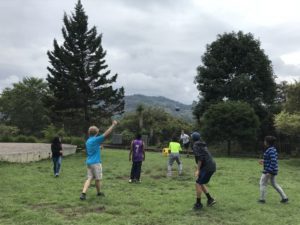 He reflected on his favorite part of the trip, saying that it was "working at the AIDS Orphanage right outside of Antigua. [It] was special to me because we got the opportunity to jump right into the lives of these young boys and girls, played the games they liked to play, and simply just did life as they do for a handful of hours."
Florer went on to explain how the students bonded through the experiences and service all throughout the immersion trip.
"Maybe it was the long hours of social immersion we spent together. Maybe the endless bus rides. Or maybe even the relaxed time-off at the hotels. All in all, there's definitely something to be gained from experiencing a new culture with your brothers from home right there by your side."
Connor Lehman '19, a senior, was another one of the students in the group on the trip. Explaining why he signed up for the service opportunity, he noted how he was encouraged by family and teachers, but also had some self-motivation.
"I also wanted to have a mission trip experience with Jesuit. I ultimately chose this program because I wanted to be a part of the mission that this trip set out to accomplish."
Lehman commented on the time spent with his Jesuit brothers during the trip.
"We were able to bond through helping the native people of Guatemala by helping each other communicate with Spanish and through sharing experiences with each other."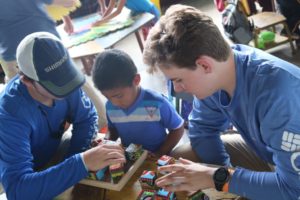 "Some kids knew Spanish fluently, some knew a little bit of it, and others knew none at all. Us relying on one another to understand what the locals were trying to tell us brought all of us closer together as friends and established a very special bond," said Lehman.
Mr. Daniel Dion, then a teacher in the theology department, co-headed the immersion trip. He helped coordinate all of the service events during the excursion and participated alongside the students in learning about the native culture and working to better the lives of the native people in Guatemala.
He discussed how his favorite part of the trip was "getting to participate with Jesuit students as we learned from the indigenous women of Guatemala, especially when we learned how to grow and prepare healthy foods for their families and communities."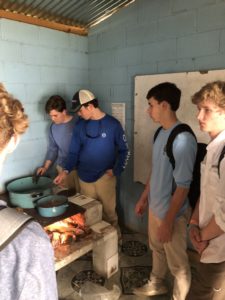 Another one of the students who traveled to Guatemala, Marshall Mann '20, commented on why he chose to go on this immersion trip.
"I thought it would be a great opportunity to experience a new culture and language, as well as to get to know some of my Jesuit brothers better."
Mann also reflected on how he and the Jesuit students found themselves closer after the trip than when they first arrived in the country.
"We bonded…by sharing our experiences from the day with each other. Normally we were split up into small groups to assist in multiple areas of a program but we all had similar experiences with the native people. I think we all felt proud that we could impact the life of a person in extreme poverty, even if it was just for a few hours."
Mark Huber '20 described how he and another student on the trip, Henry O'Connor '19, bonded over the experiences they shared. He explained how they became friends "as we cleaned a small family house in a village. As we cleaned, we noticed a small girl watching us. We smiled and waved, and she did the same. She then brought her friend over. We both smiled and waved again. This escalated to their entire family of five coming outside to see us."
Mann recounted one of the most memorable parts of the trip, depicting how he enjoyed the rainy soccer match they played against the kids of one of the villages.
"I could remember seeing them play beforehand, and they clearly had more skills and practice than us inexperienced players….We thought it was best to start off the game with a Jesuit Yell… [and after the Yell] we could tell the players were a little shaken up."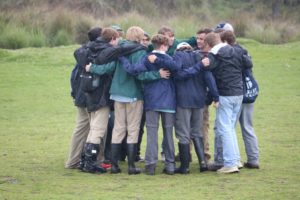 "After they let us celebrate our goal, they came right back and tied us 1-1…Unfortunately, we were forced to end the game due to lighting nearby, but it was still an extremely fun yet short game. I will always remember their determination and overwhelming skill they showed while playing. On the bus, we jokingly realized Jesuit is undefeated in international play!"
Mr. Dion considered what he learned from this life-changing experience:
"One thing I took away…is the lesson that even if my desire is to help someone in need, first I must remember to open myself up to an encounter with that person to recognize them as fully human and as loved by God."
"I witnessed God in and among them, and that was a great privilege for me to experience," Mr Dion added. "It is easy and common for someone committed to helping someone else in need to forget that the first thing you need to do is to open yourself up to that person and encounter them, to recognize their humanity and to be ready to learn from them."
The Guatemala Immersion Trip was an opportunity to help others in need, but it changed both the students' and teachers' lives with showing them a vastly different culture, reminding them that everyone is human.
For more information on next summer's Social Justice Immersion Trips, contact Mr. Perry or Mr. Reese.