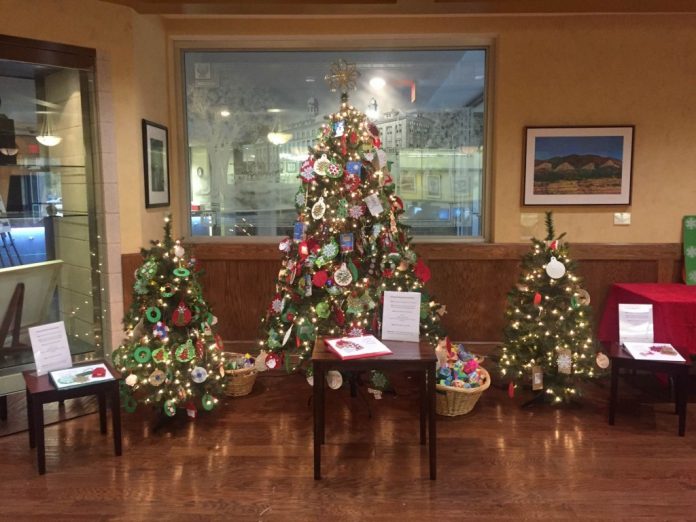 As the weather cools and exams approach, students must remember what it means to be a Jesuit student. The stress of exams and the calendar year coming to an end puts Jesuit students under extreme amounts of pressure. It is important for us to succeed in our academic life and also to make sure we are living are lives in line with Jesuit's motto, which is to be "Men for Others."
The holiday season has offered many large projects for the students to take on and the amount of volunteers was impressive. Mr. Perry, Director of Community Service and Social Justice, stressed how impressed he was with the leadership Jesuit students took during this season at the multiple service opportunities, saying that "the amount of projects we've had involvement in is due to the leadership that is coming from our students."
One of the biggest and most popular of the service opportunities was the Angel Tree project which was sponsoring three agencies, with the sophomore class taking a strong leadership role in this particular project. The Angel Tree project catered to HIV/AIDS services, The Childrens Advocacy Center, and Catholic Charities' Immigrant and Refugee Services. The tree gave students the opportunity to give christmas gifts to those in need. Behind the gift giving also came the decoration and setting up process Perry says "was a huge initiative." This process included making the hundreds of ornaments which had the gift "assignments" for the students.
Raymond Tran, a freshman, helped wrap the gifts donated by students. Tran said "participating in this service opportunity made me feel good about myself because I was helping others." Tran also stated that the service opportunities were "great ways to meet people in your grade" and he would highly recommend helping the community to his fellow freshmen.
Another service opportunity was the Notre Dame Christmas Dance, which was attended by 120 adults with special needs. The night was a festive Christmas evening for the attendees who shared it with their friends from Jesuit and their friends from the Notre Dame school. "I think it's an evening of inclusion. I think it is an evening when we practice our Christian virtue of hospitality," Perry said. The Christmas Dance was a night which taught students how to welcome everyone and make them feel comfortable. Jesuit students helped decorate and run the dance.
A final event offered to students wanting to be Men for Others occurred in early December, helping out the Children's Variety Program. This program offers a variety of events for children with special needs and this event in particular had Jesuit students sponsoring the event at a local movie theater. The children were given the opportunity to take pictures with Santa, eat popcorn, and socialize, making this another successful event of inclusion and hospitality. Jesuit students worked at the event, helping make the experience as joyful as possible for the children.
The Jesuit students proved that the holiday season is about giving, but not just gifts. It is about giving to those less fortunate the gifts of hospitality, friendship, and comfort. Despite not knowing those they are helping, Jesuit students were willing to devote their time and money just to make sure others enjoy their holiday season, which truly reflects what it means to be Men for Others.