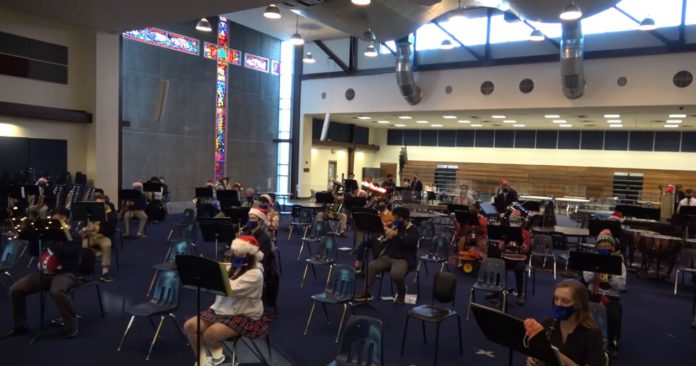 Last December, the Jesuit Ursuline Ranger Band ("JURB") recorded a series of holiday tunes, sharing the festive pieces with its virtual audience via YouTube. The band practiced for weeks leading up to the recording, and each member's hard work and dedication paid off during the performance.
To accommodate COVID-19 safety standards, each wind instrument player wore a musician's mask. This special mask has an opening to fit the mouthpiece of an instrument, allowing players to perform while still abiding by COVID safety standards. Players sat in every other chair to maintain the required amount of social distance. Safety was a top priority for the concert. Additionally, band members performed the digital concert decked out in festive Christmas-themed hats, sweaters, and other holiday clothing. Some members even adorned instruments with garlands, bells, and tassels.
JURB performed three pieces: Sleigh Ride, Polar Express, and Holiday Favorites (featuring passages from popular holiday tunes such as "Let It Snow!," "Rudolph The Red-Nosed Reindeer," "Jingle-Bell Rock," "Silver Bells," and "Frosty The Snow Man"). In addition, JURB accompanied the Jesuit Men's Chorus in its performance of a sing-along version of Holiday Favorites.
As Trumpet Lieutenant Paolo Amar '22 summarized, "I am so happy that despite all the challenges that this pandemic gave us, we were still able to deliver an amazing performance for our yearly Christmas concert for all of our friends and families." Many other band members were grateful for the opportunity to continue spreading holiday cheer in JURB's annual concert.
Stay tuned to The Roundup for more JURB coverage!