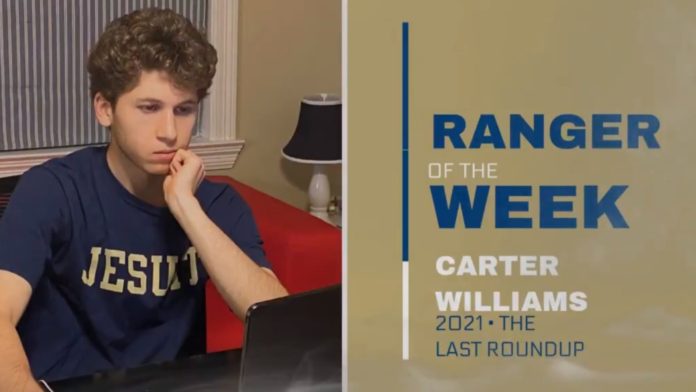 Carter Williams was named Ranger of the Week after a great start to his senior year in which he has excelled as a leader on the yearbook staff while helping the cross country team to a third-place finish in its first race of the 2020 season.
Among the top of the class academically and a natural leader of his peers, Carter is serving as photography editor for the yearbook, which is regarded as one of the most challenging positions on staff. He is also tutoring middle school students. This past Saturday, Carter earned a top-20 finish at the North Texas XC Circuit Week No. 1 event to help the Rangers finish ahead of Frisco Independence for third place in the team standings.
Said one of Carter's classmates, "He really embodies the spirit of Jesuit. He's an excellent runner, a better student, a great photographer and editor for yearbook, and a good friend and leader."
Carter was Ranger of the Week from Sep. 14-18. I was able to conduct an interview with Carter Williams to highlight his exceptional work at Jesuit. To learn more about Carter and his remarkable accomplishments, listen to the audio file attached below. And as always, check back to The Roundup for more coverage of Jesuit student life!