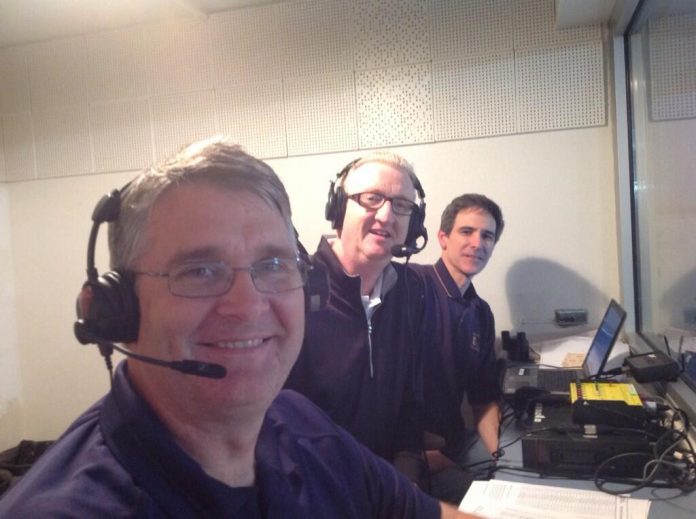 It's autumn and you're driving down the highway late at night, and you realize that it's not your typical night—it's Friday night, it's high school football night. You decide you want to check up on the good ol' boys from Jesuit College Prep. You turn on your radio to FM 95.3 KHYI and you hear two different voices calling the game. One you know, it's that Jack Fitzsimmons guy who works at Jesuit, his voice is very recognizable. But the other voice you can't quite discern. The man has a large, loud voice and he's doing a great job at calling the game. Who is this guy? Well, that's Tom Walsh, the voice of Jesuit football.
The Ball Player: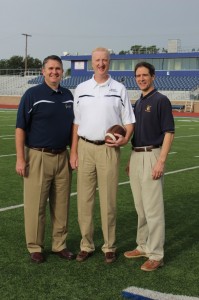 But who exactly is this Tom Walsh? Well, he's actually not a Jesuit grad. He grew up in Waco, Texas and attended Reicher High School, the only Catholic school in town (Reicher was actually a big Jesuit rival in the 70's, particularly in soccer). When Walsh went there in the 80's, his class only had 62 people. Even though it was easy to standout at Reicher, Walsh managed to separate himself on the basketball court.
He was the top scorer his senior year not only on the varsity squad, but also in the central Texas area, as he averaged 28.2 points per game. And these points didn't come easy; Reicher played top public schools in the 3A and 2A divisions. Walsh even scored a career high 50 points in one game, an accomplishment he is very proud of.
His superior basketball prowess drew attention from a multitude of colleges, but he received an appointment to the United States Military Academy at West Point and headed there. After going through the West Point summer program, Walsh decided that it wouldn't be a good fit, so he transferred to SMU in hopes of walking on to their basketball team. Unfortunately, he didn't make the team. However, he did manage to continue playing basketball through intramurals, where he won both the 5 on 5 and 3 on 3 Midnight Madness Championships.
Professional Career:
No, Walsh did not play in the NBA, but he did succeed in in the field of law. After SMU, Walsh got accepted to the prestigious University of Texas School of Law and graduated in 1992. He then clerked during the summer, as most young law-aspiring minds do, at Akin Gump, a prestigious Dallas law firm.
After his clerkship and graduation, he worked at Lynn, Stodghill, Melsheimer & Tillotson, a young law firm with some accomplished lawyers. He then moved with Stodghill and Melsheimer over to the Dallas office of Fish & Richardson, a 350-attorney law firm founded in Boston with offices around the world. He is now a partner, or "principal," there, working as one of their top trial lawyers.
He had met a Jesuit alum during his time at Lynn, Stodghill, Melsheimer, and Tillotson,  Tom Melsheimer, class of 1979.  The two are now best of friends and Melsheimer would prove to be very influential on Walsh's involvement with Jesuit. In the mid-1990s, Jesuit approached Melsheimer to do some legal work for the school because of his Jesuit background. Walsh did some work on the case and became familiar with the school. While working with current Athletic Director Steve Koch, the two discussed the possibility of broadcasting Jesuit football games. But before we take a look at his Jesuit broadcasting career, let's discover why Walsh wanted to broadcast in the first place.
Broadcasting History:
Since he was 10 years old, Walsh said he knew he wanted to be a sports caster. His inspiration came from the Dallas Cowboys, specifically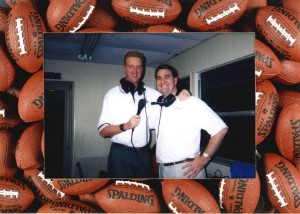 their radio talk shows on KRLD every Monday night. Vern Lundquist, Frank Glieber, and Brad Sham were Walsh's broadcast heroes growing up. After sending Sham some fan mail at age 11, Walsh even got to spend some time with Sham, seeing the behind the scenes action on a Sunday night. After all those years, Walsh says, "I think he's still the greatest."
In the following years, you could identify Walsh at various venues as the man with the microphone. He began to love doing readings at church, making announcements at school, and being the Master of Ceremonies at the school's talent show. "I was one of those kids who would sit by myself, turn down the TV, and practice [announcing games]," said Walsh. This love of the mic became particularly special his junior year in high school.
The Reicher football coach told Walsh if he could get Waco radio to carry the team's games  on Friday nights, Walsh could call them. So Walsh searched all over Waco and went to numerous radio stations, asking if they would be willing to broadcast the games.
He initially got rejected quite a lot, but Walsh did ended up finding a small AM radio station, KRCI, that agreed. After the contract with KRCI was signed, there was a change in leadership at the station, and Walsh feared losing the job. Luckily, he didn't, but the new leader of the station would do the play -by- play from then on, while Walsh was left with color commentary and statistics.
The first game that the two broadcasted at Reicher was a huge success. In fact, Walsh was so successful that he got to take over the play-by-play by the second half. The rest of the season couldn't have gone better as Walsh became the first official voice of Reicher football.  His broadcasting career ended after high school until his pivotal meeting with Koch at Jesuit many years later.
Jesuit Life:
So now we know his background both personally and in broadcasting, let's look back at how he became the voice of Jesuit football. As mentioned above, Koch and Walsh began discussing the beginnings of a Jesuit football radio show. Walsh was again tasked with finding a radio show that would take him up, repeating the same process he went through in high school. Again he was met with some rejection, but he eventually found some luck with a small radio station that had a weak signal.
But Walsh couldn't broadcast on this weak signal all alone. Who would sit with him in the booth and call the games? Well, Koch suggested that one Jesuit faculty member, Jack Fitzsimmons (current senior counselor and 1976 grad), would be the man for the job. It turns out this pairing would be pivotal in Walsh's life: "The introduction of Koch pairing me with Jack [Fitzsimmons] was one of the greatest events that ever happened in my life. He has not only been my radio broadcast partner, but he's also one of my very best friends."
The two now close friends had their first broadcast back in 1998. Fitzsimmons didn't make it to the season opener against Grand Prairie because of family commitments, so their first game together came against Coppell, the second game of the season. Despite being initially nervous, "Within three minutes, I knew that he and I would have great chemistry both on the air and off." Walsh dished out the exciting play-by-play while Fitzsimmons calmly and coolly analyzed the game. After the game, the dynamic duo went and got a bite to eat at Snuffer's, and the rest is history.
Fitzsimmons described their first broadcast:
"The first time we had done a game, there was a Dallas Morning News reporter that was in the press box with us. Tom and I really didn't know how this [broadcasting] thing would go. After the first quarter, we turn to each other and say 'this is going pretty well'. The reporter was confused, and said 'What do you guys mean?' We told him it was our first broadcast and he was astonished. He said 'it sounds like you guys have been working together for ten years.' All of a sudden it was like, 'Hey wait a minute, this could really work.' "
16 years, 155 games (not including playoffs), and hundreds of late night burgers later, the two are now some of the top broadcasters in the state. There's even a third member to the team, Chris Martinez, class of 1978. For all 16 years, he's been the statistician. Their team hasn't just broadcasted the Dallas games, but has traveled all over from Houston to Kansas City, Missouri; and even Monterrey, Mexico and Dublin, Ireland. Walsh has even called one Southwest Atlanta Christian Academy high school basketball game on TV, probably because one of the teams had future NBA All Star Dwight Howard, now with the Houston Rockets,  playing for them.
Today, Walsh not only broadcasts Jesuit football, but many other sports, too. He's called 20 or so basketball games, around 10 of those on the internet, and a few hockey games for Jesuit. He's also done around 25-30 college games on TV on HDNet (now know as AXS TV). He can often be seen on TV calling the pre-conference games in the Bahamas at the Battle 4 Atlantis tournament with Kenny Rice and Seth Davis, two famous broadcasters. Although this is his biggest gig, he's handled many more, including the Wooden Classic at UCLA.
Fitzsimmons further described Walsh's technical broadcasting abilities:
"I enjoy the way Tom is. He's a big, happy, enthusiastic guy about everything that he does. We compliment each other well on the radio. Tom is the guy that gets excited about almost every play. I'm kind of the calm balance and analyst. He has a bigger than life call of the game.
"He has become a very good play-by-play voice. He has a nice style. If you listen to him, you understand what's going on in the game. There's a real distinction with a radio voice and a TV voice. We can't let the picture speak for itself [like on TV]. He can really paint the picture of the scene to describe what's going on. He has a natural affinity for it."
Jesuit Sports Hall of Fame:
Walsh is not only the voice of Jesuit football, he is also deeply involved with the Jesuit Alumni Letterman's Club. He has been the Master of Ceremonies for the Blue and Gold Banquet for 14 out of its 15 years. Walsh says that the banquet, "is a great way to meet alumni and coaches."
The banquet is a big deal to Walsh. He's flown out of partner retreats in Chicago in order to get back to MC the event. He also once drove to his sister's graduation from law school in Louisiana, then drove back the same day right after she received her diploma so that he could make the banquet. The only time he has missed was when he promised to attend his daughter's dance recital.
Family:
Walsh is currently married to the love of his life, Tara. The couple met through mutual friends and got married in 2001 at SMU.
They have two little girls, Mary Beth (age 10), and Kate (age 7). Walsh described how they are "the light of [his] life." The two attend Prince of Peace Catholic School in Plano and he's been "raising them to be huge Jesuit fans."
Tom Walsh is known for his exciting, loud voice and he's one of the best broadcasters around. He is, however, much more than the voice of Jesuit football.
Despite never being a Ranger himself, Walsh has "become like a lot of legendary people at Jesuit," explained Fitzsimmons. "Everyone thinks that he went to Jesuit. He's treated like someone who has been here for his whole life. He's embraced our community and we've embraced him. He's an integral part of Jesuit."
Tune into 95.3 KHYI on Friday football nights in the fall or maybe attend the Blue and Gold Banquet in the spring to catch a glimpse of Walsh's greatness.