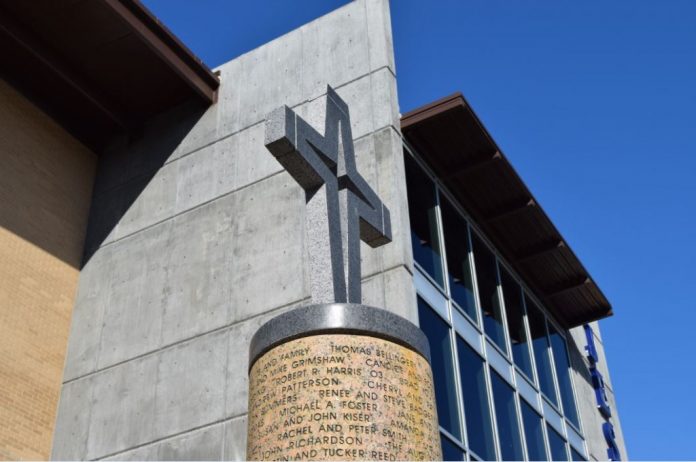 A man sits down at his desk at 7:30 in the morning and proceeds to open up his laptop, revealing some familiar faces as he scrolls through a website containing random intentions, pictures, and names. He slowly closes his eyes, begins with, "Today, we pray for each and every one of our students, especially for the needs and intentions of…"
This is the weekly morning ritual of Mr. Joe Nava '02 as well as about 30 other teachers in the Jesuit community. Stemming from a similar group made up of Jesuit moms, the prayer group is meant to "let students know that they are being cared for," says Mr. Nava. "The group called Jesuit Moms in Prayer have been praying for faculty. Every once and a while, members of our faculty receive an email letting us know that we are in their thoughts and prayers that week, so Campus Ministry decided to do the same but geared towards students." However, what started as a group of 5 teachers receiving a daily reminder to prayer for about 30 students quickly grew into a group of 30 teachers. The teachers soon realized the effect this small portion of their day could have on some of the many students they hold dear to their hearts.
Nava, a computer genius, quickly found the hidden statistics lesson. Using a random number generator, he picks about 7-8 students per grade level, copy and pastes their names into the website as well as their pictures, and the teachers are able to go onto a website and look at the intentions and students.
Although this group may be a mostly internal order of teachers, it still has a lasting affect on the students prayed over as shown through Bobby Wunderlick '17: "When I received the Moodle message stating that I was being prayed for by a group of teachers, I didn't really understand what this was for. As I read through the paragraph, I still didn't understand the deeper meaning behind such a group made up of solely teachers. It wasn't until I was asked to put in my intentions that it hit me: these teachers were looking out for me. In a stressful world filled with tests, projects, quizzes, and homework, all put upon us by teachers, we almost view teachers as an enemy. However, this completely shifted my paradigm, I finally saw that they only want what's best for us and they are always looking out for us. I don't know if I would've ever come to this realization without this group."
The prayers may be focused on students, but "it also shows [teachers] the bigger picture going on in students' lives. When I read the intentions put forth by these students and put faces to the names, I realize that these students exist outside of school, that each and every one of these men have their own individual lives and stories," says Mr. Nava. "This allows me to be more compassionate and accepting of the conditions of my students."
This prayer group is meant to shine a light on those who sometimes are overlooked, to make those who may feel ignored, feel loved. So, when you receive the email this year, take time out of your day to appreciate those looking out for you and cheering for you to succeed, because these teachers are leading the charge.