"Those that know, do. Those that understand, teach." This quote from Aristotle perfectly explains one of the primary missions of the Jesuits: to educate. A Jesuit must teach for several years before becoming ordained as a priest, primarily because Jesuits place a large emphasis on education.
At Jesuit Dallas, there are always Novices who are teaching who will later become priests in the Catholic Church. This year, Mr. Thomas Croteau, S.J., completed his third year at Jesuit Dallas and it moving on to the next step of his Jesuit career.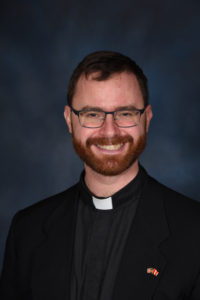 Q: What do you think you'll miss most after leaving from Jesuit?
A: "Speaking generally, certainly the people. The school is a fine place with many fine persons. [I will miss] my students and many faculty in particular."
Q: What's been your favorite memory over the past three years?
A: It's hard to pick a favorite one in general. I would say I've always enjoyed seeing former students come back and visit. [I like it when] a former student says hello to my class or shares some wisdom with them or comes to give a gift.
Q: What has being a teacher taught you?
A: Teenagers today know both more and less than I give them credit for. To elaborate, my students are very skilled in research and they know many many things and there are also some basic common tropes in a western education that I find are not always familiar.
Q: What are your plans for the future? After this year, what's the next step?
A: So as a Jesuit in training, I'm going to fulfill further requirements in my training getting ready for the Catholic priesthood. The next bit of requirements is to finish studying theology. So now that I'm done teaching theology, I can go study theology and I will be doing that at the Graduate level at the Jesuit School of Theology in Berkeley, California. So I will be there for somewhere in between two and four years to study theology and to live and work in the midst of also ministering to people on the side. It is a satellite campus of Santa Clara University.
Q: What did you do before coming to Jesuit?  
A: I had been studying philosophy with a little bit of theology class mixed in at Saint Louis University for three years, and the time before that was the time of novitiate and novices were kind of all over but our home base was in South Louisiana. My undergraduate university was Ave Maria University down in Florida. So then from there, I went straight into the novitiate after I graduated from college.
Q: So what is it like when you're ordained?
A: So a Jesuit is missioned hopefully where God wants him to go, in obedience to his religious Superior. The way obedience works is the Jesuit priest tries to figure out where he thinks God is calling him. Then his Superior also prays and says what gifts does he and others see in this man. Usually, when those two line up, it's a more or less clear indication of God's will. So I have a say in [where I want to go] to the extent that I am the input of my prayer and my understanding of the needs of the church in the end. However, it is the Jesuit Superior who will decide where I'm to go.
Q: How does the process of becoming a Jesuit priest differ from the process of becoming a Diocesan priest?
A: So for a Catholic priest, there are two basic types: Diocesan priests, who don't necessarily take vows of poverty, chastity, and obedience. They promise to obey their bishop and their bishop uniformly will ask that they live a celibate life and that they follow a simple life. The other kind is religious priests, and religious priests take vows. If you're a Jesuit or Franciscan, you'll take vows of poverty, chastity, and obedience. A Diocesan priest usually stays in the small area they are from. For instance, they'll stay in Dallas or maybe they'll go up to like McKinney, but they're not going all the way to Oklahoma or something like that. Religious priests are from bigger areas known as provinces and can be commissioned anywhere in those, or if you're a Jesuit, anywhere in the world. So, I'm from Colorado, but I'm working here and I have Jesuit brothers in my province who were from Missouri and they worked in Puerto Rico or they're from Colorado and they worked in Nicaragua or they're from Texas and they were working in Florida. Just all over. There's also a Jesuit priest that I know from Dallas. He didn't go to Jesuit College Preparatory School, but he grew up in the Dallas area. Right now he's in Kyrgyzstan. He worked in Russia for a good long time. And once he finished up his term of being the Superior of Jesuits in Russia, the Pope asked him to go to Kyrgyzstan to administer the Catholic Church there. So, Jesuits can go all over.
Q: If you had to pick, where in the world would you want to serve most?
A: It's hard to beat home. Colorado's pretty good. It's a beautiful place. In the rest of the world, I think somewhere in mainland China would be pretty beautiful. Maybe somewhere in Oceania, like Micronesia, [would also be amazing.] Contemplating that was one of the early things that led to my priestly vocation. However, in the end, here's what every Jesuit wants: We want to go where God wants us to be. We want to go where the need is greatest, and that's where we are going to be most fulfilled.
Although Jesuit will greatly miss Mr. Croteau and the fun he brought to the classroom, everyone wishes him well for the next chapters of his career.
Stay tuned to The Roundup for more community profiles!