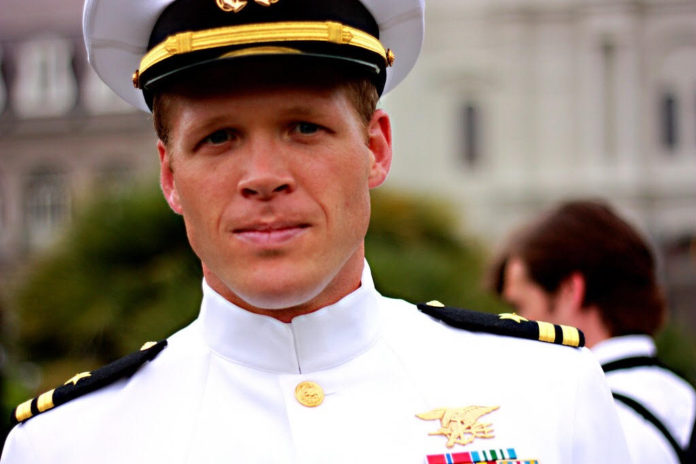 Many young men have passed through the halls of Jesuit and gone on to lead accomplished and distinguished lives. As students, we cannot fully appreciate what being "a man for others" means, nor how the many experiences that we share at Jesuit will influence us until later in life.

I recently met one Ranger alum that captured my interest: a former US Navy SEAL. I was eager to learn how one embarks on such a challenging adventure full of risks and uncertainty when other safer choices exist. Now a successful businessman, Pat Dossett has a remarkable record and shares words of wisdom for this article. His father and siblings have all graduated from Jesuit schools, and many present teachers recognize his name.
At a glance
Jesuit 98' (Co-Captain Football Team // Bachendorf Scholarship for Most Improved Student)
US Naval Academy 02' (Co-Captain Boxing Team // 2x Brigade Heavy Weight Champion // B.S. Oceanography)
BUD/S Class 244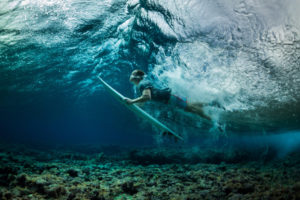 Various SEAL Teams (9.5 years of service)
Co-Founder Tip of the Spear Foundation
Wharton Business School MBA
Google
Co-Founder of Madefor
Currently living in Santa Monica, CA w/ wife, Kim, and 5-month old twin daughters, Sailor and Rebel
How did your Jesuit experience prepare you for life in the outside world?
It taught me to be a man of action, of principle and that the fullest life is lived in service to something greater than oneself.
When did you envision become a member of The Teams?
In the seventh grade, I read a book called Rogue Warrior. It inspired me and sounded like the hardest adventure one could embark on. I was hooked!
How do you feel Jesuit prepared you to become a leader, to confront a challenge, and to overcome adversity?
Leaders don't rise to the occasion; they leverage the momentum created from small steps. This is how a leader's mindset is forged.
From your first day at Jesuit, you are learning to lead. Wearing a uniform, showing up on time, being held accountable to a high standard in the classroom; on the sports field; on service days.  There isn't one crucible event. Rather the culmination of experience that helps young men grow into leaders at Jesuit.
What is your most memorable moment or experience at Jesuit?
The best moments for me were when I felt like I was a part of something bigger than myself, a contributing member of the community. There are too many to name: the first varsity game as a sophomore on the opening kickoff against Hillcrest; Meals on Wheels community service days;  or sitting in prayer service, looking out over a gaggle of blue blazers and learning from various speakers.
What advice would you give a graduating Jesuit senior and incoming Jesuit freshman?
My advice for both groups would be the same. Be kind, be humble, work hard, serve others. Do this, and the world will conspire to help you achieve your dreams. Don't close any doors before you. Create the opportunity to decide whether or not you want to walk through them.
Can you share a few valuable principles you learned during Navy Seal training and how this serves you in your everyday life?
Mission focus mindset. Team, Teammate, Self
Was there a "hardest" part?
I think most would agree that Hell Week is challenging. You are cold, wet and awake for 5.5 days.
Where did you serve? How long?
I spent a little over 9 years in uniform, serving all over the Middle East, Africa, and the Pacific.
How does the brotherhood that you formed at Jesuit compare with the brotherhood you formed with the member of the SEAL teams you served on?
The bonds formed with both groups endure for life and are only enriched by the collective wins and losses faced. I can go years without seeing someone I served within the Teams or someone I went to Jesuit with, but when I do see them, we pick up right where we left off. It's hard to overstate the power of shared experience, especially during such formative years. I will always make time for a Jesuit grad or a SEAL.
I understand you founded the "Tip of the Spear Foundation"; What is its mission and how has this made a difference?
Support members of the special operations community and their families.  Lifting a weight, however big or small, from the shoulders of service members or the families of fallen service members lets them know their service and sacrifice is valued.
Tell me about your proudest adult achievements.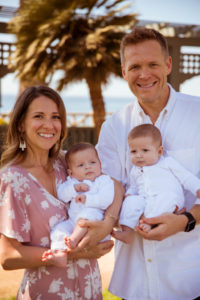 They are all things you won't find on my resume. My wife and twin daughters, the friendships I've cultivated and served, the moments I've found to show up for others. I'm most proud of the man I've become and the desire I have to strive to be better every day.
I understand you spend time speaking to military personnel–what do you advise them?
Always be in pursuit. Run towards what excites you, rather than away from what bothers you. Also, find something to serve when the uniform comes off. Otherwise, you will feel empty.
Tell us about the work you're doing now?
I'm working on a startup with a friend, Blake Mycoskie (TOMS Shoes), helping people adopt positive habits to increase physical and mental health. www.getMadefor.com
Any other advice?
Someone once told me that SEALs put their pants on just like everyone else, one leg at a time. I've worked hard and been blessed with some great opportunities and lucky breaks, but I'm not special. Nothing I've done is out of reach for anyone reading this. Just remember, you can't change your location in an instant but you can change your destination.
A big thank you to Pat Dossett! Stay tuned to The Roundup for more Alum Highlights!