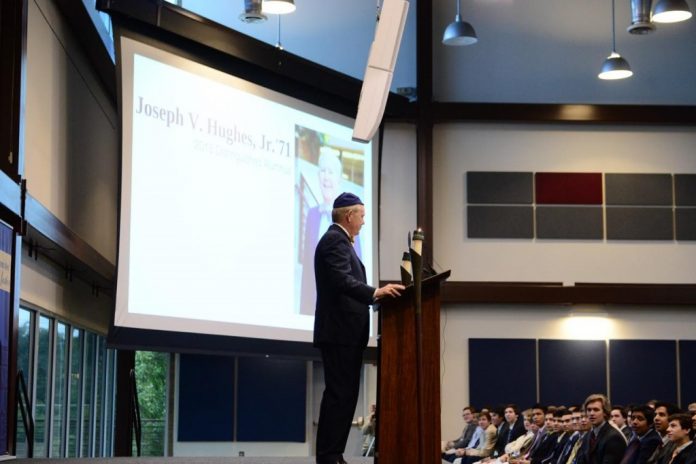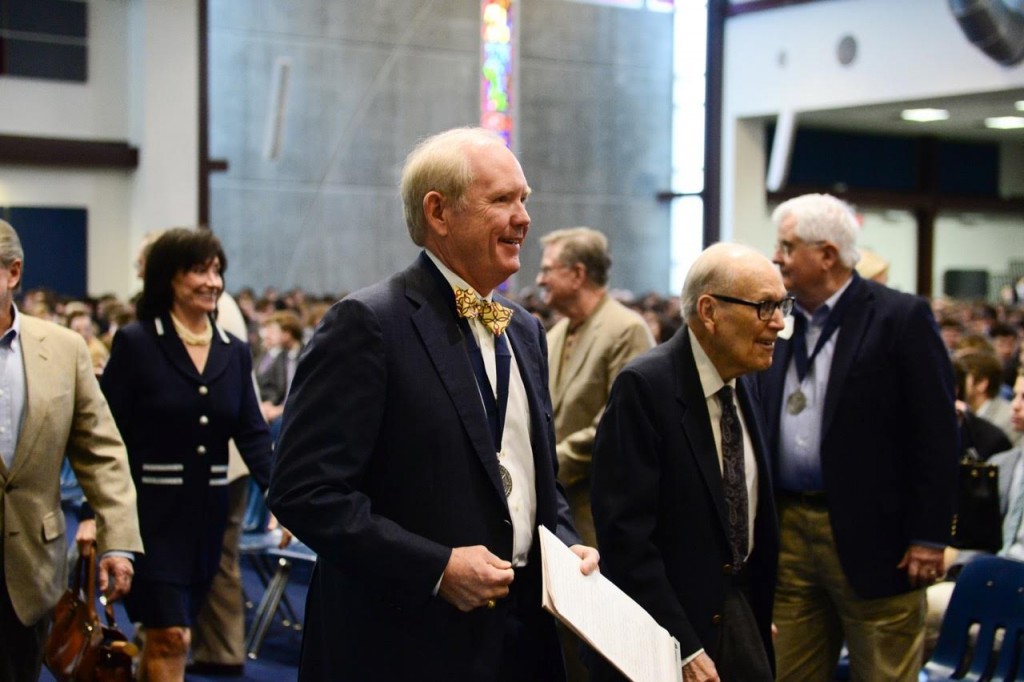 Successful business owner, generous benefactor, loving father, and devout husband Joseph V. Hughes placed a comically small blue beanie upon his head before an audience of over a thousand current Jesuit students, faculty, and guests on the morning of Thursday, November 5th, 2015.
As a quiet wave of chuckling reverberated through the crowd, he patiently waited with a straight face behind his podium, a true master of dry humor. However, Hughes' joking at his own expense was more than just a demonstration of his healthy sense of humor; it was the first hint at the unparalleled humbleness that dwelled within the Jesuit Dallas Distinguished Alumnus of 2015.
After graduating from Jesuit in 1971, Hughes attended Texas A&M University where he achieved a bachelor's degree in accounting and went to work for Touche Ross & Company, an accounting firm. However, Hughes worked there only a few short years before he left to start an accounting firm of his own, but that would not be the only company he built from the ground up. Two years later, Hughes founded Spindletop Exploration, Inc., an acquisition company that buys royalty and mineral interests. Despite his busy professional life, Hughes found the time to become deeply invested in giving back to Jesuit by holding positions on the Alumni Board, the Board of Trustees, and the Alumni Advisory Committee as well as donating to the alumni annual fund and the We Are Jesuit capital campaign. Of course, Hughes' most notable contribution is his financial gift to construct Jesuit's very own Hughes Hall, a defining part of our campus. A full biography of Joseph V. Hughes, Jr. can be found here.
At the start of the ceremony, Hughes was introduced by a very close and longtime friend and 2010 Distinguished Alumnus Dr. Bob Morgan '71. As a classmate of Hughes at both Jesuit and A&M, Dr. Morgan was able to deliver great, firsthand insight into what kind of person Hughes was as he developed. Surprisingly, Dr. Morgan recalled that Hughes was "the typical middle of the road Jesuit student. He was friendly, intelligent, and hardworking." He feels "Jesuit served as more of a formation time for Joe than a time to excel," especially when compared to the changes he underwent while at A&M. "From the minute he was accepted at A&M he became a leader. It was an amazing transformation for those of us who knew him," remembered Dr. Morgan. While at A&M, Hughes became the first civilian yell leader which was "unheard of at the time." "He blazed many new trails; succeeding where no one had previously succeeded…It was an amazing transformation for those of us who knew him." While in College Station, the two Jesuit grads only grew closer together and began "a lifetime of close friendship." Above all else, Dr. Morgan maintains that "the one unwavering principle is both of our attachments to Jesuit," as it is the core of their friendship.
During his address to the student body, Dr. Morgan's words were affirmed as it became clear beyond any measure of doubt that Hughes' attachment to Jesuit was one that surpassed remarkable status. Only two years after graduating from Jesuit, Hughes became active in the alumni community. He attributes this early involvement in part to A&M's culture of service which weighed heavily on him. In 1982, just seven years after Hughes graduated from A&M, he was appointed President of the Alumni Association. However, he moved around quite a bit in his four decades of service because "they always want fresh blood on different committees," said Hughes.
In particular, Hughes enjoyed working on the scholarship committee reviewing the financial information of families who may need help in paying tuition. While he noted that it was "very humbling to see the strong needs for financial aid," the process reminded him about one of his favorite Jesuit traits, unbiased admission policies. "I love the fact that…[admissions] has nothing to do with whether or not they can pay tuition but if they can make the grade." Knowing the life-changing impact Jesuit can have on a developing teenager, he takes great satisfaction in trying to ensure that the cost of a Jesuit education does not get in the way.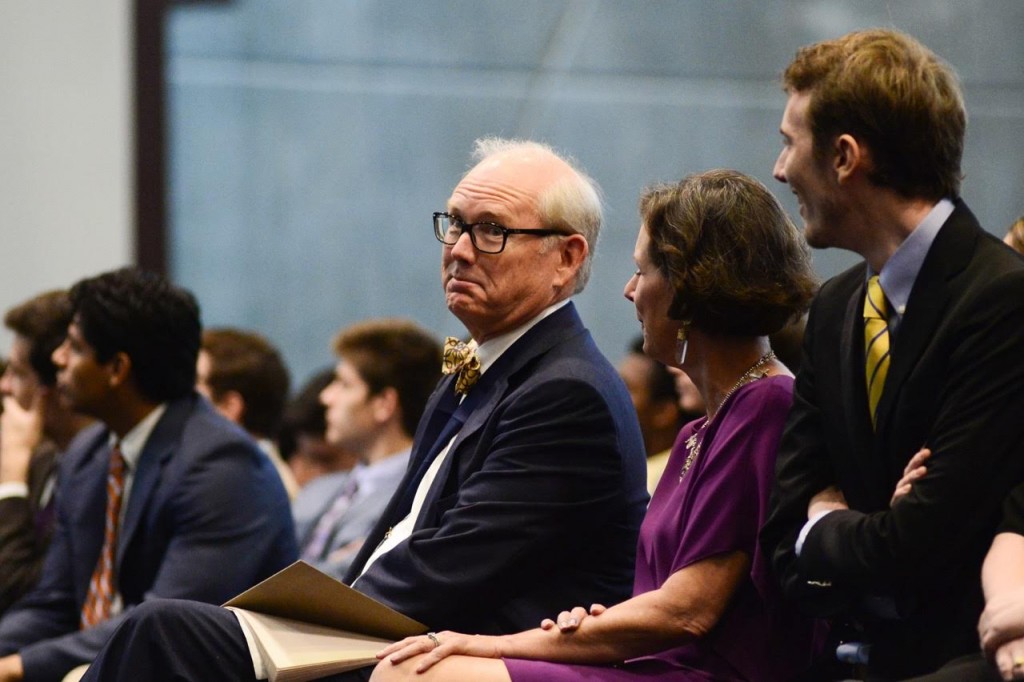 When talking about receiving the award itself, Hughes again let the true nature of his humbleness show, saying, "the recognition is not important to me. I would say the recognition is more of a negative than anything else, honestly." Echoing the thoughts of many others, Dr. Morgan perhaps phrased it best when he said "I am constantly amazed on how quiet and reserved Joe is regarding his successes." Rather than focusing on what he has done, Hughes began to talk about the more comfortable subject of work that is still to come. "I think there is more to do. My hope is we have the chance to make some impactful gifts over the next few years. That depends on where the needs are and what warms our hearts." When taking a step back and looking at the bigger picture, however, Hughes has some larger goals in mind. He explained, "One of the great goals or dreams a Jesuit priest once told me was that Jesuit would be a tuition-free school. If they could raise enough money for the endowment to allow the tuition to be paid off on earnings from the endowment that would be a great thing." Of course, Hughes admitted that this would be no easy task, but that should not dissuade those who share the same dream. He believes "it is certainly possible over the next 15-20 years" with the commitment of the growing Jesuit alumni population to give back to the school.
When asked about his time at Jesuit, Hughes did not stray too far from the analysis that Dr. Morgan had made. "I felt in my senior year that I had made a terrible mistake by missing out on a lot of activities." Hughes sees this as partially the fault of his grocery store job that he held down during the school year, but, no matter the reason, he knew he "didn't want to make that mistake again." In fact, he has concluded that his lack of involvement at Jesuit "[was] the very reason I was very active at A&M." As previously mentioned, being a civilian yell leader was one of the many things that Hughes was involved with while at A&M. Thinking back, he recalled, "I had support for some Corps members and knew a lot of non-corps members that decided to get up out of bed and go vote. I was lucky." However, it is much more likely that Hughes is humble about his leadership because, often times, the cards were stacked up against him. He explained how the well-organized Corps always voted in a block, guaranteeing a Corps member would win the election. Due to Hughes' tenacity and humility, that tradition was to change.
Unsurprisingly, Hughes' leadership skills transitioned smoothly into his professional life, but success did not come easily. When asked why he would leave his comfortable job at Touche Ross & Company, Hughes said, "I wanted to live the Aggie Joke: What do you call an Aggie five years after he has graduated? Boss." After leaving, he remembered how "there were many a time when I was starting these businesses that my friends would be out partying late at night, and I would be working in my office late at night on a Saturday putting in more time because I wanted to grow something and see it explode and do well. It takes more effort. You have to be prepared for that sacrifice. If you love what you are doing, it makes it easier." He advises students looking to also start their own businesses to "study as much as you can and learn as much about the industry in which you have an interest."
During the ceremony, the audience shifted its attention to the projector as the light dimmed and a tribute video to Hughes began to play. The brief yet meaningful video was filled with the loved ones and close friends of Hughes, each congratulating him on achieving such a grand honor. As they spoke, a slideshow of Hughes' life went by in the background, filled with pictures from various times and with a variety of people. A golfing photo of Jesuit Principal Mr. Tom Garrison '92 and Hughes, in particular, stood out. When asked about its origins, Garrison said it was taken at the annual Magis Golf Tournament three years ago in 2012. In fact, it was on that very day that Garrison got to know Hughes on a personal level. "I knew before then that he was a very generous person who shared his time, treasure and talent with Jesuit, but during that tournament I gained a better appreciation of his sense of humor and also his skill as a golfer. He is much better than I am," he remarked. Like others who are close to the honoree, Garrison quickly learned that Hughes "is not philanthropic or helpful because he needs recognition, but because he genuinely wants to use his gifts to assist those around him." But even before he personally knew Hughes, Garrison was well aware of his generous work on the board which, in his opinion, "has contributed to the long-term health of Jesuit, and for that I am very grateful." He continued saying, "He has a very generous spirit. He is living the prayer for generosity," never counting the cost. When asked what he hoped could have been added to the ceremony, Garrison wished "the students had a better opportunity to appreciate his warm sense of humor.  He has a joyous outlook on the world and that is refreshing."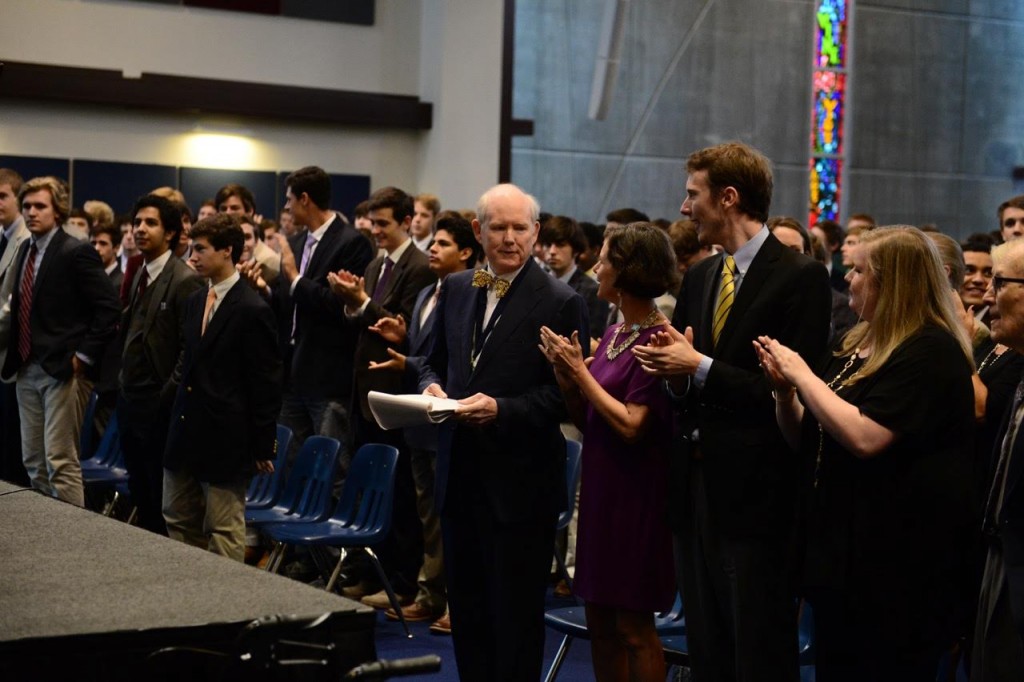 However, Joe is only one half of the philanthropic team that is the Hughes family endeared by Jesuit. Holly O. Hughes, despite not ever attending Jesuit, has donated much of her time to the school and holds it in the highest of regards. "[Jesuit is] entirely different from my experience," Mrs. Hughes said when asked about her own alma mater, Hillcrest High School. She went on to say that "I have basically no significant memories from my high school experience in terms of relationships with teachers, relationships with classmates. It was school." To her, Jesuit "is something totally different," a fact that may be hard to see as either a current student or alumnus. "What I love most about Jesuit is that I think Jesuit uniquely seeks to find the special gift of everybody. What is special for you? What is going to make you shine? Jesuit does a job like no other to tap into the special spirit of each young man." In regards to her husband's honor, Mrs. Hughes is "extremely proud of him," but "He and I both like to fly under the radar so it is a bit uncomfortable." Perhaps she does not venture as far to say that the ceremony was a "negative" like her husband, but it is still clear that the humble couple serves out of love for the school, not the desire to been recognized. "He is a great man and loves this school. He loves the kids that go here. He loves his experience."
Despite his exceptionally generous donations of time and treasure, Hughes is certainly not the only alumnus worthy of recognition which begs the question, 'How can a single Distinguished Alumnus be chosen?' Mr. Sean McMullen '96, Director of Alumni Relations, is the man who leads the effort to start whittling down the long list of possible recipients. "We start with a list of alumni that are doing phenomenal things and are on the forefront of alumni activity," McMullen explained. The Alumni Board then investigates each candidate to get more information, eventually narrowing the field to around five alumni. To get to know them on a deeper level, the Board will then reach out to classmates of those alumni. In McMullen's words, the Alumni Board's job is simply "figuring out 'Do they fit the qualifications?'" However, with over 11,400 living alumni, the job is anything but easy.
Once the difficulty of selecting a recipient is resolved, McMullen gets to enjoy the annual Distinguished Alumni Dinner with many of the men who have been honored over the years. "It's kinda fun to see these guys since 1975 get together and attend." Typically, about twenty past alumni are able to attend, one of whom is always the first recipient of the award, Deacon William J. Schuster '58. Also lovingly referred to as "Numero Uno," Deacon Schuster was given the honor in 1975. After this year's dinner, McMullen reflected on the purpose and value of his duty: "It's unbelievable to see, with 11,000 alumni, a lot of guys are doing tremendous things in the world that the world doesn't know about. So that's one of my jobs: to make sure those stories are told. It's a mission." Stepping back and thinking about the school as a whole, he continued, "The entire purpose of an alumni association is to make sure that the students that are in the seats now are able to benefit from the same education that we had when we were here."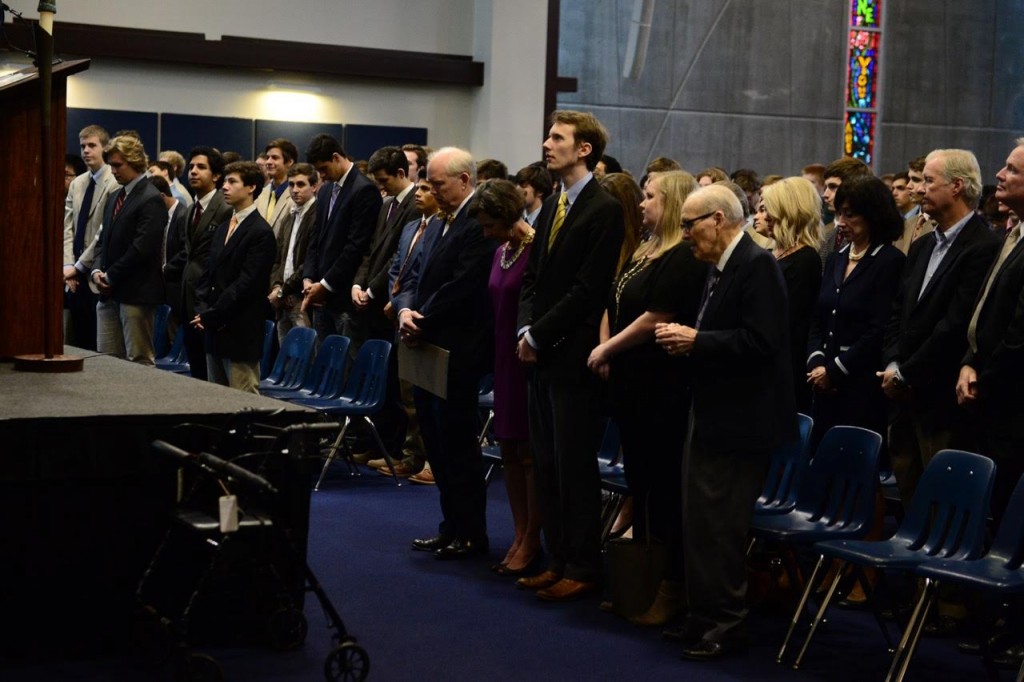 To many, the Distinguished Alumni are men who should be honored and remembered, but to Jesuit President Mr. Mike Earsing, Hughes acts as something more. He explains that, above all else, "I want [students] to be able to listen to what God is calling you to so, realize your dreams, and make a positive difference in the world," and Hughes is the living embodiment of this goal. "He has a wonderful heart…He is a very, very spiritual man," Earsing explained. "[His spirituality is] a direct line that goes back to his senior retreats at Jesuit." He continued by praising his humility by saying, "I had to twist his arm to accept it because he doesn't want to be in the limelight…I like people like that. It makes it even more genuine." Trying to convey his point, Earsing simply said "Joe gets it," in that he gets what it means to be a Jesuit graduate, he gets what it means to give back, he gets what it means to be a role model. "It's nice to have a guy who has a good picture about what it means to be a Jesuit grad." However, Earsing does not want to conflate the idea of an ideal graduate with perfection. In reference to Hughes' large leap in engagement from Jesuit to A&M, Earsing noted, "Jesuit put the seeds in him to sprout in college. Not everyone is ready to do everything at Jesuit when they come in as a freshman." Going on, he talked about how decisions on both what to do and what not to do equally change us: "Things stick in our brains and affect us later in life and we aren't even aware of it…You never know where the paths are going to lead for us." Quite possibly, the decision to not do something is just as influential as the alternative and should therefore not be looked down upon.
In addition to serving as a prime example of a Jesuit graduate for the student body, Hughes also serves as "a good advisor" to Earsing. "My worry is the tuition gets the point where middle-class families can't afford to pay for it but are not making so few dollars that they aren't able to get financial aid," fears Earsing. Sharing this concern with Hughes, Earsing said, "I rely on his advice a lot. He knows the value of a dollar."
After learning about the accomplishments of Mr. Hughes, I encourage students reading to take a moment and think about their own accomplishments and aspirations. Though it may seem like an insurmountable accomplishment, remember that alumni like Dr. Morgan and Mr. Hughes were once in your very spot, never realistically imagining they would both be Distinguished Alumni. Don't let these men discourage you; let them be your role models.
Watch the captivating conclusion to Mr. Hughes acceptance speech here:
[youtube https://www.youtube.com/watch?v=DJwNePLnvgU&w=560&h=315]