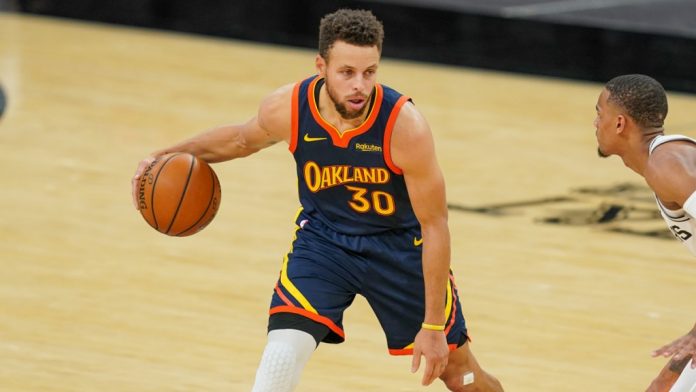 The NBA playoffs, hard as it may be to believe, are just around the corner, as the shortened 72-game season is approaching its end. In mid-May, the play-in tournament begins, and after the short tournament concludes, the 2021 NBA playoffs will begin. And there are some tight races in the standings, and I'm here to look at the teams who are either slated to play in the play-in tournament or just on the outside looking in, as well as a couple of teams who have some ground to make up but still have a fighting chance. Well, I know you guys don't want to hear me talking in the intro anymore, so let's get into it, team by team!
Toronto Raptors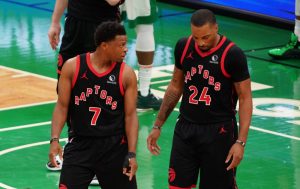 The Raptors' season has been turned upside down in more ways than one, and there are some "excuses" (if you can even call it that) that Toronto has as to why they have been a major disappointment. They've played their home games in Tampa, Florida, due to Canada's COVID-19 restrictions that are still in place, if you wanna know. Their current record is 27-38 and they stand in 11th in the Eastern Conference. In addition to their "home" games being played on the other side of the continent, Pascal Siakam has not been able to fully shake off his awful play in the latter half of the 2020 NBA Bubble playoffs, as his stats are down from 22.9 PPG in 2019-20 to 20.8 PPG in 2020-21. Now, that might not seem like a huge slide down, but Siakam has looked afraid to take the ball to the basket, and the fact that he uses the same spin move every time he's down low has made it easy for opponents to adjust to his game. Add on the constant trade rumors that are centering around longtime franchise centerpiece Kyle Lowry, and it is made clear that Toronto has had a very…tumultuous season. The Raptors sit a full four and a half games back from the 8th-seeded Charlotte Hornets, who have since gotten rookie star LaMelo Ball back from a fractured wrist injury. As for Toronto, with all the stuff that's happened to this team this season and how inconsistent they've looked, I just don't see it.
Prediction: Raptors miss the playoffs for the first time since 2013.
New Orleans Pelicans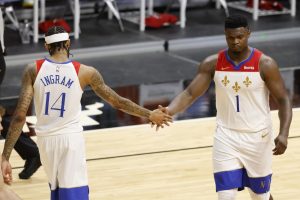 The Pelicans are a team that are not easy to get a read on. They have a ton of young talent, and Zion Williamson's talents are on full display after missing a ton of games due to injury in his rookie season. However, who is to blame for New Orleans' dismal 29-36 record and 11th seed in the Western Conference? Well, first off, we have to remember that the Western Conference is loaded and miles better than the East. It was going to be tough for the Pelicans to earn a spot in the playoffs anyway, and this season has only served to reinforce that narrative. Point guard Lonzo Ball is playing the best basketball of his career, as he started to go off after trade rumors that included his name came up a couple of months ago. Brandon Ingram is averaging 24.2 PPG and Zion has brought his scoring numbers up to 26.8 PPG. So why doesn't this team have 35+ wins? Well, the Pelicans have not shown the ability to close out close games. For example, in a January 4 game against the Indiana Pacers, the Pelicans built up a big lead heading into the fourth quarter, and then they decided to keep running an iso-ball system with Brandon Ingram, as he tried to take various Pacers defenders one-on-one to score baskets. That did not work, and that big lead that New Orleans built up quickly evaporated, and the game ended in an Indiana overtime win. Additionally, in the NBA, your starting point guard has got to be able to hit free throws at a consistent rate. Lonzo Ball has not done that so far, as he is shooting 79.2% on the year, and as a starting PG, you expect to hit, at the very least, 85% of his free throws. And as for the team's playoff chances, I just think it's too late for them. If they do manage to fix these issues, it could be too little too late, as I think they might sneak into the play-in tourney, but I expect them to get bounced by a team like the Warriors or the Spurs. In my opinion, there are too many issues for this team at this point to get into the postseason.
Prediction: Sneak into the play-in tournament, but get bounced early and miss the playoffs.
Washington Wizards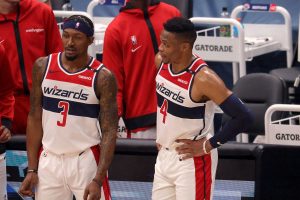 The Wizards' two best players are Russell Westbrook and Bradley Beal. Beal is top five in the NBA in points per game, and Westbrook has been getting triple-doubles almost every night. Outside of that, their third-best player is probably…Rui Hachimura? Deni Avdija? Thomas Bryant, maybe? That, in my view, is the biggest problem for this Wizards team, they have so little depth outside Beal and Westbrook, and when Westbrook and/or Beal have an off night, who is going to step up in that primary or secondary scoring role? That's one of the biggest reasons that Washington is currently 30-35 and sitting at 10th in the East, and why they are just on the fringes of the play-in tournament, and they could fall back out with all the instability in the Eastern Conference standings. I think there is a pretty good chance they stay ahead of Toronto in the standings and I think they could retain that 10-seed, but it doesn't look all that likely to me. At least outside of Zach LaVine, Chicago has Nikola Vucevic and Lauri Markkanen and Coby White!
Prediction: Miss the play-in tournament and the postseason…again…
San Antonio Spurs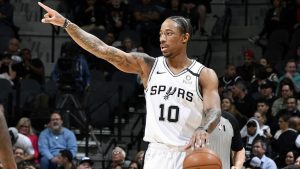 This is where things get tight in the West. What else is new?
The Spurs have some talent outside DeMar DeRozan, but the fact that Dejounte Murray is generally considered their second-best player is a reason why this team is sitting at tenth in the West after a surprisingly solid start. The buyout of LaMarcus Aldridge I didn't totally get, as I thought San Antonio should have held on to him to try and make one more push at the playoffs and then let him leave and do whatever during the summer. Of course, LMA suddenly retired a week or so ago after playing five games with the Brooklyn Nets, but I digress a little bit. Halfway into the season, I thought this team could make some noise in the playoffs, as Murray and Derrick White were playing well, DeRozan was continuing to be one of the most underrated players in the entire league, and Aldridge was continuing to provide a consistent presence down low. But now, I don't see them getting into the NBA's big dance. I see them making the play-in tourney and potentially playing a team down to the wire, but they'll come up short this year in my opinion.
Prediction: Make the play-in tournament, but get bounced and miss the playoffs for the second season in a row.
Indiana Pacers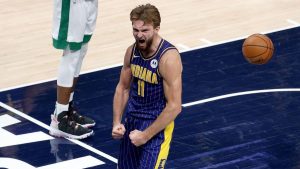 This Indiana Pacers team is a team that not a lot of people really pay attention to, and I think more people should start watching them. Sure, they are still a game back of the 8th seed in the East, but they are starting to get some of their key players back (and this time, they don't get injured again two games after returning from a previous injury!). This team has been thrashed by injuries pretty much the entire season, and the core made up of Malcolm Brogdon, Domantas Sabonis, Myles Turner, and newly-acquired Caris LeVert is completely capable of making some noise in the play-in tournament and the playoffs. I think that once this team gets all its guys back and starts playing at full strength, I think that Indy's veteran talent will get the best of the Hornets' young talent, and the Pacers will overtake Charlotte in the play-in tournament and sneak into the postseason as the 8th seed.
Prediction: Unseat the Hornets as the East's 8th seed and sneak into the playoffs with a matchup with whoever comes out as the top seed in the East.
Golden State Warriors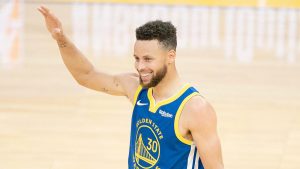 It's the Stephen Curry show now.
Curry's play has been nothing short of absolutely spectacular, as he has activated another level to his game, as we've seen him do before, to elevate the Warriors to ninth in the West and a mere game behind the Memphis Grizzlies for the 8th seed in the West. Curry has averaged an otherworldly 31.4 PPG and he hit 10 threes in a win over the Celtics and 11 threes in a win over the 76ers. However, the biggest problem for the Warriors is that outside of Steph, Golden State doesn't have another superstar that can take some of the scoring load off of Curry. That star was Klay Thompson, but he's shelved for the year with a torn Achilles and that is part of the reason why the Warriors have come up just short in the playoff race this year. However, it's time for another bold prediction, as I think that the 8th-seeded Memphis Grizzlies will not be able to keep their distance from Golden State in the standings for long because of 1) Curry's game-changing ability and the fact that he does possess the ability to single-handedly control which team wins the game with his shooting and 2) some of the Warriors' other players will almost inevitably step up, as Andrew Wiggins has enjoyed some nice scoring nights this season, and Kelly Oubre Jr., while he can be a bit of a wild card on some nights in terms of performance, he is more than capable of hitting threes at an excellent rate as well as taking it to the basket and finishing in traffic as well as jamming it on someone's face. And now that Golden State has a half-game grip on the 8th-seed in the West, and with the way Curry's been playing, I think they can hang on to that spot and be a tough out for the top seeds in the West come playoff time.
Prediction: Golden State keeps the 8-seed in the Western Conference and sneaks into the postseason
That's all for this piece, but stay tuned to The Roundup for more NBA and sports news!