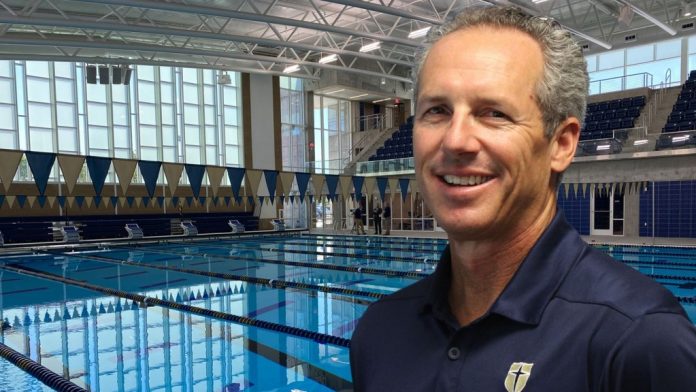 Experience and excellence often define the past of great coaches, and Jason Gall is no different. After spending my summer in the new Gull facility, I interviewed Jesuit's new Aquatics Director and Head Waterpolo coach.
What is your Background in Water Polo?
"I grew up in Orange County, started swimming at age 5, and playing water polo at 8. I started off as a goalie and when I got to high school I was a field player. Water polo in California is a pretty big sport. My high school was always top of the CIF, the Texas UIL equivalent, so we played at a pretty high level.
I have a unique college path, I went to Fresno state my first year, I didn't really have a plan of where to go. I moved back home for a year and went to a local community college, a long beach city college and played there my sophomore year. Junior and Senior year I played for and graduated from USC.
What is your background as a coach and aquatics director?
During my time in college, I started earning side money refereeing water polo games and helping my high school team during the summers. I had gone to school to be a physical therapist, my major was exercise science so I had always wanted to work with athletes. I discovered my passion as I began to be more involved in officiating and coaching, and along the way, I met people who made it a full-time career, more so at the collegiate level.
At the high school level coaching often required a teaching aspect, but I just wanted to be a water polo coach. I got my master's degree in physical education and just started just taking whatever job I could get. Then, I worked my way up from being an assistant coach at a junior college to being the head coach at Brown University for three years. I then moved back to Bakersfield where I was the head coach of the Cal State Bakersfield women's team for 10 years.
Similar to Jesuit, the private Catholic high school was looking for an aquatics director and head coach for the water polo team. It was a better personal fit for me so I made an unexpected change from high school to college. My experience at that school helped me find out about Jesuit. The position here has a lot of things that make it interesting and valuable so I made the decision to move out to Dallas.
What do you do as the Aquatics Director and Water Polo Coach?
As the Aquatics director generally speaking I make sure the pool is always ready to go. I check chemical levels daily, test the water, order supplies and chemicals, and schedule pool time for different teams. In addition to the swimming, diving, and water polo teams, I take care of any outside rentals for club teams or the cross-training of other sports at Jesuit.
As the water polo coach, I am here to rebuild the program, there has been a gap in the past couple of years so I am here to rebuild some excitement and make the team competitive. I will also guide the team through the transition into the UIL and grow the water polo community at Jesuit.
Who is allowed to use the pool?
We have swimming before school every weekday, water polo 4 days a week after school, and a faculty swim from 11-1 every day. At this point, we aren't offering free swim for students but if they come in with a school sport or club, or with the trainers then they are fully welcome to swim. Unfortunately, we don't have the staffing to always keep the pool open during the school day to everyone. I know a lot of students are excited to jump in the pool but we haven't quite figured out how to make it work.
Do you have any future plans for the Gull?
Our priority is to make sure our swimming, diving, and water polo teams have what they need to be successful because this is all new for all of us. We are finding new ways to add more pool time for more people but as far as equipment or features we already have everything. Having the pool accessible to as many students and as many groups as possible is our long-term goal.
These first couple of months our goal is to make sure everything functions well and all the groups can coexist. As we get further into the school year we will evaluate what we need and fix any issues that come up.
If you see Coach Gall around the halls, make sure to let him know he is welcome!
Stay tuned to The Roundup for more Swimming and Dive news!