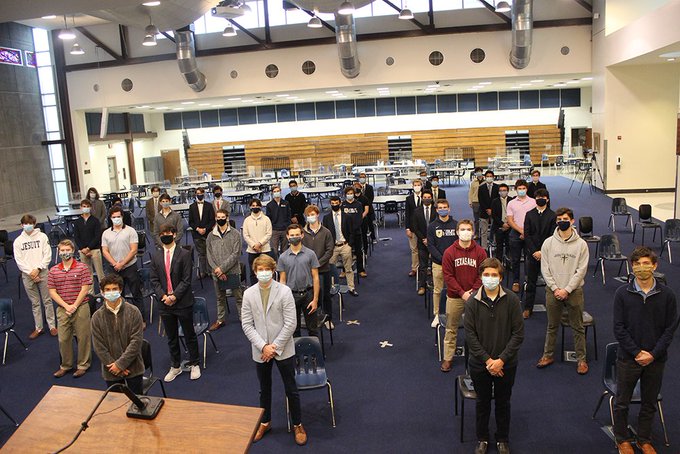 At a competitive private school like Jesuit, academics are essentially everything. It's a place that is designed to instill its students with principles that guide the next generation of leaders into performing at a high-level. With academics like no other, you wouldn't be surprised to see a Jesuit student recognized for his educational achievements.
Jesuit changed things up a little bit this year to celebrate the students' outstanding academic achievements as AP Scholars and National Merit Contenders, hosting a small, socially distant ceremony on October 26. Even though the class of 2020 was not here to attend, many did win awards, with some becoming National AP Scholars. By performing consistently well on their AP exams or scoring in the top 1% of the nation on the PSAT, Jesuit students really did make their academic mark this year.
Here are the award recipients:
AP Scholar
William Delaney
Diego Elizondo
Holland Ernst
Aarin Jain (Class of 2022)
Luke Jones
Major Kent
Nathaniel Kerich
Benjamin Levis
Alejandro Meneses-Fish
Conor Moore
Carson Neri
William Rudnicki
Alex Santoni
Gordon Schmerbeck
Ryan Schurr
Henry Scott
Ryan Spickard
Coleman Weitzul
Carter Williams
AP Scholar with Honor
Justin Burns
Drew Campbell
Julian Garcia
Brian George
Alex Gibson
Ryan Graham
Adam McCutcheon
Jacob Meyer
Peter Nguyen
Joshua Perdue
Emilio Rodriguez
Michael Steffler
AP Scholar with Distinction
David Benitez-Trevino
Jason Davis
Patrick Lee
Alvaro Luque
Jack E. Martin
John P. Moore
Gabriel Skariah
Calum Taylor
National AP Scholars (all from Class from 2020)
Javier Arroyo
Frank Ashmore
Ashton Casey
John Casey
Samuel Dayton
Adam Hall
Antonio Marques
Garrett Nagorzanski
Will Nickols
Rawley Schott
Asher Smith
Cal Turner
Michael Turner
Stephen Walker
National Merit Commended Scholars
David Benitez-Trevino
Kyle Cribbins
Blake Dickey
Ryan Graham
Nathaniel Kerich
Parker Leathers
Adam McCutcheon
Michael Patton
Ethan Power
Ryan Shea
Michael Steffler
Calum Taylor
Mark Westerman
John Young
National Hispanic Scholars
David Benitez
Julian Garcia
Alec Gomez
Sergio Lopez-Elizondo
Alvaro Luque
Alejandro Meneses-Fish
Emilio Rodriguez
Dakota Salazar
National Merit Scholarship Semi-Finalists
Alexander Gibson
Jack E. Martin
John P. Moore
Congratulations to all who received awards! We celebrate your hard work and focus on academics!
To rewatch the ceremony, click here.
And as always, check back to The Roundup for more coverage of Jesuit academics!