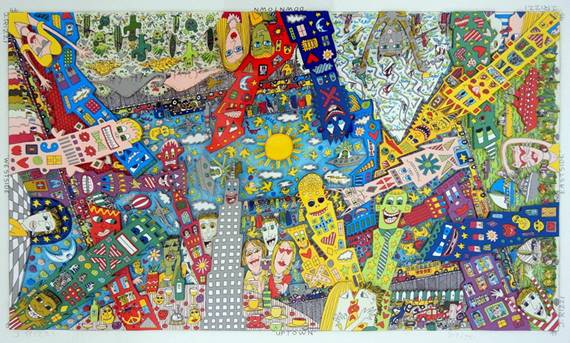 Recently a big honor was bestowed upon the Jesuit Dallas Museum by the American Alliance of Museums, the Core Documents Verification.
Museum Director Mrs. Hunt-Blanc explains, "The Jesuit Dallas Museum now has the five essential museum plans and policies and can verify the museum's educational mission and documents that meet the required elements to progress towards Accreditation."
 Accreditation, according to the AAM, "offers high profile, peer-based validation of your museum's operations and impact. Accreditation increases your museum's credibility and value to funders, policy makers, insurers, community and peers. Accreditation is a powerful tool to leverage change and helps facilitate loans between institutions."
On December 1, a letter was sent from the AAM's Senior Director of the Standards and Excellence Program Julie Hurt to Museum Direct Mrs. Hunt-Blanc. This letter, along with the official award, served as the official announcement that the museum had received the verification. Mrs. Hart wrote, "By successfully completing Core Documents Verification, your museum is also sending a strong, visible message to the public and policymakers that the museum field is professional, accountable, and committed to shared standards in the pursuit of excellence."
Director Hunt-Blanc thanked everyone on the Board of Trustees: "It is impossible to thank everyone enough on our Board of Trustees who have made this possible! Susan Carringer, (President of the Board Emeritus) initiated the idea and started the Accreditation process and led this incredible endeavor! She also then proceeded to create the Disaster Preparedness/Emergency Plan and reviewed all the Documents and also worked directly with Danyelle Rickard of the Alliance of American Museums. Susie Andrews researched many museum plans and created the Institutional Code of Ethics which was the second to pass and was used also as a direct reference for the other Policies. Lisa Meyer also researched other museums, added metrics, created the charts and more to write an excellent Strategic Plan. Claudia McLeod and Claire Ward have worked diligently, researching other museums and documents about the Collection Management Policy and creating a policy that had to have many special elements for AAM. The day just before Covid 19, on March 11, 2020, Claudia McLeod and Claire spoke directly with Danyelle Rickard of AAM on the necessary elements for the Collection Management Plan. Claudia McLeod also worked on many aspects of this process when she was President of the Board." 
Check back for more recaps of the Jesuit Dallas Museum!