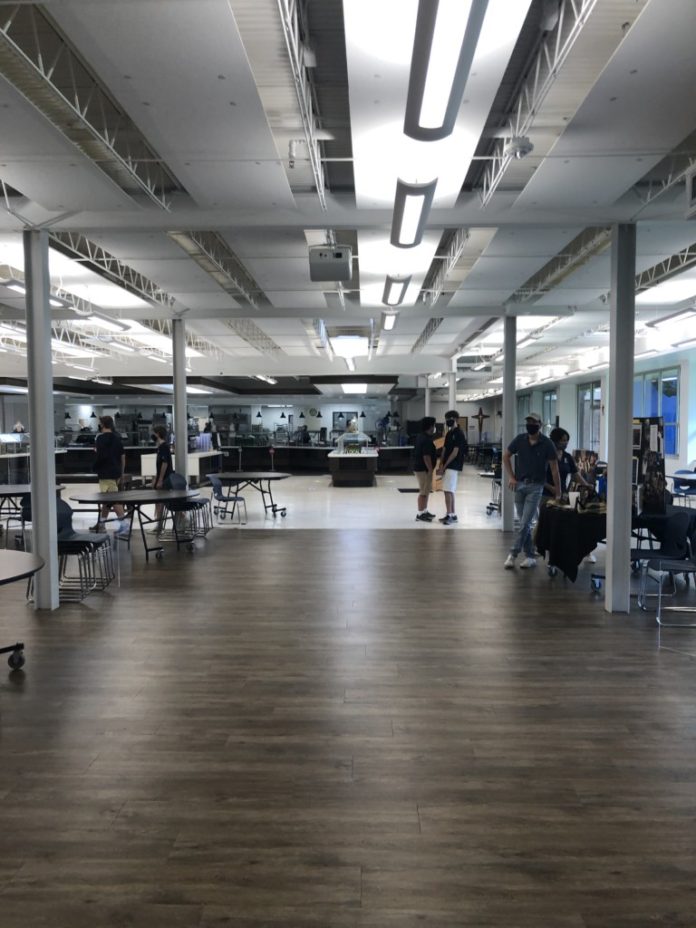 A young student treads quietly onto the pavement. His new Jesuit Class of 2024 T-shirt becomes slightly stained as the scorching heat forces the natural reaction of dripping sweat down his forehead. His mind is racing with a million thoughts about how his first day at a new school will go. He notices his heart mildly thumping. Despite these nerves and the unbearable heat, the student feels delighted to have a fresh start and try something new. He looks forward to all the formed friendships and relationships with teachers that come with being at Jesuit. It's almost a new world for him. Literally.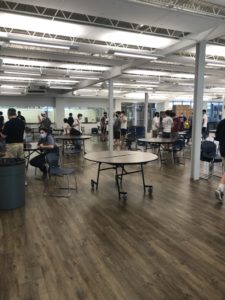 Freshmen began their first day of class at Jesuit today on August 17, 2020, learning the ins and outs of a school like Jesuit. All the little nuances that make it unique. As official class technically begins the next day, they were able to get a hint of life at Jesuit with coronavirus as an extra concern. For those of you Office fans, here's that rundown you've been looking for:
The Event
To give a little background, for the 2020-2021 school year, Jesuit will be adopting a new bell schedule and a new hybrid model to combat COVID-19. To prevent the spread of COVID-19, students with last names A-L (up to Lee) are in one group called Blue Cohort that comes in on Mondays and Thursdays. Similarly, students with last names Lee-Z are in one group called Gold Cohort that comes in on Tuesdays and Fridays. When one group of students are in school, the other group is virtual. Additionally, Jesuit is using a new schedule based on the ordering of roughly 7 classes with designated alpha and omega periods for activities. Students had to learn their new schedule and adjust to these new coronavirus concerns of spread out classes and designated hallways. It may have been confusing to learn the new places around school, but helpful for freshmen to get a taste of their schedule. Student Council members along with faculty members were also able to help out students get situated around Jesuit.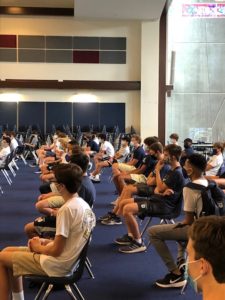 After their classes, Jesuit hosted an activities fair for each cohort to look at new activities that they can join such as Medical Society, Anime Club, Band, Campus Ministry, and Robotics. Students often fluctuated around the hallways, hearing about the plethora of extracurriculars to get involved in, wishing to learn more about certain clubs. While not everyone may have immediately found their niche here, they certainly got a good start toward doing so.
Student Opinions
"Right now, I'm super excited to be here. Excited to get back to school. This is my senior year. I'm excited to see all my friends and for the new opportunities we'll have this year. It's good to see so many young students," -Albert Gonzalez '21, Vice President of Medical Society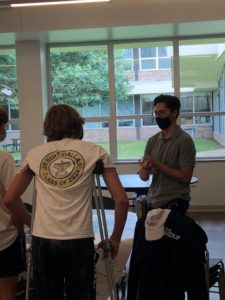 "I really enjoyed the activities fair. I really enjoyed meeting with the new freshmen, despite the new protocol. Going from online school to this, I really missed being at school with the new faces. It was really nice to be able to talk face-to-face. It makes me really hopeful for this next school year." – Kevin Utz '21, Drum Major for Jesuit Band
"I'm looking forward to using Microsoft Teams for going virtual. The interface is very user-friendly, and the audio quality is good. I like that it is customizable where you can choose to go completely virtual without taking risks. I like that they gave us the option to do both, and letting us not be left behind.  " – Daniel Garcia '24
Check back to The Roundup for more coverage of this upcoming school year!