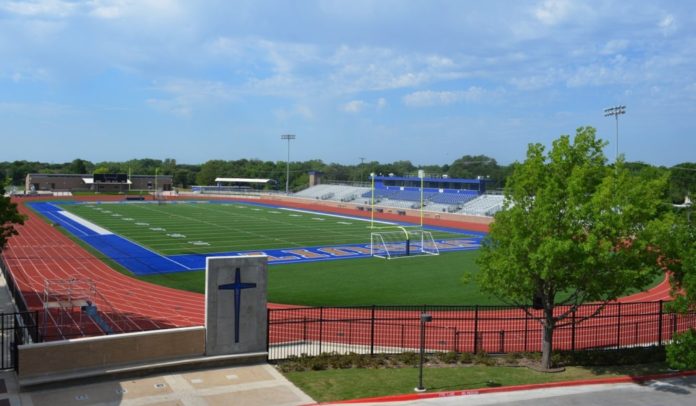 On Thursday, September 24th, the Jesuit underclassmen football teams kicked off brand new seasons with a brand new set of challenges. There are four teams across the JV and freshmen levels that have played this year. They are all excited to start a brand new season in a new district and grow as a program.
JV Team
The JV Gold team has started their season 2-1, kicking off on September 24th at home against Marcus, outscoring the Marauders 21-20. They then moved on to face Rockwall on October 1st, who they, unfortunately, fell to with a score of 22-28. This past week, they defeated the Plano East Panthers 21-13. Wide receiver Jake Musso '23 said he is "excited to develop more as a team down the road" and thinks this different season "has gone smoothly so far." Additionally, quarterback Matty Wagner '23 said he hopes they can "remain undefeated" for the rest of the season and said he was "most excited to play…district games and win [the] district."
Freshman Teams
The Freshman Gold has started off their season 2-1, defeating Marcus 20-18 on September 24th. They managed to pull off a pick-six while playing solid team defense overall. Unfortunately, they fell to Rockwall 28-14 on October 1st at home. This past week, however, they were able to defeat McMillen by a significant margin, beating the Lions 63-6 on October 8th.
The Freshman Blue is currently sitting at 3-0 after shutting out both Marcus with a score of 28-0 and defeating Rockwall 20-0. Against Marcus, the defensive line was able to intercept a pass and play consistently good defense. This past week, they were also able to defeat the Frisco-Reedy Lions 9-7. They also kicked a great punt that put the Lions on the one-yard line, leading to a safety.
Finally, due to the large number of freshmen participating in football this year, a new team called the White team has started playing. In their first game, the Freshman White team took on Prosper on September 30th. They, unfortunately, fell 0-27 to the Eagles. However, they got into the red zone multiple times and get solid returns from the special teams unit.
Outside linebacker Mack Frary '24 said he feels the season "is going very well" and said he was most excited about "getting to know more people" and he hopes they continue to have fun. Additionally, defensive back Griffin Taber '24 also shared in the excitement of forming "a tight brotherhood" and feels that the setback of COVID-19 allowed them to "come back stronger [and] ready to play". Taber also was very appreciative of the help of the supportive coaches as they learned the ropes of the program. Defensive lineman Cole Kostos '24 said he has really enjoyed being able to "come together as a team".
Conclusion
The JV team started a great season, and look to keep their momentum rolling through the rest of the season. JV Gold looks to take on Richardson on October 14th. The JV Blue team will take the field for the first their first game against Mesquite Poteet on October 22nd.
This coming week, both the Gold and Blue teams will travel to Irving, taking on the Tigers on October 14th. The White team won't play again until October 15th, where they will travel north to Frisco to take on Frisco-Lone Star. The freshman football teams all look promising and they seem poised to find more success in the coming weeks.
All the teams look great and hope to maintain successful seasons as they enter district play soon.