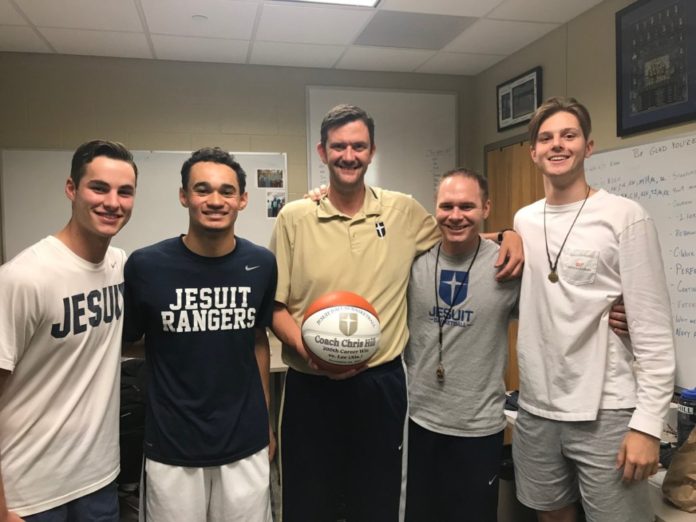 Mr. Garrison presented Varsity Basketball Coach Chris Hill the Catholic Foundation Work of Heart Award at last Friday's prayer service.
The Catholic Foundation defines their Work of Heart award as recognizing "the unsung heroes who are going the extra mile in serving [their] educational community and its members."
The award criteria include:
Outstanding service at their school

Modeling a Christian/Catholic example

Going the extra mile for an individual student, family or the community
Coach Hill has served as a role model to students and athletes throughout his extensive coaching career in a variety of sports and locations.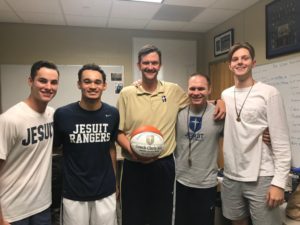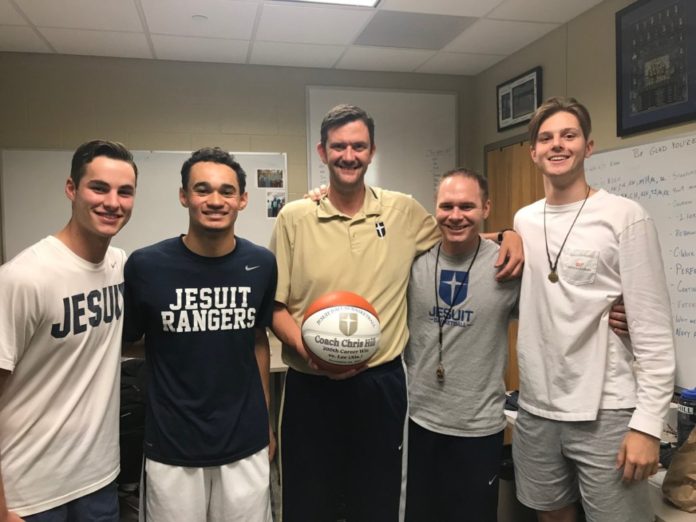 Coaching Career
Coach Hill graduated from Trinity University in 2002, helping their team capture the Southern College Athletic Conference (SCAC) title in 2000. After receiving his bachelor's degree in communications, Hill began his professional career at the University of Dallas as the assistant men's basketball coach, head women's basketball coach, head men's and women's tennis coach and assistant men's lacrosse coach.
After three years with the Crusaders' athletic department, Hill returned to Trinity. From 2005-08, Hill helped the Tigers to a pair of NCAA Division III Tournament appearances before coaching at Jesuit Dallas.
Coach Hill has coached Jesuit Dallas basketball for 11 seasons, leading the Rangers to the postseason every season since beginning his time with the program. Hill has led the Rangers to a pair of district championships, earning his first district crown in 2010 before repeating the feat in 2014. He entered the 2018-19 season with a 226-96 record as the head coach at Jesuit Dallas.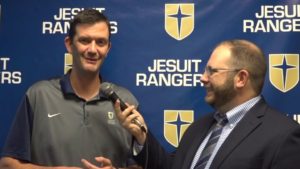 Comments from the Court
Anyone who knows Coach Hill would wholeheartedly agree that he deserves the Work of Heart award, as starting forward Julius Marble '19 expressed: 
"He works really hard in making us men for others as well as forming our skills on the basketball court. He also brings a contagious energy that makes everyone on the team want to work and get better!"
Coach Hill not only develops the players as the best athletes they can be, but he also emphasizes the development of their character on and off the court, as Connor Wilson lauded:
"Coach Hill has not just always been an amazing coach for his players, but also a mentor. He holds each of his players to high standards that embody a Jesuit student. He makes us want to not only strive to be better players, but people as well."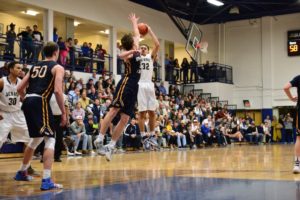 Coach Hill elaborated on what the award meant to him:
"It was very humbling, I feel very lucky to work at Jesuit so being nominated for an award that honors my doing something I feel grateful to do really caught me off guard. For Mr. Garrison and Mr. Earsing to use time during a prayer service to give me the award was very cool.
I just come in and try and do the best I can every day. I am very lucky to work with the kids that I get to work with. The majority of the time, the kids I deal with have a desire to get better and want to be successful.  They value feedback and being held accountable.  The best part is most of them hold me accountable too, I think these guys help me more than I help them in a lot of ways.  It's pretty fun to work with people who want to be a part of the process."
The Jesuit community honors Coach Hill.  Stay tuned to The Roundup for more Jesuit Dallas news.