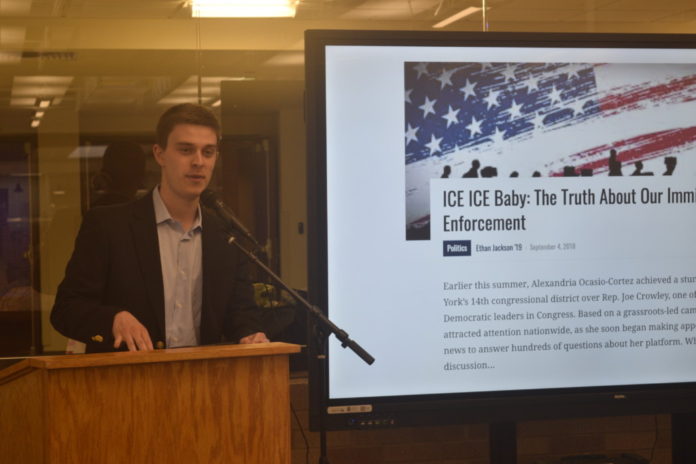 The Roundup celebrated its success over the 2018-2019 school year with its annual banquet last Wednesday, March 22.
Current staff writers, parents, siblings, past leadership members, and the club moderators arrived at the Jesuit cafeteria at 6:00 PM. The guests socialized for around thirty minutes before Editor-in-Chief Emmet Halm '19 opened by recognizing the special guests and Roundup alumni attending the banquet:
Robert Uhl, 2011 Editor-in-Chief, Notre Dame grad and practicing attorney at Sidley Austin LLC

Clark Durham, 2012 Editor-in-Chief, University of Virginia grad, wealth management consultant at Stephens, Inc.

Aaron Stonecipher, 2014 Editor-in-Chief, Saint Louis University grad

Dominic Iannelli, 2015 Editor-in-Chief, Notre Dame 2019 graduate

Martin Flores, 2017 Editor-in-Chief, an upcoming Loyola Chicago junior

Michael Miramontes, 2018 Managing Editor, upcoming Notre Dame sophomore

Connor Thomas, 2018 Editor-in-Chief, upcoming Georgetown sophomore

Bass Stewart, an upcoming Jesuit Creighton University junior

Grayson Godfrey, an upcoming Stephen F. Austin University sophomore
Managing Editor Reed Zimmerman '19 then took to the stage to say a prayer before inviting the guests to fill their plates with the Sage-catered fajita dinner.
Sage Fajita Dinner
Sage catered the banquet dinner, replete with beef and chicken fajitas with rice, beans, and guacamole. Many guests lauded their catering selection, including Mr. Hartman, who explained:
"The food was exquisite. I had low expectations based on how my son describes their breakfast and lunch options during the school year, but they really outdid themselves. The cookies with the Roundup logo looked great, and their setup was professional."
Keynote Speech: Aaron Stonecipher '14
Aaron Stonecipher was Editor-in-Chief of The Roundup in 2014. He wrote for three years at Jesuit, rising from staff writer to junior associate editor before becoming Editor-in-Chief–with many thanks to a failed football career! During his senior year, along with Pierce Durham '14, Aaron produced the "Best Video" of the year, awarded by The Dallas Morning News, a first for The Roundup. He also produced The Roundup's first "Firing Line" videos–a battle between conservatives and liberals. And he withstood the vitriol from a faculty member–no longer at Jesuit–who berated him for publishing an article contrary to the faculty member's political beliefs.
Most impressively, his senior year, Aaron received Jesuit's highest honor–The Bishop Lynch Award, decided by the faculty as the senior most representative of the Profile. Aaron gave that year's graduation address, the first and only, to date, EIC to do so.
After Jesuit, Aaron attended Saint Louis University where he graduated Magna Cum Laude in 2017 with a bachelor of science in health management and policy and a minor in biology. He then graduated top of his class in a master of health administration program at Saint Louis. This coming July, Aaron will be starting the Executive Administration Fellowship with Northwestern Medicine in Chicago.
Stonecipher's speech proved to be just as impressive as his resume: 
"Good evening. First, a big thank you to Dr. Degen and the editing staff for the invitation to speak tonight. My family moved out of Dallas right after my freshman year of college, so this is my first time back at Jesuit since 2015. In my few hours of being on campus, I've realized that, aside from the new cafeteria, not much has changed.. Most students today were glued to their iPad screens like I once was, Dr. Degen still has some of the toughest classes students will take in their lives, and Squeaky still sits in the parking lot with his normal routine during the day. Really, not much has changed, except for The Roundup.

What do I mean? To be quiet honest, besides feeling very proud of the newspaper's progress, I'm quite intimidated. Led by an editor-in-chief who is soon to be attending Harvard, the newspaper has nearly doubled the number of writers and contributors since I was on staff. I thought I was doing a great job getting our number over 30ish people, so to be where you are today was unimaginable for me 5 years ago. Next year will be The Roundup's 10th anniversary as an online publication—to consistently beat out the area's high schools as one of the Dallas Morning News' top-ranked online papers is such a tremendous feat. The Roundup is no longer publishing the typical Jesuit football recaps and faculty profiles, but incredibly thorough editorials on topics like Medicare for All, Mayoral Elections in Dallas, and predictions for the upcoming Dallas Cowboys season. Reading the quality of each article is even more intimidating… at times, I find myself looking up what words mean and reflecting on why the heck I didn't write so elegantly my senior year. The Roundup keeps it real and original, and that's what I love about it.

What I want to talk about tonight is simple, and it's the power each of you wield with The Roundup and how that will affect you later in college and in your future careers. It is likely that many of you will not continue on to a career in journalism, and many of you may not even write or contribute to your university's publication. In full disclosure, I just finished graduate school last week in healthcare administration and none of my degrees have anything to do with English or journalism. So how could The Roundup possibly connect to my college experience or career field? The answer is simple—it taught me how to have a voice and how to be a voice.

Through the articles you post, you are showing the community who YOU are individually, not only as students, but as sons, brothers, athletes, musicians, actors, and more. As an alumnus, I am connected back to the school through you all and the content you're posting. There truly is nothing better than reading about the successes the school and all of you are having—I'm envious at times. What's even more powerful than simply posting updates for people to read, though, is your ability to be a voice for those faculty, staff, and students who may otherwise go unheard.

Jesuit has a strong collective culture, but at times, our community members can be overshadowed by the more dominant presences on campus. As a former football player myself, I recognized the amount attention that football and other sports were getting. The questions I often asked myself were: why aren't our Ivy League admits getting the same attention? Why aren't our actors and student directors receiving the same level of praise for their tireless work? Why isn't the student who founded his own non-profit early in high school widely-known across campus? This isn't just challenge here at Dallas Jesuit—there will always be parties who have a louder presence than others. I've seen this in college, at work, and even in my own family. What's unique about The Roundup, though, is that ability for you to spread the news of an incredibly unique classmate you know, for you to give recognition to the senior who was admitted to Yale, Harvard, and Brown, and for you to showcase your own creative spirits through editorials and opinion pieces. There is no better platform to get your voice and the voices of others heard.

So now how does this all apply to me, my experience in college, and my career in healthcare? I could give you an easy answer and tell you my ability to write was incredibly strong going into college—and it's important to note that newspaper reporting is quite different than the rhetorical argument essays you write in English. But, more importantly, it taught me how to be a voice.

Throughout undergrad I served as an ambassador for the University, which afforded me the opportunity to give tours to prospective students, as well as the opportunity to sit on student panels for our University's leadership. We often were asked what students were needing across campus, academically, socially, and spiritually. To put this into perspective, there were 40 ambassadors for over 12,000 undergraduate and graduate students at SLU. These panels took an immense amount of surveying, reflection, and then reporting—I needed to be able to consider other students, especially those not involved in student leadership. Keeping an ear to the ground and being a watchful eye in the community was essential, and these are skills you are developing through The Roundup. You're presenting article ideas based off the really cool things you've observed classmates doing or based off the sometimes-quiet accomplishments you know others have achieved. Something that seems so minor to one person will often mean the world to another, and if your article subjects haven't told you that your work made their days, I would bet good money it did. People love recognition for who they are and what they've done, and no story is ever too small. Remember that.

How has this applied to my career in healthcare? Well, American healthcare, to put it simply, is the most complex beast any of us could attempt to tackle. Many of you in the room are fortunate to have private insurance through your parents' employers, and you may never even hesitate to go to the doctor if you're ill or injured. However, 44 million Americans are uninsured—they can't go to the doctor when their throat hurts or when they feel like something may be seriously wrong. 28.1 million Americans are on Medicare or Medicaid, which are government programs to support low income, elderly, and disabled populations. Together, this constitutes 72 million people who often times go unheard. As someone who will soon be working in hospital administration, I will be called on to serve as one of the voices for these populations. My Jesuit education (from high school to grad school), my professional training, and my experience in The Roundup, will all contribute to this ability to tell the story of each patient and population my health system will serve.

For example, last summer I completed an executive residency with Emory Healthcare in Atlanta. I worked a project in our Population Health division, which focuses on meeting patients where they are at and trying to assess what their needs are so we can better serve them. I sat down with hundreds of patients to learn from them—as you all know, interviewing can really be tough, especially when everyone has something different to say. I found that many were unemployed or on disability, many had chronic conditions, many were obese because of the inability to buy health foods, and so on. 65% of patients I met with had a mental health disorder, 50% were uninsured or underinsured, and 40% of them didn't even know where to go if they were ill because of the fear they would be unable to afford it. Who speaks for these people? Who spreads their stories and their needs to those able to address them? Our program started to do this because of the qualitative information and stories we were able to share on their behalf, bridging the gap between our clinicians and our patients. My team's work being the voice for underserved people brought on new initiatives that are now improving the health of thousands—and it would have been far more difficult to accurately present their stories if I hadn't written here at Jesuit.

Many of you will pursue careers in medicine, engineering, business, the arts, and so forth. Regardless of your major or career field, you can be a voice for others. My advice to you is to see how you can do that—whether it be for your patients, your customers, your clients, or the populations your future organizations will serve. We are encouraged by St. Ignatius to use our time and talent for the greater good of humanity. You will soon find your purpose over the next 4, 5, 10 years, and I'm excited to see what stories you can tell in the lives you live.

In closing, remember to be a voice for yourself—write about the things that excite you. Find a way and a career that allows you to tell your story how it should be told—no one else in the world owns that but you. Be a voice for your classmates, especially those who don't receive the recognition they should. After Saint Theresa of Calcutta once said that There is more hunger for love and appreciation in this world than for bread, and you are capable of providing that at Jesuit, in college, and in your careers. I'll finish with a prayer that I've slightly edited. My hope is you remember this when writing your next article or when studying to be servant leaders in your careers:

Remember to be generous, to serve God and others as they deserve, to give and not to count the cost, to fight and not to heed the wounds, to toil and not to seek for rest, to labor and not to ask for reward, except that of knowing that we are doing God's will.

Thank you."
Presentation of Awards
Following Stonecipher's speech, Halm and Zimmerman recognized the writers at the banquet for their hard work with awards. Writers merited the following awards:
Big-Name Interview Award: Luke Maxtone-Graham
Sports Illustrated Award: Joe Elms
Oscar Award: Silas Hartman
All American Alliteration Award: Jack Corrales
Anderson Cooper Tucker Carlson Award: Trey Ashmore
Bipartisan Award: Jacob Clarkson
Iron First Award: Reed Zimmerman
Second Best Article Ever Award: Emmet Halm
Prominent Profile Award: Jorge Rios
Loquacious Lifter Award: JJ Tellez
Most Improved Award: Victor Martinez
Best Article Ever Award: Michael Miramontes
Presentation of The Durham Scholarship
First awarded in 2016, the Durham Family Award honors and acknowledges two Jesuit juniors for their multiple-year commitment to The Roundup, both in producing content and providing significant leadership to the newspaper staff.
The award underscores the contributions of the three Durham sons who played a primary role in establishing and developing the online newspaper, along with Suzanne and Clark Durham who donated generously of their time and treasure to support the early growth of The Roundup. The three Durham boys served in key leadership roles:
Clark Jr. '12 (Editor-in-chief)

Pierce '14 (News editor; Best Video in The Dallas Morning News Contest)

Jack '16 (Sports Editor, both his junior and senior years)
Together, these young men wrote 153 articles for the newspaper, Jack leading the pack. This year, they awarded two $2000 scholarships to two deserving juniors to be credited toward their senior year tuition.
The first recipient was Silas Hartman '20. Hartman has been a valuable member of The Roundup since his sophomore year. As a staff writer, Silas was dependable, on-time, and always willing to pick up a new article. His junior year, Silas worked as an Associate Editor and worked his way up to Chief Associate Editor. Silas has done a fantastic job leading our group of Associates this year. On top of that, Silas simultaneously took on the role of Media Editor, where he has produced countless sports hype videos, event recaps, and even The Roundup's prayer service video. He's a committed and innovative member of The Roundup and we are blessed to have him for another year. 
The second recipient was Jack Corrales '20. Corrales has been writing for two years. With a solid 38 articles under his belt and more coming, Jack has been a consistent and passionate writer. Jack rose through the ranks from staff writer to associate editor before taking on the role of Sports Section Editor as a junior. If we need an article to be picked up by someone, he's always ready and willing to do it. In homeroom, he holds writers accountable and introduces them to sports writing. Jack's dedication, consistency, and sense of accountability will serve him well as the Managing Editor for next year.
Special Video Presentation
The 2018-2019 leadership team put together a short video to recognize Dr. Degen, Mr. Asche, and Mr. Nava for their work facilitating The Roundup's success.
The 2018-2019 year was definitely one for the books for The Roundup. But we wouldn't be a publication without an audience; The Roundup extends one last word of thanks to the Jesuit community for providing such a loyal body of support over the past year.