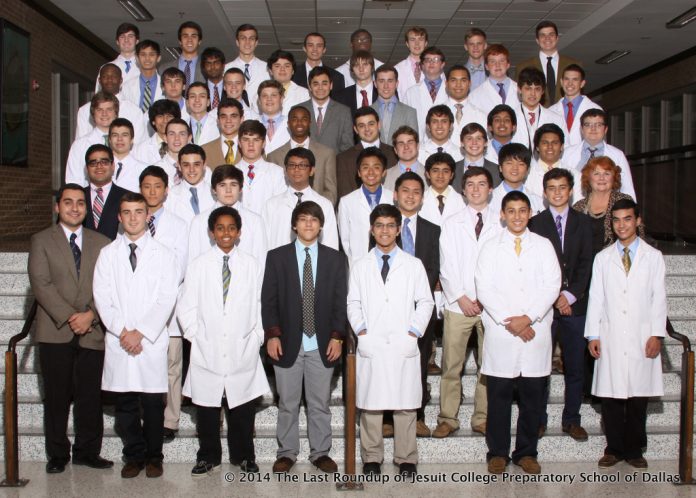 For some, the allure of "playing doctor" as a child never really went away. With its myriad of members, the Medical Society has had a significant impact on campus, becoming a home for the many Jesuit students interested in going from "playing doctor" to becoming one. This next year, the Medical Society has an exciting host of plans and new opportunities for incoming seniors to help cultivate interest in the medical field and provide students with valuable firsthand experiences before deciding to study a pre-med track in college.
One of the most notable examples of a unique senior opportunity is the mission trip to Guatemala. The Medical Society's service trip has been one of the longest-standing trips offered at Jesuit, lasting for over a decade and previously visiting areas such as El Salvador, Honduras, Nicaragua, and Lesotho. The five-day trip includes three full clinic days, with students playing an integral part in checking for patients' vitals, helping out at the eyeglasses center, and helping teach classes about newborn care and dental hygiene.
For Mr. Max von Schlehenried, Medical Society director and five-time attendee of the mission trips, one of the most important aspects of the mission trip is "the students getting an immersion experience into another culture and seeing how a lot of people live, even in the United States, without any healthcare." While the mission trip helps students broaden their worldview, it also helps to serve the communities of areas they visit. "We are not going to change their lives in the [few days] that we see them," von Schlehenried said. "But by going back over four years, we really can help the community change." Because of the Medical Society's tremendous influence in helping transform one town in Guatemala over the past four year, students will be moving to a new location "just a few hours in a different direction" for next year's trip.
Sean Howard '16, the current president of the Medical Society, had the opportunity to attend the mission trip as a junior after extra spots opened up. "It was a lot more hands-on than I thought it was going to be," Howard said, citing some opportunities to aid in dental surgery and speak to the people around him, even though that often required a translator. "We're starting from the ground up again and hopefully next year we can create a solid connection with the new area."
While some family practice doctors and dentists came on the mission trip this past year, Howard also shared that he's hoping to be able to bring new types of doctors next year, such as an OB/GYN. "It's a new place so it'll be a new adventure," von Schlehenried said. "We'll be working more closely with Guatemalan doctors while we're there because they have a lot of insight into the people that the American doctors may not have." Next year, eight seniors will have the opportunity to attend the mission trip and more information will be made available next fall.
Starting this next year, the Medical Society will also be taking charge of medical service sites for senior Wednesday service, from hospitals offered in previous years to the new Agape Clinic, a free primary care clinic that will offer seniors the opportunity of hands-on medical service. Students interested in any of the medical service sites attended an informational lunch meeting last Thursday, in which Mr. von Schlehenried explained student expectations. Because of the large volume of students wanting the opportunity to serve in a medical setting, students who were interested filled out an online preference form on Friday which asked students to rank their top two service sites. Preference will be largely based on speed of response, length of Medical Society membership, and activity within the Medical Society.
For Braeden Freitas '16, a medical service site would be ideal: "Since my mom is a nurse at Children's Legacy and I want to become a doctor, spending my Wednesdays at a hospital would be a great exposure for the medical society." Freitas hopes to be placed at Children's Medical Center, where, along with Scottish Rite Children's Hospital, the focus would primarily be on playing with hospitalized children. "I'm really looking forward to the chance to do something I care about on a weekly basis."
The Medical Society will also be offering a new course outside of school for seniors on the topic of infectious disease, a subject that hits particularly close to home after two patients at Texas Health Presbyterian Hospital in Dallas—the site of monthly clinical rotations offered to juniors—were diagnosed with Ebola, forcing the clinical rotation schedule to be delayed until the second semester of this year. "I think learning about infectious diseases interests me because it provides the knowledge required to approach the coming revolutions in medicine and disease management," Praneeth Kalva '16 said. "If you look at contemporary data, new mutations are evolving at an alarming pace and even becoming immune to conventional antibiotics. Through the course, I'd really like to begin learning more about these diseases and ways to tackle the issue in the future."
The course will be ten weeks long, similar to the cat dissections offered in freshman year and the structure function lab offered in sophomore year in the sense that classes will take place either before school or after school. Unlike traditional school classes, the infectious disease course will not have quizzes or tests; instead, it will provide a hands-on approach to working with pathogens, although the course will still show up on students' transcripts. Students interested in the course were asked to vote on particular times for the course to be offered, and it will likely have two separate sessions because of the amount of rising seniors who expressed interest. Final details have yet to be determined, and information about times will be released at a later date.
The Medical Society has traditionally been a club that allows students to do as much or as little with it as they like, and with these new offerings for rising seniors, it hopes to be able to give more options for students looking to break into the medical field early. It is certain that these new opportunities will inspire greater interest in the medical field and give seniors a taste of what's to come in their futures.