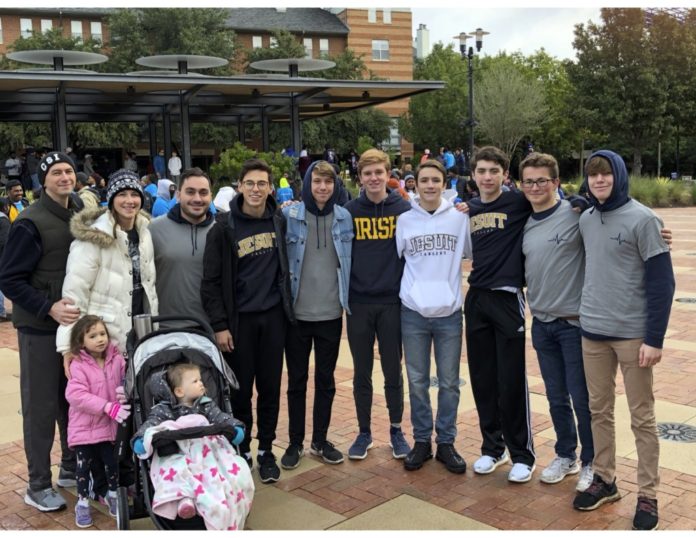 On Saturday, October 26, a group from Jesuit's Medical Society gathered in Addison Circle Park in Addison, Texas. Joined by Mrs. Boyle and Mr. Von, the group participated in the Out of Darkness Walk for Suicide Prevention.
Students arrived at the Park between 7:00 am and 7:45 am and the group waited for the event to begin. The Commencement ceremony began around 8:30 am. During the opening ceremony, directors of the organization shared the Out of Darkness mission. More speakers spoke about their experiences with suicide and the loss of loved ones to suicide.
After the commencement ceremony, the walk began. The crowd of over 3,000 people walked through Addison Circle Park. Ben Levis '21 attended the walk, and he commented, "although the walk was short, I enjoyed getting out and walking for a very important cause."
Mr. Von reflected, "It was very short and simple but meaningful to see many people come together to remember those who have passed from suicide. More importantly, it was a rallying together of people who believe that suicides can be prevented by raising awareness and providing access to many programs and support systems."
Will Nickols '20, the president of Jesuit Medical Society, offered some final thoughts: "I was very pleased and proud to see a wide range of grades from Medical Society attend the walk. Over these last two years at Jesuit, we've seen some incredibly sad and prominent examples of mental illness, and there are many people at Jesuit that currently struggle with mental illness both outwardly and silently. This walk provided a way to show people suffering from depression or suicidal thoughts that they are not alone and that there are people who can help. Additionally, the $245 that we raised will fund efforts to help people with mental illness. Of course, I am always here if anyone needs a friend to talk to."
The Medical Society donation page is still up and accepting donations until the end of 2019.
Thank you to everyone who participated in the walk, and stayed tuned to The Roundup for more news about Jesuit Medical Society!