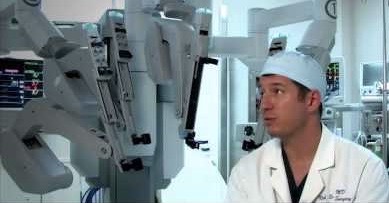 On Monday, January 13, Robert Smith, MD, a cardiac surgeon, came to present to Jesuit's Medical Society to explain his path to becoming a successful cardiac surgeon. Dr. Smith is the Vice-Chair of Cardiac Surgery at Baylor Scott and White: The Heart
Hospital Plano, where he focuses on the heart team approach to finding treatments of
structural heart problems that limit a patient's life span and quality of life, so that patients and families know they have the best information to make shared decisions regarding their care.
Background
Dr. Smith went to Texas Christian University as a chemistry major on the pre-med track. While at TCU, Dr. Smith played football and v

olunteered at a local children's hospital. He then went to UT Health Science Center in San Antonio, did lab research, and focused on general, pediatric, and transplant surgery. Dr. Smith conducted his internship and residency at the University of Virginia Hospital. He now works at the Baylor Scott White Heart Hospital in Plano.
Frustrated by the inability to offer treatment to improve the quality of life for patients who were too sick or frail for surgery, Dr. Smith worked with a multidisciplinary team of cardiologists, surgeons, nurses and research assistants to create a specific mitral and tricuspid valve heart team clinic to offer treatment strategies that include transcatheter therapies to expand options for patients, including those who are not surgical candidates.
Dr. Smith says "it was a pleasure to talk to a group of students interested in medicine. In preparing it, I focused on preparing it with what I would've liked to have heard when I was a high school student. It was fun sharing my advice and, ultimately, the ends of becoming a cardiac surgeon. It's definitely a profession that I love."
President of the Medical Society, Will Nickols '20, commented, "I thought his presentation was very enlightening – I enjoyed seeing his current work with robotic surgery and hearing how he thinks new technology like artificial intelligence will transform surgery, especially at his cardiac practice.  As a senior, I also appreciated his advice on choosing a college and getting involved with medical research and shadowing as soon as possible."
Announcements for Jesuit Medical Society members: Please consider signing up for a few Thursdays helping tutor at Nathan Adams. Also, be on the lookout for emails about the new sports medicine class.
Thank you to Dr. Robert Smith and the Jesuit Medical Society for organizing the meeting.
Come back regularly to The Roundup for more Jesuit Medical Society news!