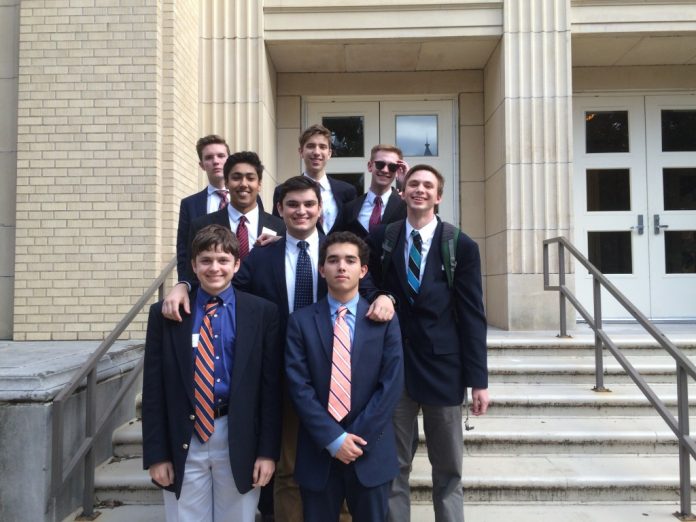 The wood doors of the old chapel open, revealing eight Jesuit students and their chaperone, all clad in black suits. Timidly sitting in the pews, waiting for the day to begin, they quietly converse amongst themselves about how to handle their first conference. For the Jesuit Model UN delegates, the ambiance around them was one of anxiety and anticipation. This would carry through until the moment they returned to the bus, promptly falling asleep after a conference full of surprises. As Jesuit Model United Nations' president and founder Henry Ainsworth '16 explained, "It was all learning through immersion for us."
Model UN isn't a normal competition. Rather than "playing" to win, students are encouraged to work together to solve a specific problem, much like the real United Nations. Only one Jesuit student was placed in each council, except for two assemblies, where two Jesuit students each adopted a different country. For the most part, however, students were plopped in the middle of unfamiliar territory with unfamiliar people. Jesuit students were given one of two countries: Japan or Nigeria.
The purpose of each conference differs depending on what issue is at hand. For example, several of the topics covered at this meet included a council on the concerns of world health, a council for the increasing concerns of cyber security, and even a historical council on the Indo-Pakistani War of 1965.
The point of each council was to pass a "draft resolution", essentially what our congress would call a bill, which would help the situation they were given.
As they rode the bus to Baylor University in Waco, Texas, a collection of one sophomore, three juniors, and four seniors prepped each other emotionally. The group exchanged songs, trivia, Mugabe memes (a personality cult created around Zimbabwean dictator Robert Mugabe), as well as unnecessary Spanish and history practice. The atmosphere teemed of excitement and anxiety. Mathieu Lavault '18, Samuel Powell '17, Matthew Clayton '17, Carlos Cabre '17, Henry Ainsworth '16, Joseph Duebner '16, Nicholas Dart '16, and Shehryar Almakky '16 were the first representatives of Jesuit College Prep at a Model United Nations event, chaperoned by Mr. Brandon Bub, a Jesuit graduate from 2010.
Upon arrival, Mr. Bub, the club moderator, led the group to the registration hall. The competition, although spread thin, appeared fierce and intelligent as other teams hastily scrambled their fingers over their MacBook Pro keyboards, preparing as much final information for the tournament as possible before a ban was placed on internet access. Meanwhile, Lavault, Powell, and a few others read a rulebook for the competition. Finally, the time came, the call from Mr. Bub to ready themselves and proceed to the introductory ceremony at the church.
When the group arrived at the church, Mr. Bub instantly noticed that "We were actually one of the smallest groups at the conference." Others, like Hockaday, for instance, had nearly thirty people on their team. However, Jesuit wasn't daunted by the other teams' size, taking their place in their respective conferences. Each student represented their country for a variety of issues, including a historical conference based on the Bosnian-Herzegovinian conflict.
Each conference lasted nearly all day, with only a break for lunch. The point of every council was to pass a draft resolution in order to ameliorate whatever situation faced them. All the Jesuit guys effectively worked together, using each of their countries' positions. They worked all day with other delegates from other countries, who all hailed from different schools all across Texas.
At the end of the day, the conference was successful, with each student taking away a valuable experience. The Model UN team is already searching for their next conference and are excited to get even more practice before then.