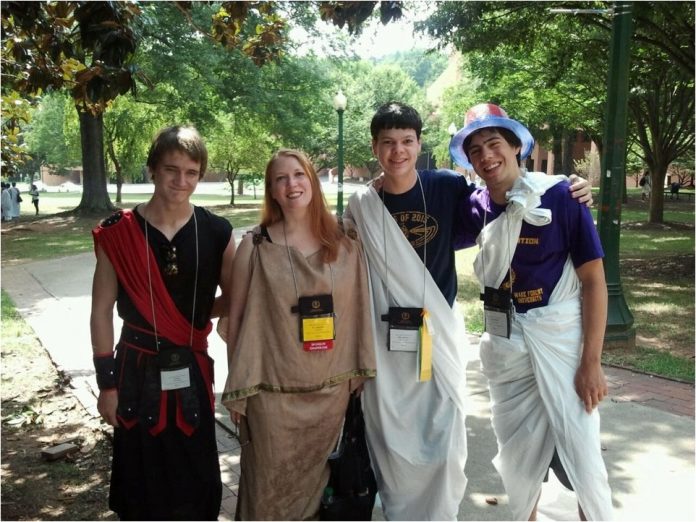 As the title translates, "Hard work conquers all," and that was just the attitude four Jesuit Latin students had as they journeyed to Wake Forest University from July 26-31 for the Junior Classical League (JCL) National Convention.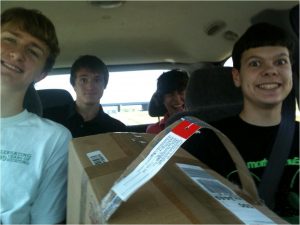 The four students, Jack Hubbard '15, Patrick Miramontes '15, Zach Schutze '15, and Hayden Tompkins '13, all qualified for the national competition by placing either first, second, or third in the JCL State Convention. Competing in a multitude of events including mythology, Latin sight reading, Latin oratory, dramatic interpretation, advanced Latin poetry, reading comprehension, art contests, ancient geography, Latin grammar, and Latin vocabulary, these young scholars performed tremendously well, winning 6 National Championship ribbons and 2 Cum Laude certificates for 6th and 7th place.
"I took a lot of tests," remarked Hayden, who also performed well in swimming and track. "They were very difficult, and honestly I wasn't surprised because it was the national level. I didn't expect to place high, [but] I got 18th overall in [Advanced Latin Reading Comprehension] so I was pretty pleased about that."
The event, which welcomed over 2000 students, teachers, and sponsors from all 50 states,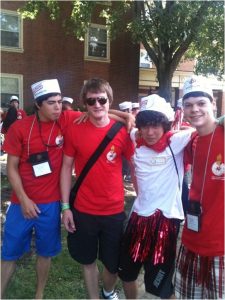 consisted of differently themed days. "We had spirit competitions," explained Latin teacher Miss. Vanessa Jones. "We all wore matching t-shirts and carried Texas flags on one day."
The motto for the entire convention, "Dimidium facti qui coepit habet," or "He who has begun has half the deed done," was a significant part of many JCL campaigns, when students could run for offices such as President, Vice-President, and Treasurer.
"The whole convention is exciting," exclaimed Miss Jones. "Everyone's enthusiastic, and they are getting to meet people from all over the country."
One day, the attendees learned some history about the state they were in, North Carolina. Whether it was wearing commemorative Wright Brothers t-shirts or donning Krispy Kreme hats, the Jesuit students became well-informed in North Carolina history.
The most exciting day, according to Miss Jones, Hayden, and Zach, was the Roman Toga day, in which everyone strolled around the campus wearing togas, simulating Ancient Roman life. In true Roman fashion, the students even ate at a banquet wearing their togas.
"The JCL," according to Miss Jones, "is an organization that fosters brotherhood, promotes enthusiasm, and encourages the total growth of a person, and I think the [National] Convention just helps do that. It's a good organization to be in, and I know for a fact I would not be a Latin teacher today if I hadn't have been such an active part of JCL when I was in high school."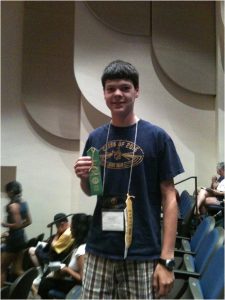 Hayden looks forward to attending the National JCL Convention next summer as a "slasher," a Latin student who has already graduated from high school but not yet attended college.
"I'm really happy to see the students so enthusiastic about Latin and the Junior Classical League," says Miss Jones, looking back on the successful week of competition and camaraderie. "I really hope that the program continues to grow in future years so we can keep going back to Nationals and bring back some ribbons."
"It was a lot of hard work," summarized Zach, "but when I actually succeeded, it felt really cool."
Complete List of Awards–
Zachary Schutze:
2nd place Ancient Geography
2nd place in Latin Dramatic Interpretation
3rd place in 400 meter track and field
5th place in Creative Arts – Large Models
6th place in Creative Arts – Latin Sight Reading
11th place in Mythology
Texas Spirit Award
Hayden Tompkins:
2nd place swimming 50 meter butterfly – Olympika
2nd place swimming 100 meter freestyle – Olympika
3rd place relays track and field
18th place – Advanced Latin Reading Comprehension – Prose
Jack Hubbard:
7th place in Creative Arts – Latin Sight Reading