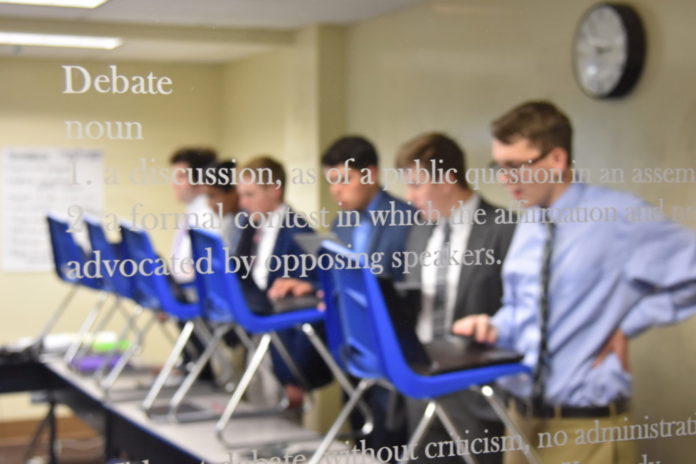 On February 7th and 8th, Jesuit held the Jesuit Debate Invitational, hosting teams from throughout the Dallas Fort Worth Metroplex. This tournament of skill and argumentation started Friday after school until Saturday night. Jesuit hosted five types of debate: Cross-Examination, Lincoln-Douglas Debate, Public Forum Debate, Congressional Debate, and World Schools. Regardless of the type of debate, hard work and determination were essential for success. As the last qualifying tournament for the prestigious Texas Forensic Association tournament, many debaters were attempting to finish getting qualified for TFA.
Results
Each of the 54 types of debates has different rules and topics, decided by judges.
Cross-Examination debate consists of two-person teams. Debating this year's topic of reducing arms sales to other countries, the two-person teams debate an equal number of preliminary debates on both the affirmative and negative side. The winner of this type of debate was Coppell High School.
Congressional debate consists of individuals debating in a large group. This type of debate models Congress and Parliament, deciding what legislation to discuss. In addition, there is a vote to determine what bills are passed. The winner of this type of debate was Jasper High School.
Public Forum debate consists of two-person teams who debate monthly chosen topics. These topics represent current news and issues, and similar to other types of debate, give students a chance to learn and increase their knowledge. The winner of this type of debate was Centennial HS.
Lincoln-Douglas debate consists of individuals debating one another. Creating arguments, this type of debate focuses on a resolution, similar to Cross-Examination debate, but the topic changes every two months. The winner of this type of debate was the Greenhill School.
Finally, World Schools debate consists of teams with three or five members. These debaters work as a team to argue for and against the topic, some topics predetermined and some impromptu. Each side introduces its own content, then refuting the other side to argue that their viewpoint is better. The winner of this type of debate was the Greenhill School.
Hosting Experience
All the Jesuit debates helped host this fantastic tournament. From providing directions to helping with snacks, all debaters worked diligently to provide the best experience possible. All the members had fun working together as a community to give back to the larger DFW community that hosted us all year. For example, volunteers helped set up the Hospitality Room, filled with snacks and beverages to refresh debaters and instructors. We provided dinner on Friday night, using Sage. In addition, an In-N-Out Burger truck was on-site for lunch, providing a tasty meal to the hardworking debaters and coaches who attended. As positive refreshers, these several items helped to make this tournament unique and memorable.
Novice debater Chance Harris '23 said that "it was a good idea to host many different types of debate at the tournament."
"It felt great to serve and help others around us," said novice debater Devesh Amudala '23.
Novice debater Van Alex Ramey '23 stated that the hosting "really allowed us to interact with our own special community of people in a very unique way."
"Hosting the tournament is always a special time of the year not only for debaters but for the school itself to give back to one of the institution's oldest competitive extracurriculars. As one of the last tournaments to gain state qualification points, we take great pride in offering a smoothly run and efficient tournament in order to provide those on the cusp of qualification a wonderful experience in their last push to make the state-level tournament. From setting up the hospitality room for judges to confirming starts and finishes of rounds, being a host comes with a great amount of responsibility. The little things such as quick adjustments to missing debaters and judges truly makes a difference in upholding the efficiency of the tournament. Between the coaches, alumni, and debaters, there is always great effort to maximize the experience of competitors and attendees. Tired from the taping, de-taping, checking in, and running around, we can collectively say we are proud of the tournament's reliability and function," said Nick Badovinus '21, skilled varsity debater. He perfectly represented the debate teams' and the whole Jesuit community's goal or loving and serving one another.
Stay tuned to The Roundup for more Jesuit Debate news!