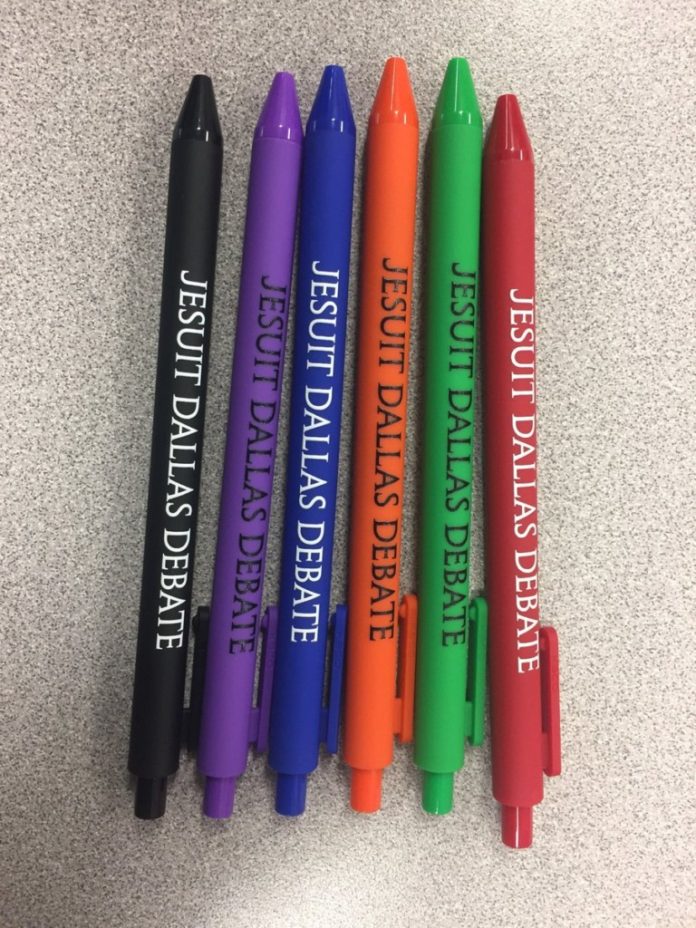 Walking up to his portable podium with his meticulous notes in hand, the high schooler delivers a speech analyzing education policy at a rate incomprehensible to many. He weaves complex jargon into his arguments and makes strategic choices that ultimately win him another award to add to the already decorated trophy case. What may seem like an eccentric activity outside the walls of A119, many within them consider it a passion. This is Jesuit debate.
While no state qualifications occurred in December, it proved to be a pivotal moment for the squad this season as many teams accumulated most of their state points to set themselves up for an end of the season push in January. Additionally, Jesuit debaters also represented well us on a national level, an indication that Jesuit will continue to carry its tradition of excellence into the new year.
First off was the Creekview Winter Extravaganza. Jesuit debaters faced a field of 16 teams from across Dallas, and they held their own. In fact, all four teams that attended cleared to the elimination rounds, including freshman Jack Martin '21 who was debating for the first time in varsity with junior Giovannie Ferrer-Falto '19. Jesuit debaters breezed through the elimination rounds, ending in a close out (where one school wins all elimination debates prior to the final round). Junior Jack Madden '19 and sophomore Max Arroyo '20 took first place, juniors Christ Tran '19 and Jack Griffiths '19 took second place, senior Ben Miller '18 and junior Pete Weigman '19 took third place, and the freshman and junior duo of Martin and Ferrer-Falto finished fifth. In addition to team successes, Jesuit debaters were recognized for their individual talent, with seven out of the eight Jesuit debaters competing placing in the top ten speakers, including a top speaker award for senior Ben Miller.
The second local tournament of the month was at Berkner high school in Richardson. Twenty-seven teams competed in the two-day event, with traditional powerhouses making appearances such as St. Mark's, Coppell, and Greenhill. Despite this, Jesuit managed to clear two of its teams to the elimination rounds. The sophomore duo of Adam Hall '20 and Garret Nagorzanski '20 finished bowed out in the quarterfinals, to the top seeded Coppell team, taking fifth. Additionally, juniors Giovannie Ferrer-Falto and his usual partner Ethan Jackson '19 finished the prelims as the second seed, eventually losing in the semifinals to another Coppell team. Despite the losses, Hall and Nagorzanski were able to achieve their first state points of the season, while Ferrer-Falto and Jackson inched closer to qualifying for state.
When asked to reflect on the month of December, a few debaters shared some thoughts. Ben Miller felt that his mindset going into Creekview was "to get as many points as possible" considering his elimination round struggles earlier this season. He didn't feel that it was a "must win" situation, but he thought that he set himself up for the second semester. Despite his elimination round struggles, Miller felt that he and his partner were crushing local tournaments as they haven't "have a single negative record" so far.
Chris Tran offered shared a similar view on what his mindset was for December. "I wanted to clear to state." Brief, but it effectively captures what most debater's goals are for this season.
While the Creekview tournament was happening in Carrollton, the Longhorn Classic hosted by the University of Texas was happening as well. Jesuit sent two of its most promising teams: Jack Moore '19 and Riler Holcombe '19, and Adam Hall and Garret Nagorzanski. This tournament was very competitive, with the best 122 teams from Texas and other surrounding states vying for a deep elimination round run. At the end of the preliminary rounds, Moore and Holcombe finished with a 4-2 record, barely clearing to the elimination rounds as the thirty-second seed out of thirty-two but nonetheless securing a shot. Unfortunately, Moore and Holcombe would lose to the top seeded team from Cabot High School in Arkansas, the eventual winners of the tournament. Regardless, the UT tournament is a good precursor to the TFA state tournament in March, thus highlighting Jesuit debate's potential at winning state this upcoming spring. In addition to Moore and Holcombe, Hall and Nagorzanski went an impressive 3-3 at their first national tournament as varsity.
Because of their impressive finish, I asked Riler Holcombe whether he and Moore stacked up well against the rest of Texas. His answer: "lol idk." But when asked about the highlights of the trip, specifically the non-debate parts, he said that the team's "stops at In-n-Out and the Czech Bakery" were his favorite.
I also asked Garret Nagorzanski what his biggest take ways were from that weekend: "It was a new experience as we were communicating with the coaches over the phone while we ran around the campus trying to find the rooms. Overall, it was a great way to encounter new arguments from some better teams in Texas, and it definitely highlighted some areas where we can improve. The general experience of travelling with the team and getting to walk around a college campus was very enjoyable." When asked about his favorite parts from the tournament, he said that "two solid wins to even [his] record" the second day "was encouraging." He also thought that debating very experienced teams, specifically a team from Katy Taylor high school, was fun "because we got to familiarize ourselves with new arguments."
Overall, Jesuit debate sent a strong signal to the rest of Texas during this month, which was that they are a force to be reckoned with despite the youth of the team. Make sure to check out the next Jesuit debate article, as the month of January is bound to have some exciting national tournaments and end of the year state qualifications!