Have you noticed the giant omni-globe in the Info Commons? Jesuit is now the official host to a fascinating static display called Science on a Sphere, on loan courtesy of Trammell S. Crow, Founder of EarthX. The globe is a three dimensional, interactive display showcasing numerous developments and statistics that impact our planet. 
"One of the most exciting things so far has been watching students engage with the sphere on their own, and looking at data sets and how they apply to their lives" said Assistant Principal, Ben Kirby. "We intend on hosting a variety of schools this summer to interact with the globe for small presentations, including our own summer school classes, such as Marine Biology. The goal is really to help expose students to the variety of changes happening in our world and how we can influence them and how they can likewise influence us."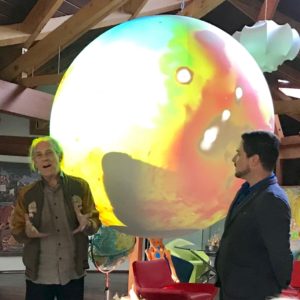 EarthX Founder, Trammell S. Crow, explains the many unique features of the sphere to Jesuit Director of Community Services, Rich Perry
"The sphere is a tremendous educational tool that helps raise awareness, enlighten and entertain people. It can help depict seemingly complex issues in a colorful and powerful graphic display," says Larry Flournoy, the man who manages the sphere and is responsible for the complex installation process. Of the 150 spheres around the world, this is one of only three transportable spheres and contains 1,900 datasets, the largest collection anywhere. The sphere weighs approximately 60 pounds, made of carbon fiber material and has four independent projectors located 90 degrees from each other that cast images on the sphere from a computer system running Linux software. Think of each projector as responsible for projecting two "slices" of an eight sliced orb, which work in unison to create a dynamic visual display.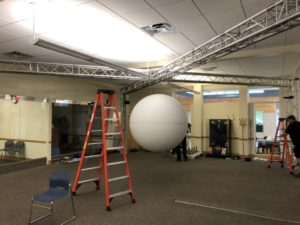 Science on a Sphere was an original research project by National Oceanic Atmospheric Administration (NOAA) in 1995 as a way to better model weather forecasting. Most people cannot visualize in 3D, and a flat map doesn't capture the same amazing graphics. NASA, also a major dataset contributor, contains deep space data (both outside and inside the lunar orbit), including spectacular Hubble Space Telescope images.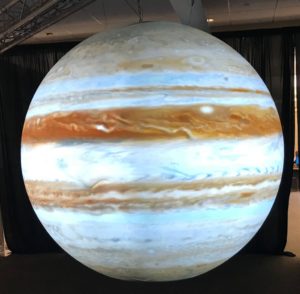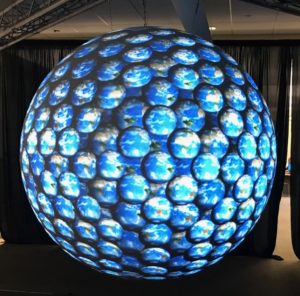 The massive scale of Jupiter: 1,000 planet earths fit inside a comparable size
Did you know that every hurricane first begins as a tropical storm off the west coast of Africa? The sphere shows the birth of a hurricane as a storm that gets dragged across the Atlantic, increasing its energy as it hits warmer water, arriving on the north coast of South America forming vortices; circling and torquing into the Gulf of Mexico. Four simultaneous datasets including the interaction of ocean, wind currents, water temperature, and hurricane tracks show how they gyrate, moving back and forth inside the oceans. This information can feed into common hurricane models we often see depicted in the news. Seeing how Hurricane Katrina or Harvey formed and slammed into the U.S. on the sphere is an amazing spectacle!
Another interesting dataset displayed on the sphere is the Ring of Fire, where Pacific tectonic plates depict the origins of earthquakes and model them around the Pacific region. This can show active volcanoes and tsunamis, which lay on top of The Ring of Fire. Seeing the development of the Japan tsunami of 2011 was a truly breathtaking display.
The sphere also presents many fascinating and informative demographic and sociologic datasets from around the world, including subsistence farming. "The majority of the world doesn't grow crops as a 'marketable item' that is stored long term — but is grown for subsistence; where farmers grow then eat their food," says Flournoy. This dataset shows farmers around the world with their annual "burn off," where they burn old growth from the previous season to plant new crops to eat.
The data is captured by infrared satellites that constantly monitor the earth. This effect can be seen in Sub-Saharan Africa, Southeast Asia, South America, even U.S. forest fires like the recent Paradise, California tragedy. 
"Watching students gain a better understanding of social justice and how some societies on the globe are influenced differently than themselves is interesting; such as how crops and food are distributed, and how the different peoples of the world have an impact, whether it's population or economic distribution. This aligns well with our Catholic Social Teaching and Social Justice " explained Dr. Kirby.
Having witnessed many of the sphere's fascinating programs, the sphere makes the world seem much more interactive with an interconnectedness between people and events. 
Stay tuned to The Roundup for more Jesuit Dallas news!