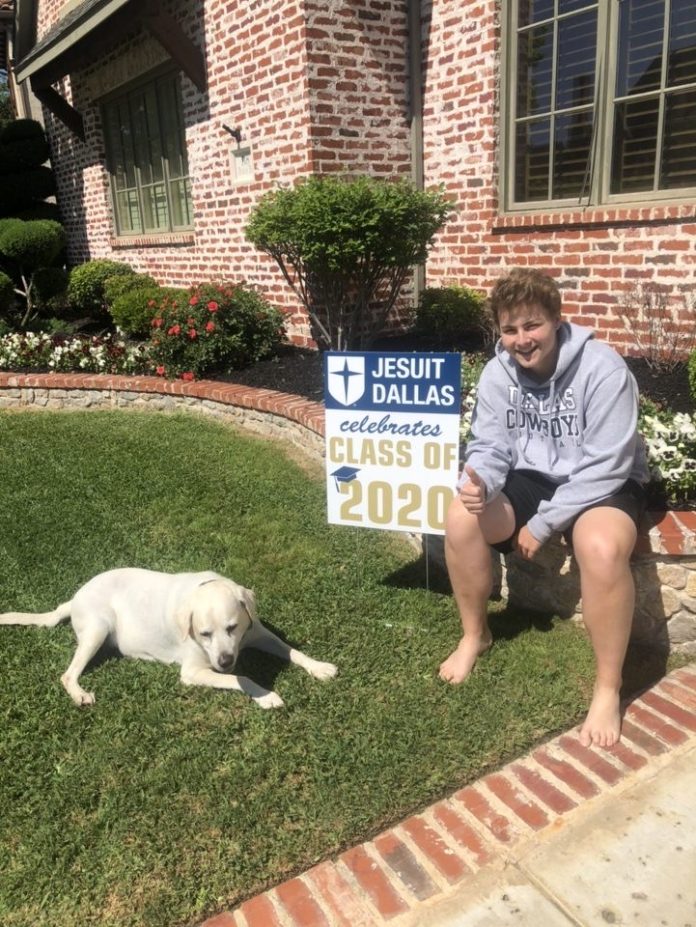 Covid-19 has stripped invaluable senior traditions from the class of 2020, from Senior Prom to Convocation, Special Games, and more. Nothing can fully supplant these senior milestones, but Jesuit nevertheless honored the class of 2020 by delivering graduation signs to seniors' houses last week. 
On Friday, April 24, Jesuit administrators delivered yard signs to each member of the class of 2020. Below is a gallery of dozens of seniors with their signs: 
The Roundup interviewed a group of seniors about what the signs meant to them.

Jacob Phillips '20
"Ms. Richard delivered my sign, and although I didn't have her as a teacher, it was still good to get to talk to someone from Jesuit, even if only for a few minutes. It was really nice to get to catch up with someone from the school in any capacity, and it helped me feel more connected to Jesuit at a time when we aren't physically anywhere near Jesuit.
The signs and sign delivery were a really nice gesture by Jesuit, and I really appreciated the fact that Jesuit still thought of us even though we are all secluded away from Jesuit physically in our homes.
I think in times like these it can be hard to keep traditions that schools such as Jesuit have built over the years. But, my main suggestion is that we make graduation as big of a celebration as we can, and really make it more of a big celebration of the senior class than a normal graduation ceremony. In a way, some of this has already occurred but it would be cool to see people like spring sport athletes who lost their seasons get more recognition at graduation."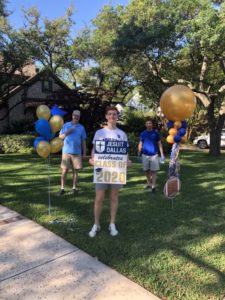 Silas Hartman '20
"The sign delivery was a nice moment because there were so many current Jesuit students and Jesuit graduates who lived on my street that came out to watch. It was a really fun experience that I'm glad I was able to have.
Dr. Knize and Coach Fitzsimmons delivered my sign, and my brother and I talked to them about what they have been doing with their time and how they were managing it. They also told us about all of the different teachers and faculty members that were driving across the DFW area to drop off the signs.
I think the main thing is to ask the seniors their opinions on things. Since so many traditions are not really possible anymore, I think it is important that the administration or teachers reach out to seniors to get their opinions."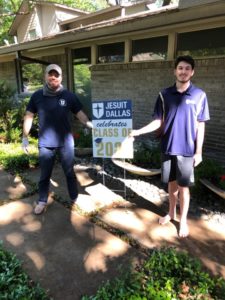 Will Risinger '20
"Dr. Reimer delivered my sign to my house. I had a nice conversation with him about some service hours, graduation plans, and just catching up in general. It was nice for me to get that personal interaction with a staff member that I hadn't truly had in a while.
The sign felt very significant to me, as it was my first real, tangible sign that my time at Jesuit was almost over. My senior year being over never fully hit me until that moment, and for me the sign is a way to show myself how far I have come during my time at Jesuit.
Personally, I would like to see Jesuit host some events during the summer for the seniors. Even though the year has passed now, the traditions are not dead, and so if social distancing begins to fade away and gatherings become safe again I would like for Jesuit to continue these traditions and have events for us. Even just an opportunity to go back to Jesuit as a class and simply catch up with one another would be a great thing Jesuit could provide to our class."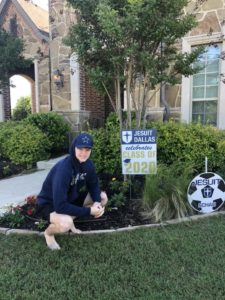 Dakota Schau '20
"Doogie was the one who delivered my sign and we talked about family and how this is still crazy that we are in quarantine after all of this time.
The sign was good to get because it showed that Jesuit, even in this time of need, still cares. It also is something that we can cherish and know that the class of 2020 was truly cared for and in their hearts.
If quarantine were to end sometime in the summer, then we have a day where everyone meets up and the class of 2020 spends one last time together. That day could be filled with games and maybe past traditions that we couldn't partake in this year"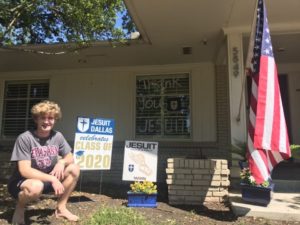 Marshall Mann '20
"It felt great having one of the faculty members deliver a sign. Even though we couldn't finish the year out on campus, I'm glad I could be reminded of the great times we have had as a class.
It felt great having one of the faculty members deliver a sign. Even though we couldn't finish the year out on campus, I'm glad I could be reminded of the great times we have had as a class.
I think it might be cool having a Senior class Zoom call where we all could join and have 10 seconds or so to say something. I think that would be a cool way to end the year!"
Stay tuned to The Roundup for more Jesuit Dallas and Covid-19 news and updates!